Mom's Pastry Cream! Pastry cream is a creamy custard with simple ingredients of milk, eggs, sugar, cornstarch in all recipes and some also add flour, salt and butter.  Vanilla, lemon and chocolate are common flavors for this delightful filling.   It's really a velvety smooth pudding that's quite quick and easy to make.  Creme Patissiere or Pastry cream is used as a filling for Eclairs,Cream Puffs, Boston Cream Pie, Napoleons, Cupcakes and Cakes and lots of dessert pastries.
What's your favorite dessert recipe?  Recipe with pastry cream?  Holiday dessert?  Leave me a comment! Go to this Recipe on YouTube or visit my Facebook Page! Let me know if there's something you'd like to see.  What you're craving could be my next recipe!
Cream Puff Recipe Here >> Cream Puff Recipe
Watch the Video!  Learn How To Make Pastry Cream!                               Recipe by: Diane Kometa

Get updated when I release New Recipes!  It's Free! Do It! 
Don't Miss An Episode!
Pastry Cream – Creme Patissiere Recipe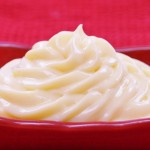 Prep time:
Cook time:
Total time:
Yield:

Makes 2 cups

Difficulty:

easy

Recipe type:

Dessert
Ingredients:
2 cups milk

½ cup sugar

1/3 cup cornstarch (also known as corn flour) (for a thicker cream that will hold its shape when piped, increase by about 1 tablespoon)

4 egg yolks at room temperature

1 ½ Tbs. unsalted butter at room temperature

1 ½ tsp vanilla extract or 1 vanilla bean

1/8 tsp. salt
Directions:
Add the milk and half of the sugar to a sauce pan over medium heat and whisk to combine. Bring to a boil, stirring occasionally. If using the vanilla bean, split the bean and remove the seeds with the back of a knife and place the seeds and the pod into the milk. Stir and heat with the milk.
While the milk is heating, place the egg yolks into a large bowl. Add the rest of the sugar, salt and sift in the cornstarch.
Whisk the mixture, until thoroughly combined and it forms a thick paste. At first it will be very thick and dry, but as you whisk, it will loosen and then come together. See the video. Place a damp towel or non-skid material under the bowl, so that it does not slide while mixing. This is especially important before the next step.
Once the milk comes to a boil, remove from heat. Remove the vanilla pod, if using. Pour a small amount of the hot milk into the egg mixture, while whisking vigorously, so that the eggs do not scramble. Continue to whisk and stream in small amounts of the hot milk, until all of the milk has been added and the mixture is thoroughly combined.
Pour the hot mixture back into the pot and return it to medium heat and whisk continuously. The mixture will begin to thicken very quickly and then begin to bubble (boil). After it begins to bubble, continue to whisk and cook for one minute and then remove from heat. Do not leave the mixture on the heat without whisking, as it will quickly begin to stick to the bottom of the pot, which will cause lumps, when it is finally stirred.
Whisk in the vanilla extract, if using, followed by the butter, until combined. Spoon the hot pastry cream into a bowl and place plastic wrap directly onto the pastry cream to cover it. This will prevent a skin from forming as it cools. Let the pastry cream rest, until it comes to room temperature and then place it into the fridge to chill for several hours or about two days. When ready to use, remove the plastic wrap and whisk until smooth. It will seem very thick and clumpy at first, but will smooth out, as you continue to whisk. Use the pastry cream to fill Cream Puffs, Boston Cream Pie, Éclairs, Fruit Tarts, and Napoleons or whatever you like. ENJOY!
Note: Lumps can be removed by pressing the mixture through a fine mesh strainer with the back of a spoon, into a bowl. Recipe by: Diane Kometa
Published on by Dishin' With Di
Tagged: best, boston cream pie, butter, Cake, cakes, chocolate eclairs, Christmas, corn flour, cornstarch, cream, cream puffs, creme patissiere, cupcakes, custard, demonstration, Desserts, Diane Kometa, Dishin With Di, Easter, easy, eclairs, egg yolks, eggs, filling, from scratch, Fruit Tart, granulated sugar, homemade, How To Make, milk, Old Fashioned, pastries, pastry cream, pudding, quick, Recipe, salt, sauce, St. Joseph's Day, sugar, Thanksgiving, topping, tutorial, Valentine's Day, vanilla, vanilla bean, vanilla extract, video, white sugar, YouTube