Delicious and surprisingly easy soup recipe: Pasta Fagioli or pasta and beans. Make it in about 30 minutes!  I've made it after work plenty of times and so can you!
Watch the Video!  Learn how to make Pasta Fagioli the Quick and Easy Way!                                             Pasta Fagioli Recipe by: Diane Kometa
Visit me on my YouTube Channel and Subscribe to get my latest recipes!
Leave me a comment!  Go to my YouTube Channel or my Facebook Page and let me know if there's something you'd like to see.
What you're craving, could be my next video!
Pasta Fagioli Recipe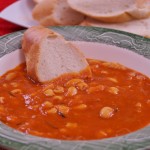 Prep time:
Cook time:
Total time:
Yield:

4-6

Difficulty:

easy

Recipe type:

Entree, Main Course, Soup
Ingredients:
2 Tbs. Extra Virgin Olive Oil

1/8 pound of pancetta chopped (Optional)

2 large sprigs of rosemary (don't remove from stem)

1 large sprig of thyme (don't remove from stem)

1-2 dry bay leaves (use one if it's really large)

1 cup chopped onion

2 small carrots

1 rib celery

4 large cloves garlic

2 (15 oz.) cans cannellini beans – don't drain

1 can (28 oz.) tomato sauce

1 quart chicken stock or broth

1 cup dried Ditalini pasta –or pasta of your choice

Salt & pepper

Fresh grated Parmesan cheese

Crusty bread
Directions:
In a mini food processor, grind the carrots, celery, onion and garlic. If you don't have a mini-processor, finely chop or grate everything. Just try to get everything as small as possible.
Heat a large pot over medium heat and add the oil and pancetta. Cook for a few minutes to brown the pancetta. Remember pancetta is optional. I've made this many times without it and it still tastes great. If you don't add the pancetta, add the oil and proceed to the next step.
Add the veggies & garlic. Season to taste with salt & pepper. Add the rosemary, thyme and bay leaf and cook for about 3 minutes, until the vegetables soften slightly. You'll smell the herbs right away.
Stir in the tomato sauce, beans and broth. Raise the heat to medium-high and bring to boil.
Add the pasta. Reduce heat to medium and cook for about 10 minutes or until the pasta is tender. Stir occasionally to be sure nothing is sticking to the bottom. Remove from heat and cover. Let rest for about 10 minutes before serving.
Serve topped with Parmesan cheese and crusty bread. You'll want the bread, so you can get every bit of that delicious broth! Enjoy!
Note: If pasta absorbs too much of the broth, add some water or chicken broth. You can cook the pasta separately according to the package directions and add it after the veggies, sauce and broth have cooked for about 15 minutes. Recipe by: Diane Kometa
Published on by Dishin' With Di
Tagged: bacon, bay, beans, best, cannellini, carrots, celery, cheese, chicken, Christmas, demonstration, Diane Kometa, Dishin With Di, ditalini, easy, from scratch, Garlic, healthy, homemade, How To Make, Italian, Old Fashioned, onion, pancetta, pasta, pasta and beans, pasta e fagioli, pasta fagioli, quick, Recipe, rosemary, Sides, soup, thyme, tomato sauce, tomatoe, tomatoes, tutorial, vegetable, vegetables, video, YouTube