Learn How To Make an Easy & Quick Parmesan Crusted Chicken Recipe!  Panko Breadcrumbs make this easy chicken recipe crispy on top, while fat-free mayonnaise makes it moist.  Easy to prepare and ready in minutes!  Get in the kitchen and give it a go!
Want to see more Easy chicken Recipes or Dinner Recipes?  Leave me a comment! Go to this recipe on YouTube or visit my Facebook Page! Let me know if there's something you'd like to see.  What you're craving could be my next recipe!
Watch The Video!  Learn How To Make Parmesan Crusted Chicken!
Recipe by: Diane Kometa
Subscribe to Dishin' With Di's YouTube Channel for the latest recipes!
 It's FREE!  Do It!
Parmesan Crusted Chicken Recipe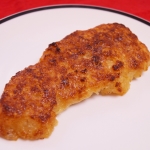 Prep time:
Cook time:
Total time:
Yield:

2-4

Difficulty:

easy

Recipe type:

Main Course, Entree
Ingredients:
1/3 cup panko bread crumbs

¼ cup regular bread crumbs

2/3 cups freshly grated Parmesan cheese

2/3 cup fat free or regular mayonnaise

2- boneless skinless chicken breasts – cut in half lengthwise to make thin cutlets

Salt & pepper

I used my Simple Seasoning Recipe, so feel free to try it. It's listed on my Homemade Crouton Recipe page.
Directions:
Season the chicken lightly with seasonings of your choice.
Place the chicken on a baking sheet that has been lined with foil.
Place about 4-6 inches from broiler heat and broil about 3 minutes. Turn the chicken over and cook the other side for another 2-3 minutes. Chicken will be lightly browned.
While the chicken is cooking, combine the bread crumbs and the cheese in a bowl and stir to combine. Add the mayonnaise and combine thoroughly with the crumb mixture.
When the chicken is done, spread the mixture over the top of each chicken breast.
Return the chicken to the broiler and cook for about 3 minutes, until the topping is golden brown and chicken is 165 degrees F. Easy!! Enjoy! Recipe by: Diane Kometa
Published on by Dishin' With Di
Tagged: bread crumbs, broiled, cheese, chicken, chicken breasts, crispy, cutlets, demonstration, Diane Kometa, Dishin With Di, easy, from scratch, healthy, homemade, How To Make, low fat, mayonnaise, meat, oven, panko, Parmesan, quick, Recipe, tutorial, video, YouTube