Pancakes! Recipes & Videos: Learn how to make mom's best, homemade, from scratch  pancake recipe; Pancakes that are easy to make, light and fluffy.  Old fashioned pancakes that your grandmom used to make, but BETTER! No pancake mix here!  Make them at home with my simple recipe and you'll impress yourself!  I love pancakes and syrup, but my husband likes his with a pat of butter on top and bacon on the side. He's surprisingly thin, btw and he thinks I'm the best cook in the world! Gotta luv 'um!  Sometimes I serve my pancakes with some whipped cream on top, just like my french toast and pumpkin pancakes recipes.  Oh, and you'd love these with my pumpkin spice syrup, but a good maple syrup is great too, just be sure to heat it up first.  The pumpkin spice syrup is easy to make and great served with the pancakes. Top them with whipped cream (I have a really nice whipped cream recipe too, btw) for a special occasion or holiday like Easter, Christmas, Thanksgiving or a birthday or anniversary breakfast. People get spoiled around here!  I have a love of baking and cooking, can you tell!? When I was a kid my mom always called pancakes flapjacks. In the UK that's a granola or cereal bar, but to an American it's just a simple, basic pancake.  Well, now you won't have to go to ihop or use bisquick or pancake mix anymore.  Now you have a quick and easy pancake recipe to make from scratch with a few ingredients: flour, eggs, milk , butter, sugar and my new ingredient vanilla extract.  I just started using it and it makes them taste even better and just enhances the already perfect, fluffy batter. So, get in the kitchen and learn how to make pancakes; good old fashioned ones, from scratch, just like grandmom made!   Also, in my video demonstration I give a couple of tips for making ahead and freezing pancakes, which I find helpful and make my life easier, so hopefully you'll feel the same!
Watch The Video!  Learn How To Make Mom's Best Pancakes From Scratch!  Recipe by: Diane Kometa
Subscribe to Dishin' With Di's YouTube Channel for the latest recipes! It's FREE! Leave me a comment! Go to this Recipe on YouTube or visit my Facebook Page! Let me know if there's something you'd like to see. What you're craving could be my next recipe!
Mom's Best Pancakes From Scratch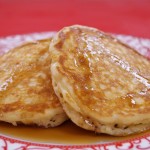 Prep time:
Cook time:
Total time:
Yield:

About 14 – 4″ pancakes

Difficulty:

easy

Recipe type:

Breakfast
Ingredients:
2 cups all purpose flour

2 Tbs. Baking powder

3 Tbs. Sugar

1 tsp. salt

2 eggs lightly whisked – room temperature

1 ½ cups milk – room temperature

¼ cup unsalted butter – melted and cooled

1/2 tsp. vanilla extract (optional – use more or less or none)
Directions:
Preheat oven to 225 degree F (If you are making a half batch, you won't need to do this)
Preheat a non-stick skillet over medium heat or an electric griddle to 350 degrees F
In a large bowl, add the flour, baking powder, sugar and salt. Whisk thoroughly to make sure that all ingredients are distributed evenly. Set aside.
In another bowl or large measuring cup, using a whisk combine the milk, eggs, melted butter and vanilla extract.
Dump the wet ingredients into the dry ingredients all at once. Using a spatula or spoon, fold the mixture until it is just combined and is still a bit lumpy. You don't want a smooth batter. You'll notice that the mixture starts to increase in volume and looks a bit bubbly. See video. The baking powder is doing its job and these are going to be nice, light and fluffy pancakes.
Grease your skillet or griddle lightly with some non-stick spray or vegetable oil. Butter tends to burn, so I don't use it. Using a ¼ cup ice cream scoop, measuring cup or a ladle, place batter onto preheated skillet or griddle. Leave a couple of inches between each pancake. Cook the pancakes for about 3 minutes or until you see a few bubbles burst on the top of the pancakes and the sides begin to get dry. See video. Use a spatula to lift the pancake to check underneath to see if it's golden brown. Gently flip the pancakes and cook on the other side for about another 2 minutes.
If you are making a large batch, place the cooked pancakes on a baking sheet, cover with foil and place in the preheated oven to keep warm, as you continue to cook the rest of the pancakes. Delicious topped with maple syrup, but extra special with my Pumpkin Spice Syrup and/or Whipped Cream, Fruit Compote or fresh fruit. Enjoy!!
Note: If you have leftover pancakes, don't throw them out! Get some wax paper or parchment paper and layer the pancakes with the paper in between each pancake. See video. Then wrap them in plastic wrap and put them into a freezer bag and then into your freezer for future use. They can be reheated in the microwave or toaster. Perfect for a busy morning! Enjoy! Recipe by: Diane Kometa
Published on by Dishin' With Di
Tagged: baking powder, batter, best, bread, breakfast, butter, Cake, cakes, Christmas, demonstration, Diane Kometa, Dishin With Di, easy, eggs, fast, flap jacks, flour, freezing, from scratch, griddle cakes, homemade, How To Make, maple, milk, New Year's, New Year's Eve, Old Fashioned, pan, pancake batter, pancakes, quick, quick bread, Recipe, sugar, syrup, Thanksgiving, tutorial, vanilla, video, YouTube