Nutella Fudgesicles Recipe! Mom's Best, EASY Nutella Popsicles Recipe! Learn How To Make Nutella Fudgesicles!Soooo gooooddd! Make these frozen fudgy, chocolate hazelnut ice pops/lollies at home in a blender! It's Quick and Simple to Learn How to Make Homemade Ice Cream Popsicles! With Nutella hazelnut spread, milk, sweetened condensed milk and my secret ingredients hazelnut coffee creamer and Ovaltine chocolate drink mix, it's easy, fast and delicious!  Put the ingredients for the ice cream popsicles in a blender, mix until combined, pour into ice pop molds. I used Pink Tovolo Star Ice Pop Molds/Groovy Ice Pop Molds.  Freeze your ice lollies (for those in the UK) for at least 6-8 hours. I prefer freezing them overnight.  Place the frozen popsicle molds under warm water for a few seconds to release your Nutella Fudgesicle and Try to Control Yourself!! They are sooooo gooooddd!! These easy to make frozen summer desserts are treats for kids and adults!  It's a perfect easy frozen dessert recipe.  If you need menu ideas for a summer party (4th of July), these simple frozen treats look nice displayed in a cooler or an ice bucket and require little effort!  If you need a no bake, quick Nutella recipe and you're feeling a little warm, this Nutella Fudgesicles Recipe is The Best!  Btw, on the beach in Jersey, a Fudgesicle is known as a Fudgy Wudgy!  Just thought you'd like to know!
Want to see more Recipes with Nutella?  Frozen Dessert Recipes?  Leave me a comment! Go to Comments for this Nutella Popsicles Recipe Video on YouTube or my Facebook Page and let me know if there's something you'd like to see.  What you're craving could be my next video!
Watch The Video! Learn How To Make Nutella Popsicles!                         Recipe by: Diane Kometa
Get updated when I release New Recipes!  It's Free! Do it! 
Don't Miss An Episode!
Nutella Fudgesicles Recipe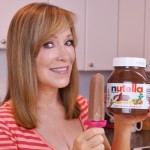 Prep time:
Cook time:
Total time:
Yield:

Make Five – 1/2 Cup Pops

Difficulty:

easy

Recipe type:

Dessert, Frozen Dessert
Ingredients:
1/3 cup sweetened condensed milk

2 Tablespoons hazelnut coffee creamer

1 cup milk

1 Tablespoon Ovaltine – Rich Chocolate flavor (or another chocolate drink mix)

¾ cup Nutella hazelnut spread (Ferrero Rocher)
Directions:
Place all ingredients into a blender. Start with the mixer on low and then increase to high, until mixture is thoroughly combined. Scrape the sides once or twice as needed.
Pour mixture into popsicle molds and freeze for at least 6-8 hours or overnight. Enjoy!
Note: The coffee creamer really intensifies the hazelnut flavor, but if it is not available, try adding a little bit more Nutella. Let frozen Nutella ice cream popsicle sit at room temperature for a few minutes before attempting to release from mold or run the frozen ice pop mold under warm water briefly to release. Recipe by: Diane Kometa
Published on by Dishin' With Di
Tagged: best, blender, butter, chocolate, cocoa, Cold, cream, creamy, demonstration, Desserts, Diane Kometa, Dishin With Di, easy, fast, Ferrero Rocher, freeze pops, freezer, from scratch, frozen, fudge, Fudgesicles, fudgy, Fudgy Wudgy, hazelnut, homemade, How To Make, ice, ice cream, ice lollies, ice pops, kids, milk, mix, molds, no bake, Nutella, Ovaltine, pops, popsicles, powder, quick, Recipe, Simple, spread, Summer, Sweet, sweetened condensed milk, treat, tutorial, video, YouTube