Rich, thick and absolutely delicious!  And I wouldn't say that if I didn't mean it!  I am VERY picky and I love this recipe!  Learn How To Make Mushroom Sauce: Steak & Beef Gravy Recipe: w/ Red Wine, Garlic: from Scratch: Mom's BEST Roast Beef Gravy:  After you cook a Roast Beef, Steak, Filet Mignon or Beef Tenderloin you need that extra something to finish it off. This is it!  This from scratch  gravy/sauce is made with marsala wine, garlic, mushrooms and beef stock/broth and tastes delicious. It comes together quickly and can be made ahead.  So, whether your making a Steak, Roast Beef or Beef tenderloin Filet Mignon for Valentine's Day, Christmas, New Year's, Father's Day or any special occasion, this is one thing you'd want on the menu.  It also goes well with rice, pork, meat loaf and even burgers!  I serve this with my Filet Mignon dinner, which includes Caesar Salad with Homemade Croutons, Garlic Mashed Potatoes, Roasted Asparagus and Red Velvet Cupcakes or New York Cheesecake or one of my other dessert recipes to top it off!  Give this a try!
 Watch the Video Demonstration!
Learn How to Make Mushroom Gravy/Sauce with Wine!
Recipe by: Diane Kometa
Visit me on my YouTube Channel and Subscribe  to get my latest recipes!
Leave me a comment!  Go to my YouTube Channel or my Facebook Page and let me know if there's something you'd like to see.
Mushroom Beef Gravy/Sauce Recipe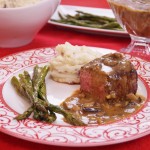 Prep time:
Cook time:
Total time:
Yield:

4-6

Difficulty:

easy

Recipe type:

Side dish
Ingredients:
4 cups mushrooms – rough chopped-measure after chopping –I used 2 cups Cremini (baby bellas) and 2 cups Shitake mushrooms. Sometimes I just use cremini, so use whatever you'd prefer.

1/3 cup shallots – minced – If you don't have a shallot use an onion – I like sweet onions for this

1 tsp. garlic – minced

¾ cup Marsala wine

16 ounces beef broth – I used low sodium canned

2 ½ Tbs. all purpose flour

3 Tbs. unsalted butter – one is for the pan and two to finish the gravy

Extra virgin olive oil

Salt and freshly ground pepper
Directions:
Heat a heavy pan over medium heat. Add a swirl of the olive oil and 1 tablespoon of the butter.
Add the shallots. Season with salt and pepper. Cook for about 2 minutes or until the shallots soften. Stir occasionally.
Add the mushrooms. Season with salt and pepper. Toss to coat in the oil and butter. Cook for 5-7 minutes or until the mushrooms soften and darken a bit and the liquid released begins to cook off. Stir occasionally. See video.
Add the garlic. Stir. Cook for no more than 30 seconds, just until fragrant. Don't let it brown.
Add the wine. Mix through. Cook until the wine reduces by about half. It should take about 3-5 minutes. Stir occasionally.
Combine the flour and the beef broth and mix thoroughly to combine. Be sure there are no lumps of flour.
Pour the beef broth mixture over the mushrooms. Stir to combine. Bring to boil. Reduce the heat slightly and cook for 10-15 minutes or until it thickens. Stir occasionally.
Add the remaining two tablespoons of unsalted butter. Stir through to combine.
Taste and season with salt and pepper as desired.
Serve over your favorite meat, mashed potatoes, rice, etc. I like mine over filet mignon, steak or roast beef and mashed potatoes. I also enjoy eating it with a spoon! That's what I do, in case you hadn't noticed! I love food! ENJOY!! Recipe by: Diane Kometa
Published on by Dishin' With Di
Tagged: Beef, beef gravy, best, Christmas, demonstration, Diane Kometa, Dishin With Di, Father's Day, filet mignon, from scratch, gravy, homemade, How To Make, meat, mushroom gravy, mushroom sauce, New Year's, New Year's Eve, pork, Recipe, Rice, sauce, Sides, steak, tenderloin, Thanksgiving, tutorial, Valentine's Day, vegetable, video, wine, YouTube