Molten Chocolate Cakes, also known as Chocolate Lava Cakes, are rich, mini chocolate cakes with a moist and chocolaty center, like hot chocolate pudding. Easy to make and the perfect dessert cake recipe for Valentine's Day! These individual chocolate cakes go by many names: Chocolate Volcano Cakes, Molten Lava Cakes, Molten Chocolate Cakes, Brownie Lava Cakes, Chocolate Fondant (in the UK), French Chocolate Lava Cakes, and Fondant au Chocolat.  I just call them Chocolate DELICIOUSNESS!!
While taking the photos for this recipe, I ate 2 of these babies right in a row, with vanilla ice cream all over them!  I kid you not!  If I were you, I'd definitely do a test run of the recipe, to be sure of the cooking time and desired consistency.  It will also give you a reason to eat a couple of these glorious little chocolate cakes, no-questions-asked! I mean, it's an experiment and you need to be sure it worked.  Right?  I'm sure you test alllll of your recipes anyway and you were probably taught not to waste food, so this is the perfect opportunity to simply "test" yet another recipe.  You will just have to grin and bare it.  When you scrape your plate clean, you will just be demonstrating that you are not a wasteful person.  Waste not, want not.  That's what I was taught.   LOL Ahhhhh  You don't need a reason! Just bake off a couple of these babies for yourself and eat the darn things like it's nobody's business!  Just be sure to wipe your face, if you lick the plate! That could raise an eyebrow or two.  haha  😉
What's your favorite cake recipe? Recipe with chocolate? White chocolate recipe? Leave me a comment! Go to this Recipe on YouTube or visit my Facebook Page! Let me know if there's something you'd like to see.
What you're craving could be my next recipe!
Watch The Video!
Learn How To Make Molten Chocolate Lava Cakes From Scratch!
Recipe by: Diane Kometa
Subscribe to Dishin' With Di's YouTube Channel for the latest recipes! It's FREE!
Don't Miss An Episode!
Molten Chocolate Lava Cake Recipe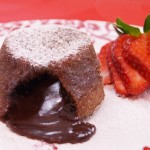 Prep time:
Cook time:
Total time:
Yield:

2

Difficulty:

easy

Recipe type:

Dessert, cake
Ingredients:
1 ounce of semi-sweet – chop, if it is thick

1 ounce bittersweet chocolate – chop, if thick

4 Tbs. unsalted butter – cut into small cubes

3 Tbs. all purpose flour

1/8 tsp. salt

½ cup cups confectioner's sugar, plus more for dusting (also known as icing sugar or powdered sugar)

¼ tsp. pure vanilla extract

1 egg – room temperature

1 egg yolk – room temperature

2 – 4 ounce custard ramekins – 2 inches deep

Whipped cream and/or ice cream – optional

Fresh strawberries or raspberries, for garnish – optional

Note: I created the recipe so that it can be increased by servings of 2 very easily.
Directions:
Preheat oven to 425 degrees F and place oven rack in center position.
Grease 2 ramekins with non-stick spray or butter and place on a baking sheet. Set aside.
Place butter and chocolate into a large microwave-safe bowl and microwave on high, until butter and chocolate melt. Whisk to combine. Mixture should be completely melted and very smooth.
Sift the sugar into the melted chocolate mixture, add the salt and whisk together, until smooth and thoroughly combined.
In a small bowl or measuring cup, lightly whisk together the egg(s), egg yolk(s) and vanilla extract.
Gradually whisk the egg mixture into the chocolate. Mix, until thoroughly combined.
Sift the flour into the chocolate mixture and mix gently to combine, just until the flour disappears. Scrape the sides and bottom of the bowl.
Evenly pour the batter into ramekins and bake for about 13-15 minutes, until edges are set and center is soft. Mine were perfect at 14 minutes, but ovens vary. Allow to cool for a minute or two, before handling.
Run a knife or thin metal spatula around the edge of each ramekin to loosen. Holding the ramekin with a dish towel or pot holder, invert it onto the serving plate. Dust cakes with powdered sugar, if desired. My favorite way to serve these is with a fanned strawberry or several raspberries, a few tiny scoops of vanilla ice cream and some whipped cream, chocolate shavings and spring of mint on top of each cake. Then I drizzle a little chocolate syrup over the ice cream and on the plate. Beautiful and delicious! Recipe by: Diane Kometa
Published on by Dishin' With Di
Tagged: best, bittersweet chocolate, brownie lava cakes, butter, Cake, cake recipe, cakes, choc lava, chocolate, chocolate cake, chocolate cake recipe, chocolate fondant, chocolate lava cakes, chocolaty, Christmas, confectioner's sugar, cooking, cupcake, cupcakes, demonstration, dense, Dessert, Desserts, Diane Kometa, Dishin With Di, double chocolate, easy, egg yolks, eggs, Father's Day, flour, fondant au chocolat, French chocolate lava cakes, from scratch, fudge, gooey, homemade, hot lava, How To Make, icing sugar, individual, lava, mini, moist, molten, molten chocolate lava cakes, Mother's Day, New Year's, New Year's Eve, powdered sugar, pudding cakes, quick, Recipe, restaurant style, rich, semi sweet chocolate, small, sugar, tutorial, Valentine's Day, vanilla, video, video recipe, volcano cakes, warm, YouTube