Mint Chocolate Cupcakes with Mint Buttercream Frosting! Moist Chocolate Cake with loads of mint flavor and creamy Mint Buttercream Frosting! Chocolate Mint Lovers this cupcake recipe is a MUST TRY!!  They're sort of a chocolate version of Shamrock Shake Cupcakes and these are Addictive! The perfect little dessert recipe for St. Patrick's Day, Easter, Spring, Christmas or any time you want that delicious chocolate mint flavor in your life! Get in the kitchen and start baking!  I hope you enjoy this easy Mint Chocolate Cupcake Recipe!
Note: This recipe includes buttermilk.  If you don't have any, get my Buttermilk Substitute Recipe below. Buttermilk Substitute Recipe Click Here
Note on Mint vs. Peppermint:  I use peppermint extract for this recipe, but mint extract could be used. When I first starting making these cupcakes and the frosting, I tried mint extract and wasn't fond of the flavor for this recipe, so I switched to peppermint extract. Oddly enough, after checking ingredients for the mint chocolate chips and mint chocolate candy,  I was surprised to find that most brands actually use peppermint oil or peppermint extract anyway.  They should really just call them peppermint chocolate chips!  Right?   Anyway, use your discretion, but I would stick with the peppermint extract for this cupcake recipe, if you're looking for that "chocolate mint" flavor that everyone loves soo much.  Btw, I also use peppermint extract in my other "mint chocolate' recipes.
What's your favorite Chocolate Mint Recipe?  Chocolate Recipe?  Cupcake or Cake Recipe?  Leave me a Comment or Request a Recipe! Go to this Recipe on YouTube or my Facebook Page!  What you're craving could be my next recipe!
Chocolate Mint Recipes >>> Easy Mint Chocolate Chip Ice Cream Recipe – No Ice Cream Maker,                 Mint Chocolate Chip Meringue Cookies Recipe
 Watch The Video!
Learn How To Make Mint Chocolate Cupcakes From Scratch with Homemade Mint Buttercream Frosting!  Recipe by: Diane Kometa
Subscribe for FREE for the Latest Recipes!  It's FREE!  Do It!
Don't Miss An Episode!
Mint Chocolate Cupcakes With Mint Buttercream Frosting Recipe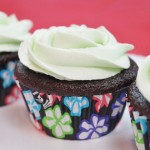 Prep time:
Cook time:
Total time:
Yield:

12

Difficulty:

easy

Recipe type:

Dessert, Snack
Ingredients:
1 cup plus 2 Tbs. sugar

1 cup flour – poured into measuring cup and leveled – Not Scooped!

1 tsp. baking soda

½ tsp. baking powder

½ tsp. salt

½ cup buttermilk – room temperature

¼ cup vegetable oil

1 egg – room temperature

½ cup unsweetened cocoa powder

½ cup hot water

1 tsp. peppermint extract

About ½ cup mint chocolate baking chips, chopped mint chocolate candies or mint chocolate chips

Mint Buttercream Frosting

½ cup softened unsalted butter

2 cups powdered sugar – sifted (icing sugar, confectioners sugar)

1 ½ Tbs. milk or heavy cream

1 tsp. peppermint extract

½ tsp. pure vanilla extract

Green gel food coloring, if desired
Directions:
Preheat oven to 350 degrees F and place oven rack in the center position. Line a muffin tin with 12 cupcake liners. Set aside.
In a large bowl, whisk together the flour, sugar, baking powder, baking soda, salt and cocoa powder (I sift the cocoa, to avoid lumps). Mix until thoroughly combined.
In another bowl, thoroughly combine the buttermilk, oil, egg, vanilla extract and peppermint extract.
Using an electric mixer, slowly add the wet mixture to the dry ingredients, until well combined. With the mixer on low, slowly pour the hot water into the batter. Increase the speed to medium and mix until thoroughly combined and smooth, about 1 minute. Scrape the sides and bottom of the bowl, as needed.
Evenly pour the batter into the cupcake liners, about 3/4 full. Bake for about 18-20 minutes or until a tester inserted into the center of a cupcake comes out with a few moist crumbs. Cool in tin for about 5 minutes and then remove cupcakes to a rack to cool completely.
Make the Mint Buttercream Frosting: Using an electric mixer beat the butter until pale and fluffy, about 5 minutes.
Add about ½ cup of the sugar and mix thoroughly.
Add a couple teaspoons of the heavy cream and beat to thoroughly combine. Continue alternating adding sugar and cream, until both have been thoroughly incorporated. Scrape the bowl as needed.
Add the vanilla, peppermint and the green food coloring, if using. Beat until thoroughly combined.
Place about 2 teaspoons of mint baking chips on top of each cupcake and then top with Mint Buttercream Frosting or garnish cupcakes as desired.
Note: Because butter softens when not chilled and since milk/cream and butter can spoil quickly at room temperature, frosted cupcakes should be kept refrigerated in an airtight container and removed about 20-30 minutes before serving. The frosting and cupcakes can be made ahead, stored separately in airtight containers and refrigerated for several days or frozen for a few weeks. When ready to use, allow frozen frosting and cupcakes to thaw in the fridge. Set chilled frosting and cupcakes at room temperature, until frosting is soft enough to beat with a mixer to restore it's fluffy texture. Spread or pipe frosting onto cupcakes. Recipe by: Diane Kometa
Published on by Dishin' With Di
Tagged: American, baking chips, best, butter, buttercream, Cake, cakes, choc mint, chocolate, chocolate chips, chocolate mint, chocolate mint candy, Christmas, cocoa powder, confectioners, cream, cup, cupcake, cupcakes, demonstration, Desserts, Diane Kometa, Dishin With Di, Easter, easy, eggs, flour, from scratch, Frosting, green, Halloween, homemade, How To Make, Icing, milk, mint, mint buttercream frosting, mint chips, mint chocolate, moist, New Year's, New Year's Eve, Old Fashioned, peppermint, powdered sugar, quick, Recipe, Spring, St. Patrick's Day, sugar, Thanksgiving, tutorial, Valentine's Day, vanilla, video, YouTube