Enjoy the classic combination of mint and chocolate in every bite of these delicious cookies! These Mint Chocolate Chip Meringue Cookies are quite easy to make and are crispy and light with the perfect balance of mint and chocolate! They just melt in your mouth!  Green is great for St. Patrick's Day, Easter, Christmas or use another color (I love PINK!) anytime you want something that's going to please a crowd or satisfy that craving for a chocolaty mint treat!  Easy to Make and Highly addictive!!   Enjoy!
Try my Chocolate Meringue Cookies!  Click Here -> Chocolate Meringue Cookies Recipe
Want to see more Cookie Recipes or Dessert Recipes?  Go to this Recipe on YouTube or visit my Facebook Page and Request a Recipe or Leave me a Comment!   What you're craving could be my next recipe!
Watch The Video!
Learn How to Make Mint Chocolate Chip Meringue Cookies!                     Recipe by: Diane Kometa
Get updated when I release New Recipes!  It's Free! Do It! 
Don't Miss An Episode!
Mint Chocolate Chip Meringue Cookies Recipe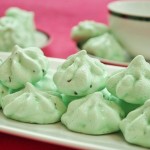 Prep time:
Cook time:
Total time:
Yield:

About 25 small cookies

Difficulty:

easy

Recipe type:

Dessert
Ingredients:
2 large egg whites – room temperature

1/8 tsp. salt

½ cup Superfine or Caster Sugar – If you don't have it, watch my video on how to make it at home

½ tsp. peppermint extract

1/8 tsp. green food coloring or color of your choice (Pink) (optional)

½ cup mini semi-sweet chocolate chips
Directions:
Preheat oven to 225 degrees F. Place cooking rack in center of oven.
Line a baking sheet with parchment paper
Place egg whites into a clean bowl. Note: A plastic bowl is not recommended, as plastic retains residues, which can prevent the eggs from developing into firm peaks.
Using a stand mixer or hand mixer, beat the egg whites on medium speed, until they get foamy. You can do this by hand, but it will just take a bit longer, so be ready for an arm workout.
Once foamy, add the salt. Continue to beat until soft peaks form. See video.
With the mixer on medium-low, gradually add the sugar about 1 tablespoon at a time. Once half of the sugar has been added, scrape down the bowl. Continue to add the rest of the sugar. Once all sugar has been added, scrape again. Wash you spatula, to remove the sugar. You don't want that to get back into the meringue. Beat until firm peaks form and meringue is smooth when you run it between your fingers.
Add the peppermint extract, with the mixer on low and beat to combine. Don't worry if the peppermint smell seems overpowering, as it fades with cooking, so it's not too much.
With the mixer off, add the green food coloring if desired. Mix to combine. You may need to finish it by hand, as some may get on the sides of the bowl or not get to the bottom.
Pour chocolate chips into the bowl and fold in with a spatula.
If desired, spoon mixture into a piping bag with a wide tip or a plastic bag with the corner cut off. Gently shake down the meringue to the bottom of the bag and twist the bag. See video. If not using a bag, grab two spoons.
Onto the baking sheet, pipe or spoon the meringue about 2 inches apart. Secure the parchment to the baking sheet with a few dabs of the meringue on each corner.
Place baking sheet on the center rack of preheated oven. After 45 minutes turn the oven off, but DO NOT open the door! Leave the meringues in the oven undisturbed for at least 3-4 hours, but preferably overnight. I've tried them both ways and overnight works best and allows them to completely dry out. Once the meringues have dried, remove from baking sheet and EAT! They can be stored in airtight containers or plastic bags, but they won't be around for long! Enjoy!! Recipe by: Diane Kometa
Published on by Dishin' With Di
Tagged: best, chocolate, chocolate chip, Christmas, colored, colors, cookies, demonstration, Desserts, Diane Kometa, Dishin With Di, dyed, Easter, easy, egg, egg whites, eggs, food coloring, from scratch, green, Halloween, homemade, How To Make, kisses, meringue, meringues, mint, New Year's, New Year's Eve, Old Fashioned, peppermint, pink, quick, Recipe, red, snack, St. Partick's Day, sugar, Sweet, Thanksgiving, tutorial, Valentine's Day, video, YouTube