Mini Oreo Cheesecakes!  Individual Oreo Cheesecakes with Oreos in the filling and an Oreo cookie crust! Quick and easy to make, these Oreo cheesecake cupcakes are bites of mini cheesecake heaven! Serve them as mini upside-down cheesecakes with the Oreo cookie crust on top or simply top them with sweetened whipped cream and a mini Oreo cookie!  Any way you serve them they are creamy, a little crunchy and just delicious; just like a regular Oreo cheesecake, but without the fuss or the wait! No-bake cheesecakes cannot compare to the flavor and texture of these bite size cheesecakes. They are soo easy to prepare and take only about 20 minutes to bake!  Why bother with a no bake Oreo cheesecake, when you can have the real thing!  Perfect for parties or if you just have a craving for Cheesecake; the perfect dessert!  Enjoy!  Di  😉
Leave them in the liners or put these delicious mini cheesecake cupcakes on individual serving dishes for a beautiful presentation!  When your friends ask what bakery you got these little Oreo cheesecake bites of heaven from, be sure to tell them your friend, Diane Kometa from Dishin With Di, gave you the recipe!
They Look soo pretty in these red foil liners.  Perfect for a party and easy to handle!
If you like these mini cheesecakes, you may also like some of my other cheesecake recipes and Oreo recipes! So browse around my site and then get in the kitchen and make something delicious!
** All recipes are tested
Want to request a recipe or leave me a comment??                                                                                                    Go to this Recipe on YouTube or visit my Facebook Page!  What you're craving could be my next recipe!
Watch The Video Recipe Demonstration!
Learn How To Make Mini Oreo Cheesecakes!  Recipe by:  Diane Kometa
Subscribe for FREE to Dishin With Di YouTube Channel for the latest recipes!
It's Free!  Do It!  Don't Miss An Episode!
Mini Oreo Cheesecakes Recipe / Cheesecake Cupcakes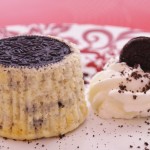 Prep time:
Cook time:
Total time:
Yield:

12

Difficulty:

easy

Recipe type:

dessert
Ingredients:
20 Oreo cookies (chocolate sandwich cookies)

2 – 8 oz. packages cream cheese, softened

2/3 cup sugar

½ cup sour cream, room temp

1 tsp. pure vanilla extract or vanilla bean paste

2 eggs – room temperature

1/8 tsp. salt

Garnish

Sweetened whipped cream – see my recipe for Whipped Cream on my website, if needed

Oreo cookie crumbs – Place some Oreos in resealable plastic bag and crush with rolling pin

Mini Oreos or more regular Oreos, either whole or cut in half

Note: In the video recipe demonstration I only baked a half batch of mini cheesecakes.
Directions:
Preheat oven to 350 degrees F and place the rack in the center position. If using dark muffin tins, reduce oven temperature to 325 degrees F.
Line a muffin tin with 12 cupcake liners and put one cookie in the bottom of each liner. Set aside.
Place the cream cheese into a large mixing bowl. Using a hand mixer or stand mixer with the paddle attachment, beat for about a minute on medium speed until smooth.
Add the sugar, salt and vanilla extract to the cream cheese and beat on medium speed, until smooth and creamy, about 2 minutes. There should not be any lumps. Be sure to use a rubber spatula to scrape down the sides and bottom of the bowl, as well as the paddle attachment or beaters. Mix through again if necessary, until mixture is smooth.
Add the sour cream and beat until thoroughly combined. Scrape bowl and attachments, as needed.
Crack the eggs into a separate bowl. With the mixer on low, add the eggs, one at a time and beat, after each addition, just until combined. Do not over mix.
Chop the remaining 8 cookies into about ¼ to ½ inch pieces. Dump the chopped cookies into the batter and fold in with a rubber spatula until mixed through.
Get your muffin tin and make sure the Oreo cookies are in the center of each liner. Use an ice cream scoop or spoon and distribute the batter evenly into the 12 muffin cups. Tap the tin gently on the counter a few times to release any air bubbles.
Bake for about 18-20 minutes or until centers are set. The cheesecakes will rise a bit and may crack while baking, but will settle back down as they cool and the cracks should just go back together. Place the tin on a wire rack to cool completely for about an hour. Do not remove cheesecakes from the pan. Place the muffin tin in the refrigerator for 3-4 hours or overnight, until thoroughly chilled.
Once chilled, remove the cheesecake cupcakes from the pan. Leave the liners on for casual, easy to handle desserts or take them off, if serving on individual plates to be eaten with a fork. If desired, garnish serving plate with some Oreo cookie crumbs and top each mini cheesecake with a few swirls of sweetened whipped cream, more Oreo cookie crumbs and a mini Oreo or half of a regular Oreo cookie. As another option, serve the Oreo cheesecake cupcakes upside-down, with the cookie side up. First, sprinkle some Oreo cookie crumbs on individual serving dishes. Remove the paper liners from the cheesecakes and place one on each dish, upside down. Swirl some sweetened whipped cream on each plate and sprinkle it with a little more of the cookie crumbs and then top the whipped cream with a mini Oreo. Remember to tell your guests when they ask what bakery you got these lovely desserts from, that your friend Diane Kometa from Dishin With Di gave you the recipe! Enjoy! Di 😉
Note: I noticed that the mini cheesecakes that baked in foil liners had a slightly more crisp cookie crust than those baked in the white paper liners.
Make Ahead: These mini cheesecakes can be made ahead and frozen for 2-3 weeks. After the cheesecakes have completely cooled to room temperature, refrigerate them in the tin for about 2 hours. Carefully remove them from the tin and wrap each cheesecake in plastic wrap or aluminum foil. Place the individually wrapped cheesecakes right-side up, in a single layer into freezer-safe resealable plastic bags and freeze. When ready to serve, remove plastic wrap or foil from cheesecakes and place in the refrigerator for several hours or overnight to thaw completely. Remove paper liners just before serving, if desired. Recipe by: Diane Kometa
Published on by Dishin' With Di
Tagged: 4th of July, bars, best, bites, butter, Cake, cake recipe, cakey, cheese, cheese cake, Cheesecake, cheesecake cupcakes, Christmas, ckaes, Cookie, cookie crust, cookies, cream cupcake, Crust, cupcake recipe, cupcakes, demonstration, Dessert, dessert ideas, Desserts, Diane Kometa, Dishin With Di, eanilla extract, Easter, easy, easy desserts, egg, eggs, fast, Father's Day, filling, for parties, from scratch, Halloween, holiday, homemade, How To Make, ideas, individual cheesecakes, Labor Day, Memorial Day, mini, mini cheesecakes, mini oreos, Mother's Day, New Year's, New Year's Eve, New York stye, Old Fashioned, oreo cheesecake cupcake, Oreo cookie crust, Oreo cookies, oreos, personal, Philadelphia cream cheese, quick, Recipe, salt, Simple, sour cream, sugar, Thanksgiving, topping, tutorial, Valentine's Day, vanilla, vanilla bean paste, video, YouTube