Little Hoagies!  -or- Hoagie Dip!  You decide.  Get that Philly Hoagie taste in a few bites!  Always a hit!
Mini version of a classic Philly Hoagie, dip style!
Watch The Video!
Learn How to Make Mini Hoagies – Hoagie Dip!
Visit me on my YouTube Channel and Subscribe  to get my latest recipes!
Leave me a comment!  Go to my YouTube Channel or my Facebook Page and let me know if there's something you'd like to see.
What you're craving, could be my next video!
Hoagie Dip Recipe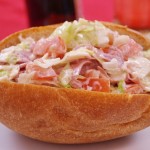 Prep time:
Cook time:
Total time:
Yield:

14-16

Difficulty:

easy

Recipe type:

appetizer, snack
Ingredients:
18-20 mini rolls – Kaiser or torpedo rolls sliced for the mini hoagies– 12 regular size hoagie rolls for the dip-cut into pieces.

2 tomatoes diced

½ Large sweet onion – finely chopped

1 ¼ -2 cups Mayonnaise (for mini hoagies, use about 1 ¼-1 ½ cups – use a little more for the dip)

½ lb. cooked ham luncheon meat – sliced thin

½ lb. Genoa Salami – sliced thin

1 lb. American cheese – sliced

2 teaspoons dried oregano

½ -1 Head of Iceberg lettuce – shredded (for mini hoagies use 1 head – for the dip use ½ head)
Directions:
Cut the meats and cheese into small squares and place into a large bowl. Do your best to separate each piece. You can also tear it into small pieces, but it's really the same amount of work and cutting making the pieces more uniform.
In a bowl, combine the mayonnaise, onion and oregano. Pour into the meat and cheese mixture. Stir to combine.
If making Hoagie DIP: cover the bowl and place it into the fridge. Just before serving, stir in the lettuce and tomato. Serve with the bread pieces.
Mini Hoagies: add the lettuce and tomato to meat/cheese mixture. Stir to combine.
Spoon mixture onto sliced mini rolls. Slice in half and insert toothpick to secure if desired. Enjoy!
Note: I cut all of my meat and vegetables up the night before and place them in separate containers and mix it all together the next day. I make the sandwiches a few hours ahead, cover and place in the fridge until ready to serve.
Published on by Dishin' With Di
Tagged: appetizer, appetizers, best, bread, Christmas, demonstration, Diane Kometa, dip, Dishin With Di, easy, from scratch, Ham, Hoagie, hoagie dip recipe, Hoagies, homemade, How To Make, Italian, lettuce, New Year's, New Year's Eve, onion, party, Philadelphia, Philly hoagie, quick, Recipe, Salami, sandwiches, snack, Super Bowl, tomatoes, tutorial, video, YouTube