Mini Cheesecakes!  Individual cheesecakes with a graham cracker crust that are quick and easy to make!  These cheesecake cupcakes are bites of mini cheesecake heaven! Like a New York style cheesecake, but without the wait! No-bake cheesecakes cannot compare to the flavor and texture of these bite size cheesecakes. Easy  to prepare and take only about 20 minutes to bake!  Why bother with a no bake cheesecake, when you can have the real thing!  Perfect for parties or if you just have a craving for a New York Cheesecake; the perfect dessert!  Enjoy!  Di  😉
What's your favorite Cheesecake recipe?  Leave me a comment! Go to this Recipe on YouTube or visit my Facebook Page! Let me know if there's something you'd like to see.  What you're craving could be my next recipe!
Watch The Video! Learn How To Make Mini Cheesecakes!                        Recipe by: Diane Kometa
Get updated when I release New Recipes!  It's FREE! Do it! 
Don't Miss An Episode!
Mini Cheesecakes Recipe – Cheesecake Cupcakes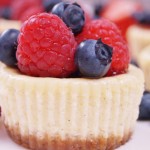 Prep time:
Cook time:
Total time:
Yield:

12

Difficulty:

easy

Recipe type:

Dessert
Ingredients:
Crust

2/3 cup graham cracker crumbs (about 5 whole crackers)

1 ½ Tbs. sugar

3 Tbs. unsalted butter, melted

Pinch salt

Filing

2 – 8oz packages cream cheese – softened

½ cup sugar

1 tsp. vanilla bean paste or pure vanilla extract

2 large eggs – room temperature

¼ cup sour cream – room temperature

2 tsp. lemon zest

Pinch of salt

Topping

Seedless strawberry and/or raspberry jam

Fresh Strawberries – cut in half lengthwise, fresh raspberries and fresh blueberries
Directions:
Preheat oven to 325°F and place the rack in the center position. Line a muffin tin with 12 liners. Set aside.
Make the crust: Combine the graham crumbs, 1 ½ tablespoons of sugar and melted butter in a bowl. Divide the mixture evenly among the muffin liners and press it down with the bottom of a ¼ cup measuring cup or the back of a spoon. Set aside.
Make the filling: Place the ½ cup of sugar and the lemon zest into a small bowl and rub together with your clean fingers, until fragrant and slightly damp. Set aside.
Place the softened cream cheese in a large bowl and beat on medium low with a hand mixer or stand mixer fitted with the paddle attachment, until creamy and smooth, about 1-2 minutes. Add the lemon-sugar mixture, salt and vanilla. Mix until thoroughly combined, with the mixer on medium low. Scrape the bowl and paddle, as needed.
Add the eggs, one at a time, with the mixer on low, beating well after each addition. Scrape as needed. Add the sour cream and mix until incorporated. Give the bowl one last scrape to be sure the ingredients are thoroughly combined.
Spoon the mixture evenly into the muffin tins over the crust. I use an ice cream scoop.
Bake for about 18-20 minutes or until centers are almost set. The cheesecakes will rise during baking and are likely to crack a bit. Remove from the oven and set on a rack to cool completely. Chill the cheesecakes in the muffin tin for at least 2 hours or overnight, before removing from the tin and topping. Note: When the cheesecakes are removed from the oven the centers will begin to sink, but this expected and provides the perfect space for the topping.
Remove chilled cheesecakes from liners, if desired and top each cupcake with about a heaping teaspoon of jam, a strawberry halve or a few raspberries, and some blueberries or the topping of your choice. Keep refrigerated until ready to serve.
Notes: If the cheesecakes have been removed from the liners and are allowed to sit on a plate in the fridge for hours, the crust may begin to soften. I've found the crust stays crisp much longer in the liner. Recipe by: Diane Kometa
Published on by Dishin' With Di
Tagged: 4th of July, bars, Berries, best, bites, blueberry, butter, Cake, cakes, cheese, cheese cake, Cheesecake, cheesecake cupcakes, Christmas, cream, cupcake, cupcakes, demonstration, Desserts, Diane Kometa, Dishin With Di, Easter, easy, eggs, fast, Father's Day, filling, from scratch, fruit, graham cracker crust, graham crackers, homemade, How To Make, individual cheesecakes, jam, jelly, Labor Day, Lemon, Memorial Day, mini, mini cheesecakes, Mother's Day, New Year's, New Year's Eve, new york style, Old Fashioned, personal, Philadelphia cream cheese, quick, raspberry, Recipe, salt, sauce, Simple, sour cream, strawberry, sugar, Thanksgiving, topping, tutorial, Valentine's Day, vanilla, vanilla bean paste, vanilla extract, video, YouTube, zest