This quick and easy rice recipe is the best served with my Tequila Lime Chicken and homemade guacamole! The flavors of the cilantro, green chilies, garlic, tomatoes, cumin, chili powder, onions and chicken or vegetable broth, blend together making this a great Mexican style rice recipe. Easy to prepare, with instant brown rice, (no need for a rice cooker!) it cooks in minutes! And using vegetable broth, instead of chicken broth, will make this recipe vegetarian! Mexican blends cheese is used to top the cooked rice, which adds to the flavor and texture. I use fat free cheese too, so this is a healthy recipe! Winner all around! Perfect side dish for a Mexican dinner and a must for your Cinco de Mayo recipes! For those that love Mexican food and are looking for easy rice recipes for dinner, this is it! So, get in the kitchen and learn How To Make this Quick & Easy Mexican Rice Recipe!
Want to see more Mexican Style Recipes or Easy Rice Recipe?  Request a Recipe or Leave me a comment!  Go to This Recipe on YouTube or my Facebook Page and let me know if there's something you'd like to see.  What you're craving could be my next video!
Watch the Video!  Learn How To Make Easy Mexican Rice!                       Recipe by: Diane Kometa
Get updated when I release New Recipes!  It's Free! Do It! 
Don't Miss An Episode!
Mexican Rice Recipe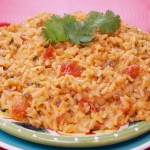 Prep time:
Cook time:
Total time:
Yield:

4-6

Difficulty:

easy

Recipe type:

Side Dish, Main Course, Entree
Ingredients:
3/4 cup instant brown rice

1 cup canned diced tomatoes with juice

2 oz. canned mild green chilies with juice – diced

1/2 cup onion – chopped

2 cloves garlic – minced – about 1 teaspoon

3/4 tsp. ground cumin

1/2 tsp. chili powder

1 1/2 cups chicken or vegetable broth

1/2 cup Mexican blend cheese or cheddar – shredded

2 Tbs. fresh cilantro – chopped

2 Tbs. Olive oil

1/8 tsp. salt

1/8 tsp. freshly ground pepper
Directions:
Preheat a 10 inch skillet over medium heat.  Add the olive oil and the onion.  Cook for 3-4 minutes or until the onion becomes tender and translucent.
Reduce heat to low.  Add the garlic.  Stir to combine.  Cook for 30 seconds.
Add the rice.  Stir to combine.  Cook for about 5 minutes.  Stir constantly to cook the rice evenly and prevent the garlic from browning.
Add the green chilies and tomatoes.  Stir to combine.  Cook for about 2 minutes.
Sprinkle in the ground cumin , chili powder, salt and pepper.   Pour in the both.  Stir to combine.  Cook on low heat for about 15 minutes or until the rice is tender and most of the liquid has cooked off.  If necessary, add more broth and cook until the rice is tender.
Remove rice from heat.  Add cilantro and cheese.  Stir to combine.
Serve with your favorite dish!  Recipe by: Diane Kometa
Note:  Great served with my Tequila Lime Chicken and Guacamole or my Turkey Taco Wraps
Published on by Dishin' With Di
Tagged: best, broth, brown rice, Cheddar, cheddar cheese, cheese, chili powder, cilantro, Cinco de Mayo, cumin, demonstration, Diane Kometa, dinner, Dishin With Di, easy, Garlic, green chilies, healthy, instant, Mexican, Mexican style, onions, Recipe, Rice, side dish, Sides, tomatoes, tutorial, vegetable, vegetables, vegetarian, video, YouTube