Learn how to make a Marinated Grilled Chicken Recipe with an Easy Chicken Marinade! A healthy and simple chicken recipe, ready for grilling in 30 minutes and just delicious! Easy dinner recipe idea! Make this Easy Grilled Marinated Chicken Recipe for a quick and easy dinner tonight!  Instead of grilling outdoors on a charcoal or gas grill, cook the chicken in a heavy pan, cast iron skillet or grill pan on the stove top. Enjoy!  Di  😉
Want more quick and easy chicken recipes for dinner?  Leave me comment! 
Go to this recipe on YouTube   or visit my Facebook Page and let me know what video recipes you'd like see.  What you're craving could be my next recipe!
Watch The Video!
Learn How To Make a Marinated Grilled Chicken Recipe!                           Recipe by: Diane Kometa

Get updated when I release New Recipes!  It's Free! Do It! 
Don't Miss An Episode!
Marinated Grilled Chicken Recipe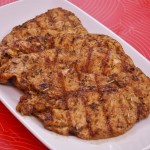 Prep time:
Cook time:
Total time:
Yield:

2

Difficulty:

easy

Recipe type:

entree, main course
Ingredients:
2 boneless, skinless chicken breasts – about 6 ounces each – cut in half lengthwise into thin cutlets

¼ cup extra virgin olive oil

1 T. balsamic vinegar

1 Tbs. Dijon mustard

2 tsp. finely minced garlic

1 tsp. granulated sugar

½ tsp. onion powder

1/8 tsp. paprika

1/2 tsp. dried oregano

1/2 tsp. dried basil

1/2 tsp. dried rosemary

½ tsp. dried thyme leaves

¾ tsp. salt – sea salt or kosher salt

¼ tsp. freshly ground black pepper
Directions:
In a large bowl, add the marinade ingredients. Rub the dried herbs between your finger tips to break them up as you add them. Mix marinade thoroughly.
Add the chicken and toss to coat with marinade. Cover the bowl with plastic wrap and marinate for 30 minutes at room temp or for longer marinating place in the fridge. Since the breasts are sliced thin, the marinade penetrates quickly, so I don't go longer than an hour.
Preheat grill or grill pan to medium-high. Cook for about 3-4 minutes on each side or until done. Remove cooked chicken to a clean platter.
Allow chicken to rest for a few minutes before cutting. Enjoy! Recipe by: Diane Kometa
Published on by Dishin' With Di
Tagged: balsamic, Barbecue, barbecued, basil, BBQ, best, boneless, breast, chicken, chicken breasts, cooking, delicious, demonstration, Diane Kometa, dinner, Dishin With Di, easy, easy meal, fast, flavorful, from scratch, Garlic, gas, grill, Grilled, grilled chicken, grilling, healthy, herb, homemade, How To Make, marinade, marinate, marinated, meat, olive oil, on the grill, oregano, paprika, pepper, quick, Recipe, rosemary, salt, sauce, show, Simple, skinless, spicy, sugar, Summer, thyme, tutorial, video, vinegar, YouTube