I make my mango smoothie recipe with yogurt for the protein, not for weight loss.  I use fat free Greek yogurt, which has 14 grans of protein!  I started making smoothie recipes/healthy shake recipes, for my son when he was young.  His favorite is my Chocolate Strawberry Banana Smoothie recipe, which is posted. This smoothie is a newer addition and I love it's refreshing flavors.  I make it with orange juice and fresh mango, but you can use frozen mango instead.  It's a healthy shake recipe, because there's very little fat and sugar.  For added sweetness I use honey, which is a healthier choice than sugar.  The secret ingredient is fresh ginger! Recipes with ginger are always on my table and I thought ginger in a smoothie recipe would be interesting.  It's fresh and sweet and goes perfectly with the mango and orange.  I make smoothies for breakfast, especially when I'm on the go.  It's a great quick breakfast recipe.  Smoothies make great snacks and treats, but help me as a quick meal replacement. I make this healthy smoothie with a blender, but my son has a magic bullet blender/smoothie maker, which is perfect for a single serving. Whether you want healthy smoothies to lose weight or you just need some healthy smoothie ideas, give this a try!  It's also a great healthy frozen drink for summer!  So, don't make a milkshake with ice cream, make a Mango Smoothie instead! But if you have a chocolae craving, try my Chocolate Strawberry Banana Smoothie!  It's a healthy chocolate smoothie recipe, made with Ovaltine drink mix! Kids think it's the best smoothie recipe ever!
Watch The Video! Learn How To Make A Mango Smoothie!

Join thousands of others who have subscribed to my YouTube Partner Channel – Dishin With Di! Subscribing to my channel on YouTube allows you to get updates when I release new recipes!
Subscribe and get my latest recipes!
Leave me a comment! Go to my YouTube Channel or my Facebook Page and let me know if there's something you'd like to see.
What you're craving could be my next video!
Mango Smoothie Recipe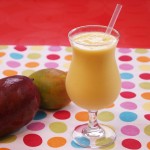 Prep time:
Cook time:
Total time:
Yield:

Makes about 1 1/2 cups

Difficulty:

easy

Recipe type:

beverage
Ingredients:
1 cup fresh mango – cut into chunks

6 ounces non-fat Greek yogurt – I used vanilla

½ cup orange juice

2 Tablespoons honey

1/4 teaspoon fresh ginger – grated

Handful of ice cubes
Directions:
Combine all ingredients in a blender and mix until smooth. Pour into glasses and serve with a straw. Enjoy!
Published on by Dishin' With Di
Tagged: best, beverage, breakfast, Cold, demonstration, Diane Kometa, Dishin With Di, drink, easy, fresh, fresh fruit, from scratch, frozen, fruit, fruit drink, ginger, Greek yogurt, healthy, homemade, How To Make, mango, mango smoothie, mangoes, milkshake, orange, orange juice, quick, Recipe, shake, smoothie, smoothie recipe, snack, tutorial, vanilla, vegetarian, video, yogurt, YouTube