Creamy,  Baked Macaroni and Cheese,  From Scratch, with a Crispy Topping! Easy To Make!  Just like Mom's!  Simple and Delicious Classic Mac & Cheese! A Perfect Comfort Food Recipe or Side Dish!
Mac N Cheese Please!
Request a Recipe!  Want to see more Comfort Food Recipes or Side Dish Recipes?  Go To this Recipe on YouTube to Leave a Comment and to View Previous Comments!
Watch The Video Recipe!  
Learn How To Make Macaroni and Cheese From Scratch Today! 
Recipe by: Diane Kometa
Get updated when I release New Recipes!  It's Free! Do it! 
Don't Miss An Episode!
Macaroni and Cheese Recipe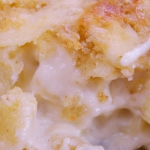 Prep time:
Cook time:
Total time:
Yield:

6-8

Difficulty:

easy

Recipe type:

Main Course / Entree, Side Dish
Ingredients:
3 cups dry elbow macaroni – cooked al dente (7-10 minutes) and drained – do not rinse

2 cups milk

2 cups heavy cream

4Tbs. flour

4 Tbs. unsalted butter

1 ½ tsp. salt

1 ½ tsp. dry mustard

½ tsp. fresh grated nutmeg – approximately or to taste

¼ tsp. freshly ground black pepper or to taste

1 lb. extra sharp cheddar cheese – shredded – about 4 cups – reserve ½ cup

Topping: If you like it extra crispy on top like I do, double the topping ingredients.

1 ½ Tbs. fresh grated parmesan cheese – >doubled = 3Tbs.

1 ½ Tbs. bread crumbs – >doubled = 3 Tbs.

2 Tbs. panko Japanese bread crumbs –> doubled = ¼ cup

1 ½ Tbs. melted unsalted butter –> doubled = 3 Tbs.
Directions:
Preheat oven to 375 degrees F. Butter or grease a 13×9 baking dish. Set aside.
Combine the milk and cream in a large glass or microwave safe measuring cup with a spout and heat in the microwave until hot. Set aside. As an option, add the milk and cream to a pot, over medium heat on the stove, stirring until hot. Set aside.
Melt 4 Tablespoons of butter in a large pot over medium heat. Add the flour and whisk to combine. Cook and whisk for about 2 minutes. Mixture will be smooth and bubbly. Add the dry mustard, nutmeg, salt and pepper. Whisk to combine. While whisking, slowly pour in half of the hot milk and cream. Whisk well to incorporate. Once smooth and well combined, pour in the rest of the milk and whisk to thoroughly combine. Continue to cook and whisk until mixture begins to thicken slightly. Remove from heat.
To the pot, add 3 ½ cups of the cheddar cheese. Stir until smooth and creamy and cheese is melted. Briefly return the pot to the heat, if necessary, to melt cheese. Off the heat, add the macaroni. Stir well to coat macaroni thoroughly. Pour macaroni into prepared baking dish and spread evenly.
In a bowl, thoroughly combine the topping ingredients with a fork. Sprinkle bread crumb mixture over top of macaroni. Top with remaining ½ cup of cheddar cheese. Bake for about 20-30 minutes or until bubbly and top is light golden brown. If you like it extra crispy on top, pop it under the broiler for about a minute or two. Cool for at least 5 minutes before serving. Enjoy! Recipe by: Diane Kometa
Note: In the video I made a half recipe and used an 11×7 casserole dish. I cooked it for about 20 minutes and popped it under the broiler for about a minute.
Published on by Dishin' With Di
Tagged: baked, best, butter, casserole, cheddar cheese, cheese, Christmas, cream, creamy, demonstration, Diane Kometa, Dishin With Di, Easter, easy, elbow, Father's Day, flour, from scratch, Halloween, homemade, hot, How To Make, Labor Day, mac n cheese, macaroni, macaroni & cheese, Memorial Day, milk, Mother's Day, noodles, Old Fashioned, oven, pasta, quick, Recipe, Sides, Simple, Thanksgiving, tutorial, video, YouTube