Mom's best, Loaded Baked Potato Casserole!  Served it hot for a Twice Baked Potato Casserole to make the perfect side dish for a special dinner! Double Baked and double delicious! OR Serve it cold for a Loaded Baked Potato Salad to go along with any meal!
I make this recipe with bacon, cheese, green onions (scallions) and with sour cream, which makes it much like a loaded baked potato or twice baked potato.  I love it served hot as a twice baked potato casserole recipe. The potatoes are cooked in the oven and served in a casserole dish and not boiled like old fashioned potato salad.  Red potatoes are used, which eliminates peeling. And baking potatoes give them a nice texture, adds flavor and prevents them from getting soggy.  The flavor from roasting the potatoes with the skins is also far better than boiling and baby red bliss potatoes are a perfect match for this cheesy potato casserole.  With green onions, bacon, melted cheese, sour cream (I use Breakstone), and the oven baked potatoes, this is one fine side dish! There's also some mayonnaise in this recipe, which makes it very creamy combined with the cheese and sour cream. (I use Hellman's mayonnaise) This recipe can be made a couple of days in advance, so it's really an easy side dish for holidays, parties or for barbecues.  Side dish recipes that can feed a crowd, taste great and can be made ahead are always welcome in my home and simple ingredients mean an easy recipe!   This will be served during the holidays (Christmas, Thanksgiving) and also for Father's Day, Memorial Day, 4th of July, Labor Day and Super Bowl Parties!
This recipe has been "husband and father-in-law tested and approved"!!  Goes especially well with steak, but I've served it for bbq with burgers, for dinner with beef, chicken, pork and turkey!  Serve this loaded potato salad any time of year! It's a classic! You may also like my Twice Baked Potatoes Recipe with Bacon and Cheese! Click Here to go to that Recipe -> Twice Baked Potatoes Recipe
Watch The Video! Learn How To Make Loaded Baked Potato Salad!      Recipe by: Diane Kometa

Get updated when I release New Recipes!  It's FREE!  Do It! 
Don't Miss An Episode!
Loaded Baked Potato Salad / Casserole Recipe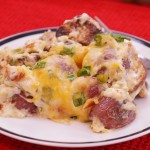 Prep time:
Cook time:
Total time:
Yield:

12

Difficulty:

easy

Recipe type:

appetizer, side dish
Ingredients:
3 lbs. baby red potatoes – skin left on-washed, eyes removed and cut in half

1 Tbs. olive oil

½ tsp. salt

¼ tsp. ground black pepper

1 cup mayonnaise

2 cups sour cream

2 cups cheddar cheese – shredded – reserve ½ cup for topping

4 green onions – sliced thin – reserve some for topping

½ lb. bacon (or more – I use about 10 pieces and a little for the top)

Salt and pepper to taste
Directions:
Preheat oven to 450 degrees F
In a large bowl, toss potatoes with olive oil, ½ tsp. of salt and pepper.
Line a baking sheet with parchment paper. Place potatoes on baking sheet in a single layer. Cook for about 25 minutes or until lightly browned. Toss once during cooking to brown evenly. Allow to cool slightly.
While the potatoes are in the oven, cook the bacon until crisp. Drain on paper towels. Chop or crumble into bite size pieces. Save some for the topping. (I forgot to do that in the video)
Grease a 9×13 baking dish with non stick spray or butter
Place cooking rack in center of oven.
Preheat oven to 350 degrees F, if baking immediately (See note below, to prepare ahead)
In a bowl, combine the mayonnaise and sour cream.
In a large bowl, combine the potatoes, mayonnaise/sour cream mixture, 1 ½ cups of cheddar cheese, most of the green onions and the bacon. Toss to combine. Season to taste with additional salt and pepper.
Pour into prepared dish. Sprinkle top with reserved ½ cup of cheese, some crumbled bacon and green onions.
Place in preheated oven on center rack for about 15 minutes or until cheese melts. Serve hot. I've also had it cold and this dish is great either way, but I prefer it hot out of the oven and then it can cool down to room temp, if there's any left! Goes great with steak, burgers, chicken or you name it! YUM! Enjoy! Recipe by: Diane Kometa
Note: Can be made ahead. Prepare recipe up to #10, then cover with plastic wrap or foil and refrigerate overnight or up to 2 days. Before cooking, remove from refrigerator and let sit at room temperature for about 2 hours. Cook as directed.
Published on by Dishin' With Di
Tagged: baby, bacon, baked, baked potatoes, casserole, Cheddar, cheese, Christmas, Cold, cooked, demonstration, Diane Kometa, Dishin With Di, double, easy, from scratch, green onion, homemade, hot, How To Make, loaded potatoes, mayo, mayonnaise, meat, New Year's, New Year's Eve, onion, pork, potato salad, potatoe, Potatoes, Recipe, red, Red Bliss, salad, scallions, side dish, Sides, sour cream, Thanksgiving, tutorial, twice, vegetable, vegetables, video, warm, YouTube