This rice recipe is ready in minutes and is perfect served with my Parmesan Herb Crusted Tilapia, but it also goes well with salmon recipes or other fish recipes, chicken recipes or you can add things to the rice as well.  I especially like shrimp with rice, which makes an easy and delicious entrée!   This is one of my easy side dish recipes and is made with instant brown rice.  You can use long-grain rice, white rice, wild rice or whatever you'd like, but the instant makes it quick and easy!  I make the rice with lemon zest and lemon juice to add a lot of flavor, but it doesn't make the rice too lemony.  The fresh thyme and fresh parsley add another dimension of flavor, but you can use dried if you don't have fresh herbs. With garlic and oil, cooking rice or just about anything tastes great!  I also make an Italian rice and peas, which has some mascarpone cheese in it and a pasta and peas with pancetta, which can be served as a side dish or entrée recipe!   I don't want to get off track, but I have a really easy, healthy Orange Chicken recipe, with rice! The orange sauce for chicken is Fab over rice, so you might want to try that recipe too!  This rice recipe is a healthy side dish, low fat, easy to make and tastes delicious!  So, get in the kitchen and learn how to make Lemon Rice With Peas!
Leave me a comment!  Go to my This Recipe On YouTube or my Facebook Page and let me know if there's something you'd like to see.  What you're craving could be my next video!
Watch The Video!  Learn How To Make Lemon Rice With Peas!              Recipe by: Diane Kometa
Get updated when I release New Recipes!  It's Free! Do It! 
Don't Miss An Episode!
Lemon Rice with Peas Recipe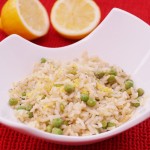 Prep time:
Cook time:
Total time:
Yield:

4

Difficulty:

easy

Recipe type:

side dish
Ingredients:
3-4 Tbs. Grape seed oil or olive oil

1 Tbs. Fresh parsley – minced

1 Tbs. Fresh thyme – thyme

1 clove garlic – minced

1 cup Frozen baby/petite peas – defrosted and drained

1 cup instant brown rice

1 – Fresh lemon – washed and patted dry

Salt

Fresh ground pepper
Directions:
Cook rice according to package directions. Be sure to salt the water.
Add the peas to the hot rice. Stir to combine. Set aside.
In a 10 inch skillet, add the oil and garlic. Turn the heat up to medium and cook just until the garlic becomes fragrant. Do not brown the garlic. See video.
Add the thyme and parsley to the garlic and oil. Stir to combine.
Zest the whole lemon directly into the pan.
Cut the lemon and squeeze the juice into the pan. Stir to combine.
Add the rice and peas to the lemon mixture. Stir to coat the rice.
Season with salt and pepper to taste. Stir to combine.
Serve with your favorite dish. Perfect with chicken and fish. Try it with my Parmesan Herb Crusted Tilapia! Enjoy! Recipe by: Diane Kometa
Published on by Dishin' With Di
Tagged: best, brown, demonstration, Diane Kometa, Dishin With Di, easy, from scratch, Garlic, healthy, homemade, How To Make, Lemon, parsley, Peas, pepper, quick, Recipe, Rice, rice and peas, Sides, Simple, thyme, tutorial, vegetable, vegetables, video, white, YouTube, zest