Easy Baked Chicken Recipe!  Simple ingredients like fresh lemons, fragrant rosemary, savory garlic, Parmesan cheese and bread crumbs combine to make this flavorful, crispy baked chicken recipe.  Easy enough for a weeknight, but great for company or a special occasion!  This is a healthy version of fried chicken cutlets. Boneless, skinless, chicken breasts are coated with the ingredients and the chicken is baked in the oven; oven fried. Clean up is easy, since there was no fying and the end result is delicious, crispy chicken full of flavor!  Simply one of the Best Baked Chicken Recipes!
Want to see more Easy Dinner Recipes or Chicken Recipes?  Leave me a comment!Go to this Recipe on YouTube or visit my Facebook Page! What you're craving could be my next recipe!
You may also like these easy recipes: Marinated Grilled Chicken Recipe, Parmesan Crusted Chicken Recipe
Watch The Video!
Learn How To Make Lemon Garlic Rosemary Chicken at home!
Recipe by: Diane Kometa
Get updated when I release New Recipes!  It's Free! Do It! 
Don't Miss An Episode!
Crispy Lemon Garlic & Rosemary Chicken Recipe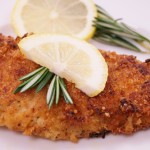 Prep time:
Cook time:
Total time:
Yield:

2-4

Difficulty:

easy

Recipe type:

Main Course
Ingredients:
2 boneless skinless chicken breasts at room temp – sliced in half lengthwise to create 4 thin cutlets

½ cup Italian style bread crumbs

½ cup panko bread crumbs

½ cup freshly grated Parmesan cheese

1/3 cup extra virgin olive oil

3 large garlic cloves – minced

1 Tbs. Fresh rosemary leaves – minced

1 tsp. lemon zest

1 Tbs. fresh lemon juice

Salt & pepper

13×9 baking dish
Directions:
Preheat oven to 425 degrees F.
Combine the panko and Italian bread crumbs with the parmesan cheese in a pie plate or deep dish. Set aside.
Pour olive oil into an 8 inch skillet. Add the garlic, rosemary lemon zest, lemon juice a pinch of salt and pinch of fresh black pepper. Turn heat on to medium and bring to a simmer. Reduce heat to medium low and cook for about 5 minutes or until garlic becomes soft. Mixture will be very fragrant. Remove from heat and pour into a pie plate. Allow to cool slightly. With a fork, smash the garlic into the oil.
Grease the bottom of a 13×9 baking dish with some non-stick cooking spray or a little vegetable oil. I usually don't grease it, but the chicken stuck slightly when I went to turn it over, so grease it to be safe.
Dip each piece of chicken into the lemony oil, garlic and rosemary to thoroughly coat. Then place the chicken into the bread crumb mixture and pat each side to coat thoroughly. Put breaded chicken into baking dish. Drizzle chicken with a little of the remaining oil mixture.
Place baking dish on the center rack of the preheated oven and cook for about 12-15 minutes and then turn chicken over using a spatula. Be careful, as bottom may stick slightly. Cook for about another 10-15 minutes or until chicken is golden brown and about 160 degrees F. Do not overcook. If chicken is not quite as brown as you'd like, pop it under the broiler for about a minute or two.
Remove chicken from oven and put on a platter to rest for about 5 minutes before serving. Enjoy! Recipe by: Diane Kometa
Published on by Dishin' With Di
Tagged: baked, best, bread crumbs, cheese, chicken, chicken breasts, crispy, demonstration, Diane Kometa, Dishin With Di, easy, eggless, fried, from scratch, Garlic, healthy, herbs, homemade, How To Make, Lemon, lemon zest, meat, oven, Parmesan cheese, quick, Recipe, rosemary, Simple, tutorial, video, YouTube