Lemon Bars or Lemon Squares, call them what you'd like.  I think they're  delicious bites of Lemon Heaven!  A Lemon Lovers Dream!
I've made lemon bar recipes before, but I like mine the best! These lemon bars are sweet, tart bites of heaven with a delicious shortbread crust! They're quick and easy to make, so you'll be enjoying these babies before you know it!
Want to see more dessert recipes with lemon?  Bar recipes?  Leave me a comment!  Go to this Recipe on YouTube or my Facebook Page and let me know if there's something you'd like to see.  What you're craving could be my next recipe!  😉
Watch the Video!  Learn How To Make Lemon Bars!                                  Recipe by: Diane Kometa
Get updated when I release New Recipes!  It's Free! Do It! 
Don't Miss An Episode!
Lemon Bars Recipe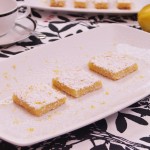 Prep time:
Cook time:
Total time:
Yield:

1 8×8 or 9×9 pan

Difficulty:

easy

Recipe type:

Dessert
Ingredients:
Crust

1 Tbs. Lemon zest

1/8 tsp. Salt

½ Cup Confectioners' sugar – also known as icing sugar or powdered sugar – measure by pouring into measuring cup – see video

1 cup Flour – measure by pouring into measuring cup – see video

½ cup cold unsalted butter – cut into small cubes – I cut it up and then put it back in the fridge on a plate until I'm ready.

Lemon Topping

2 Eggs – lightly whisked – room temperature

1 cup sugar

1 Tbs. Lemon zest

1/3 Fresh lemon juice

¼ tsp. Salt

½ tsp. Baking powder

2 Tbs. Flour

8×8 or 9×9 pan lined with foil and greased or sprayed with non stick spray

Plastic wrap
Directions:
Preheat oven to 350 degrees F
For the Crust:
In a large bowl, whisk together, flour, confectioner's sugar, salt and lemon zest.
Add the cold cut up butter. Using a pastry cutter or food processor, cut the butter into the flour mixture, until it looks like lumps about the size of peas. If you cut it too much and make it to fine, then the crust will be denser instead of crisp and light.
Dump the dough into the prepared pan and spread out in an even layer and up the sides about ½ inches. Take some plastic wrap and place it over top of the dough and press the dough into place. Be sure to get the corners. Using the bottom of your measuring cup or a glass, press the dough into the pan and smooth it out. The plastic wrap just makes this much easier. Without it, you'd be getting it all over your hands and it would stick to measuring cup.
Place on center rack of preheated oven and bake for about 15 minutes or until the crust is lightly golden. See video.
For the Lemon Topping:
Wipe out the bowl you used for the dough with a towel or napkin. (Why dirty another bowl)
Into the bowl, add the granulated sugar, salt, baking powder and flour. Whisk together thoroughly.
Add the eggs. Using a whisk or mixer, mix the eggs and sugar mixture together until combined. Add in the lemon juice and mix until well combined and slightly foamy. It takes about 2 minutes with a hand mixer, so it will be just a little longer by hand. I usually mix this together just before my crust is done, as you have to pour it into the hot crust, so it needs to be ready. If you mix it ahead, just give it a good stir when the crust is ready.
When the crust is done, DO NOT TURN THE OVEN OFF! (I did that once from habit) Pour the lemon mixture into the hot crust. Place in the oven and bake for about 20-25 minutes or until the top is lightly golden. See video.
Allow to cool to room temperature in the pan. If you try to remove it too soon, the crust will still be hot and soft and will crack. Once cooled, remove from pan by lifting out with the foil. Remove foil and place on cutting board and cut into squares or rectangles. The knife may get a bit sticky, so have a damp paper towel handy to carefully wipe the knife in between cutting. Don't cut in a sawing motion. Just take the knife and press down. The crust is crisp and you'll need to press into it to cut it. You can chill before cutting if you prefer.
Once the bars are cut, lightly dust them with come powdered sugar. Eat immediately or you can refrigerate them in an airtight container. Enjoy these little lemony bites of heaven! Recipe by: Diane Kometa
Published on by Dishin' With Di
Tagged: 4th of July, baking powder, bar, bars, best, butter, Christmas, confectioner's sugar, Cookie, cookie crust, Crust, demonstration, Desserts, Diane Kometa, Dishin With Di, Easter, easy, eggs, filling, flour, fresh lemon juice, from scratch, granulated, homemade, How To Make, icing sugar, juice, Labor Day, Lemon, lemon bars, lemon squares, lemon zest, Memorial Day, Mother's Day, pastry, powdered sugar, quick, Recipe, short bread, short crust, Shortbread, snack, sour, Spring, squares, sugar, Summer, Sweet, Tart, Thanksgiving, topping, tutorial, video, YouTube