With white chocolate chips, key lime juice,  zest and coconut in the cookie dough and then topped with icing, that's refreshingly sweet and tart, these cake-like cookies are tender with wonderful textures and loads of flavor! It's one of the best summer dessert recipes: easy to make, can be made ahead, travels well and has that fresh citrus taste that makes you think of summer!  Desserts that can be made ahead are always welcome in my house, so these homemade, from scratch cookies will be served whenever there's a gathering that needs a little citrus boost! There are a variety of Key Lime cookie recipes (Key West key lime pie cookies, key lime coolers, lime coolers or just key lime cookies) and white chocolate chip cookie recipes: easy recipes, no-bake recipes and the list goes on and on, but for me, the next best thing to making Key Lime Pie is this cookie recipe!  I hope you enjoy it too!  My Cranberry White Chocolate Chip Cookies recipe is another one of my favorites!  It has a hint of orange, which I love, and the wonderful textures of the dried cranberries and white chocolate chips.  Another one you should investigate strictly for scientific purposes! LOL  Soo, get in the kitchen and make these Key Lime White Chocolate Chip Cookies!  Warning!  Highly addictive!
What are your favorite Key Lime recipes?  Cookie Recipes?  Request a Recipe or Leave me a comment >> Go to this Recipe on YouTube or my Facebook Page!  What you're craving could be my next recipe!  Di  😉
Watch The Video!
Learn How To Make Key Lime White Chocolate Chip Cookies!                   Recipe by: Diane Kometa

Get updated when I release New Recipes!  It's FREE! Do It! 
Don't Miss An Episode!
Key Lime White Chocolate Chip Cookies Recipe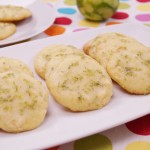 Prep time:
Cook time:
Total time:
Yield:

About 3 dozen

Difficulty:

easy

Recipe type:

Dessert,
Ingredients:
COOKIES

1/2 cup unsalted butter – room temperature

1 cup granulated sugar

1 Tbs. lime zest – finely grated – packed

1 3/4 cups flour – pour flour into measuring cup & level off with the back of a knife

1 Tbs. sweetened shredded coconut – finely chopped – packed – chop before measuring

1 tsp. baking powder

1/2 tsp. salt

1 egg – room temperature

1 egg yolk – room temperature

1/4 cup Key lime or lime juice – room temperature

1 cup white chocolate chips

1/2 tsp. pure vanilla extract

GLAZE

3/4 cup powdered sugar – also known as confectioners' sugar or icing sugar

3 tsp. lime zest – finely grated – packed

2 Tbs. Key lime or lime juice
Directions:
Place oven rack in the center of oven. Preheat oven to 325 degrees F
Line two baking sheets with parchment paper. Set aside.
In a bowl, whisk together the flour, salt baking powder and coconut, until thoroughly combined. Set aside.
In a separate bowl, add the sugar and the lime zest. With clean hands, rub the sugar and zest together with your finger tips or the palms of your hands, until very fragrant and the sugar and zest are well combined. The sugar will be slightly damp. See video. Set aside.
Into a large mixing bowl, add the butter. Using a hand mixer or stand mixer, beat the butter slightly until smooth.
With the mixer on low, gradually add the sugar and lime zest mixture to the butter. Once all of the sugar had been added, increase the speed to medium-high and beat for 2 minutes. Scrape bowl as needed.
Lightly whisk together the egg and egg yolk in a small bowl. With the mixer on low, gradually add the egg mixture to the butter and sugar, until thoroughly combined.
Add the vanilla extract and combine thoroughly. Scrape the sides and bottom of the bowl.
With the mixer on low, gradually add the flour. Mix until just combined.
With the mixer on low, pour in the lime juice. Mix until just combined. The dough will be sticky. Do not over mix.
Using a spatula or firm spoon, fold in the white chocolate chips.
With a small ice cream scoop or two spoons, scoop dough and place it onto the baking sheet. Leave about 2 inches between each dough ball. See video.
Bake for about 14 minutes or until cookies look dry on top and are lightly golden on the bottoms. See video. Let cookies rest on the sheet for about 2-3 minutes and then remove to a rack to cool completely. I used two baking sheets and baked the sheets separately. If you are using only one baking sheet, cool the baking sheet with some cold water before placing the dough for the next batch on it, otherwise the cookies may cook too fast and become flat.
While the cookies are cooling make the glaze. Into a bowl, combine the confectioner's sugar, lime zest and lime juice. Mix thoroughly, until smooth and well combined. The mixture should not be too runny. If it is, just add a bit more powdered sugar. See the video for the consistency.
Take the cooled cookies and either dip them into the glaze or brush the glaze on with a pastry brush. I've tried it both ways and although it's easier to dip them, I like to brush it on because it gets more glaze and zest on each cookie. Place the glazed cookies back on the rack to dry.
The cookies can be stored in an airtight container, with parchment or wax paper between the stacked layers, for several days. These cookies have a tender, cake-like texture and I think they actually taste better the second day, when the flavors have a chance to mingle. I hope you enjoy theses cookies! Recipe by: Diane Kometa
Published on by Dishin' With Di
Tagged: baked, baking, baking powder, best, butter, Cake, chocolate chip, chocolate chips, Christmas, citrus, coconut, confectioner's sugar, Cookie, cookies, Coolers, demonstration, Desserts, Diane Kometa, Dishin With Di, Easter, easy, egg yolk, eggs, flour, fresh, fresh lime juice, from scratch, glaze, homemade, How To Make, Icing, juice, Key Lime, key lime pie, lime, lime juice, lime zest, Old Fashioned, powdered sugar, quick, Recipe, Spring, sugar, Summer, sweetened shredded coconut, tutorial, vanilla, vanilla extract, video, white chocolate, YouTube, zest