Learn how to Make Mom's Best Key Lime Pie From Scratch!  It's Easy! Key Lime Pie is an American classic! Key Lime Pie filling is made with real fresh key limes, from Florida. Like the original recipe, I make a traditional graham cracker crust with whipped cream topping, although some top the pie with meringue.  Key lime pie is one of those perfect summer dessert recipes: simple to make, can be made ahead and has that fresh lime flavored filling that makes you think of summer!  Desserts that can be made ahead are perfect for holidays!  Homemade Key Lime Pie with its graham cracker crust filled with a creamy lime flavored filling and whipped cream topping makes for a refreshing sweet and tart dessert for summer or anytime. My Key Lime Pie isn't in the oven long, so it's as close as you can get to a No Bake Key Lime Pie recipe from scratch!
The next best thing to making Key Lime Pie is my Key Lime White Chocolate Chip Cookies recipe, also known as Key West Key Lime Pie Cookies, Lime Coolers, Key Lime Coolers or just Key Lime Cookies. Another delicious and easy recipe perfect for summer!  Recipes with citrus fruit always have a nice refreshing taste.  I just love Lemon Meringue Pie with fresh lemon juice!  I add fresh lemon zest and orange zest to my New York Cheesecake recipe and lemon zest to my mini cheesecake cupcakes recipe. Key lime cupcakes or a key lime cheesecake recipe sounds like a good idea!  Maybe I'll make a no-bake recipe! Who doesn't love simple no bake desserts for summer! Anyway, get in the kitchen and make my easy Key Lime Pie Recipe! Thanks for watching!  Di  😉
Want more quick and easy dessert recipes?  Leave me comment! 
Go to this recipe on YouTube   or visit my Facebook Page and let me know what video recipes you'd like see.  What you're craving could be my next recipe!
Watch The Video!
Learn How To Make Key Lime Pie!  Recipe by: Diane Kometa
Subscribe for FREE to Dishin' With Di's YouTube Channel for the latest recipes!
Don't Miss An Episode!
Key Lime Pie Recipe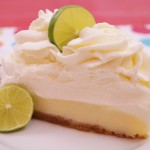 Prep time:
Cook time:
Total time:
Yield:

1 – 9″ Pie

Difficulty:

easy

Recipe type:

dessert
Ingredients:
Graham Cracker Crust:

1 1/4 cup graham cracker crumbs

2 tablespoons sugar

6 tablespoons melted unsalted butter

Filling:

1 large egg – room temperature

1 – 14 ounce can sweetened condensed milk

1/2 cup key lime juice or regular fresh lime juice

Note: Depending on the size of the limes, I use about 20 key limes or 5-6 regular limes

½ tsp. pure vanilla extract

Pinch of salt

Topping:

1 cup cold heavy whipping cream – also known as double cream or heavy whipping cream

¼ cup sugar

½ tsp. pure vanilla extract

Lime slices and / or lime zest for decoration
Directions:
Preheat the oven to 350 degrees F and place the oven rack in the center position. Grease a 9 inch pie pan with a non stick vegetable spray or butter. Set aside.
In a large bowl or if you crushed graham crackers, use the same large plastic bag and mix together the crumbs and sugar. Add the melted butter and thoroughly combine, until the mixture looks like wet sand.
Pour the graham cracker mixture into the greased pie pan and spread evenly. Use the bottom of a measuring cup to press the mixture firmly into the bottom and up the sides of the pan evenly. Be sure the sides are even, as thin spots may crumble when sliced.
Bake the crust for about 10 minutes, until lightly browned. Remove from the oven and set on a wire rack to cool, while you make the filling.
In a mixing bowl or large measuring cup, add the sweetened condensed milk, lime juice, salt and pure vanilla extract and whisk to combine. Crack the egg into a small bowl and then add to the mixture and whisk through thoroughly.
Pour the filling into the pie shell and bake for about 15 minutes or until set and the filling jiggles slightly. It should not be watery. Remove from the oven to a wire rack to cool completely.
Once completely cooled, cover with plastic wrap, but do not let it touch the custard, as it will stick. Refrigerate for several hours or overnight to set and thoroughly chill.
After the pie is chilled, make the topping. Chill a mixing bowl and the whisk of a stand mixer, hand mixer or a wire hand whisk, in the freezer for about 15 minutes. Using cold utensils helps the cream whip faster.
Remove the cream from the fridge just before whipping, so it's very cold. Pour the cold heavy cream into the chilled bowl. Turn the mixer on low and gradually add the sugar. Beat until soft peaks form. Add the vanilla and continue to beat until firm peaks form. Do not over mix or it will turn to butter, but quickly beating in a few splashes of cold cream can fix that. The whipped cream can now be spread, spooned or piped on top of the pie. I pipe decorative swirls on the pie around the edges or all over the top. I always pile more whipped cream on my slice! Garnish with fresh limes slices and / or a little lime zest, if desired. Enjoy! Recipe by: Diane Kometa
Published on by Dishin' With Di
Tagged: 4th of July, authentic, bake, baked, best, butter, Christmas, citrus, Cold, cookies, cream, creamy, Crust, custard, demonstration, Desserts, Diane Kometa, Dishin With Di, Easter, easy, easy desserts, easy recipes, eggs, famous, fast, Father's Day, Florida, Food, fresh, from scratch, fruit, graham cracker, green, heavy cream, homemade, How To Make, ingredients, Key Lime, key lime pie, key west, kitchen, Labor Day, Lemon, lime juice, Memorial Day, meringue, milk, Mother's Day, nellie and joe's, official, Old Fashioned, oven, Pie, pie recipes, quick, real, Recipe, salt, Simple, Spring, sugar, Summer, Sweet, sweetened condensed milk, Tart, Thanksgiving, tutorial, vanilla, video, whipped, YouTube, zest