Irish Soda Bread has been around for a long time and there are many recipe versions. This Irish Soda Bread Recipe is very easy to prepare.  I have added a few special ingredients to make the bread brown and crisp on the outside and moist, tender and full of flavor on the inside.  I love my bread toasted with salted butter and a cup of tea for breakfast or even as a dessert. This quick bread recipe will be on your go-to St. Patrick's Day Recipes list, so watch the video and learn my special recipe for Irish Soda Bread from scratch the easy way!
Watch the Video!  Learn How To Make It!  Irish Soda Bread!
Recipe by: Diane Kometa
Visit me on my YouTube Channel and Subscribe  to get my latest recipes!
Leave me a comment!  Go to my YouTube Channel or my Facebook Page and let me know if there's something you'd like to see.
Irish Soda Bread Recipe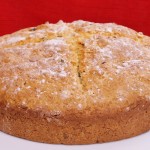 Prep time:
Cook time:
Total time:
Yield:

Makes one large loaf or two small loaves

Difficulty:

easy

Recipe type:

side dish, appetizer, breakfast
Ingredients:
6 Tbs. unsalted butter – cold

1 cup sugar

1 tsp. baking Soda

1 ½ tsp. Baking Powder

1 tsp. salt

1 teaspoon Orange zest – optional – I've added the zest of a whole orange before, but add as much or as little as you'd like

1 large egg

1 1/3 cups Buttermilk – cold – I have a Buttermilk Substitute Recipe if you don't have it

½ cup dried raisins

½ cup dried cranberries (you can use all raisins if you'd like)

1 cup warm water

4 cups sifted all-purpose flour (sift before measuring) Measure by pouring flour not scooping – see video

Additional flour for your board or counter
Directions:
Preheat oven to 350 degree F
Grease and flour a 9 inch cake pan. Set aside
Place the raisins and dried cranberries in a small bowl. Add the warm water and set aside.
Sift flour into a large bowl. Add the sugar, salt, baking soda and baking powder. Whisk together until thoroughly combined. Be sure to check the bottom for sugar.
Add the cold unsalted butter to the flour mixture. Using a pastry cutter, two knives or a mixer with the paddle attachment, cut the butter into the flour until it looks like coarse crumbs or cornmeal. See video.
Drain water from raisins and cranberries and pat dry with paper towel. Add to the flour mixture and combine thoroughly. If using a mixer, do this and the next steps by hand.
In a large measuring cup or bowl using a whisk, thoroughly combine buttermilk, egg and orange zest.
Make a well in the center of the flour mixture. Pour half of the buttermilk mixture into the well. Gently stir the mixture to moisten the flour. When the buttermilk is absorbed, add the other half and combine just until moist and mixed through. The dough will be very sticky. Do not over mix or stir hard, as this will create tough dough.
Thoroughly flour your work surface and your hands. Dump dough onto floured surface and knead just a few times to form a ball.
Place dough into prepared cake pan. Gently pat down, so it's in there evenly. Using a knife, cut two slits about 1 inch deep, into the top of the bread shaped like an "X". You can dust the bread lightly with flour if you'd like, as this would be done for a more traditional Irish Soda Bread
Bake for 50-60 minutes or until golden brown and a tester comes out clean. Remove from oven and let it rest in the pan for about 5 minutes. Remove from pan to cooling rack until you're able to handle. Eat warm or toasted with some salted butter, jam, fruit or whatever you'd like! Recipe by: Diane Kometa
Published on by Dishin' With Di
Tagged: American, appetizer, baking powder, baking soda, bread, breakfast, butter, buttermilk, Christmas, craisins, cranberries, Cranberry, Desserts, dried cranberries, Easter, easy, eggs, from scratch, homemade, Irish, Irish bread, Irish Soda Bread Recipe, milk, muffin, orange, orange zest, quick, quick bread, raisin, raisins, Saint Patrick's Day, side dish, snack, soda, soda bread, St. Patrick's Day, St. Patty's Day, sugar, Sweet, Thanksgiving