Visit me on my YouTube Channel and Subscribeto get my latest recipes!
Leave me a comment!  Go to my YouTube Channel or my Facebook Page and let me know if there's something you'd like to see.
What you're craving, could be my next video!
Hot Chocolate Recipe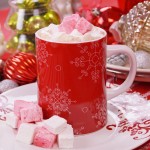 Prep time:
Cook time:
Total time:
Yield:

2 large or 4 small

Difficulty:

easy

Recipe type:

beverage, dessert
Ingredients:
3 ½ cups milk

½ cup heavy cream

2 tsp. vanilla extract

1/3 cup water

½ cup granulated sugar

6 tablespoons unsweetened cocoa powder

1/8 teaspoon – more or less – taste it

Note: Try to use better brands of the unsweetened cocoa powder and vanilla extract if you can. You can use half and half is you don't have heavy cream or you can just use all milk. It will just be a bit thinner, but will still have great flavor.
Directions:
In a non-stick pot over medium heat, add the sugar, cocoa powder and water. Stir or whisk to combine thoroughly. Bring to a boil stirring occasionally. Boil and stir until the mixture thickens and looks like syrup. It should only take a minute or two.
Gradually stir in the milk and cream until well incorporated. Heat and stir until hot. Do not boil!
Turn the heat off and add the vanilla extract and the salt and stir to combine.
Pour into mugs and serve with marshmallows or whipped cream. Enjoy!
Try my Homemade Marshmallows!
Published on by Dishin' With Di
Tagged: best, breakfast, chocolate, Christmas, cocoa, cocoa powder, cream, demonstration, Desserts, Diane Kometa, Dishin With Di, easy, from scratch, Halloween, heavy cream, homemade, hot chocolate, hot cocoa, How To Make, milk, New Year's, New Year's Eve, Old Fashioned, quick, Recipe, sugar, Thanksgiving, tutorial, Valentine's Day, vanilla, video, YouTube