This is an extremely delicious, surprisingly quick and easy Salsa Recipe.  Can be made in minutes and enjoyed any time of year!
Try it in my Turkey Taco Wraps, with my Easy Chicken and Cheese Empanadas, or Homemade Guacamole!
What's your favorite salsa recipe?  Mexican recipe?  Leave me a comment! Go to this Recipe on YouTube or visit my Facebook Page! Let me know if there's something you'd like to see.  What you're craving could be my next recipe!
Watch The Video!  Learn How To Make Homemade Salsa!                       Recipe by: Diane Kometa
Get Updated when I release New Recipes  It's FREE!  Do It!  
Don't Miss An Episode!
Homemade Salsa Recpe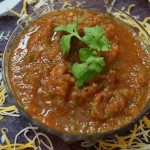 Prep time:
Cook time:
Total time:
Yield:

6-8

Difficulty:

easy

Recipe type:

Appetizer, Snack
Ingredients:
1 can- 28 oz. -whole Plum tomatoes -drained–I like plum for this, because they have less seeds.

1 medium onion chopped

2 cloves garlic

½ – 1 cup cilantro – chopped – add more or less – some love it, some don't

1 jalapeño pepper–chopped-remove seeds, if you like it milder. Wear gloves!

¼ tsp Cumin

1 can green chilies (4 oz.)

¾ tsp sugar

Juice of half a Lime

Salt to taste – I used about 1 1/2 tsp.
Directions:
Add all ingredients to food processor or blender
Pulse a few times and check consistency and taste
Pulse until desired consistency is reached
Refrigerate for at least an hour before serving to blend flavors. Serve with tortilla chips or my Turkey Taco Wraps or Chicken Empanadas! Recipe by: Diane Kometa
Published on by Dishin' With Di
Tagged: appetizer, appetizers, best, canned, Christmas, cilantro, Cinco de Mayo, cumin, demonstration, Diane Kometa, dip, Dishin With Di, easy, from scratch, Garlic, green chilies, Halloween, homemade, How To Make, jalapeno pepper, lime, lime juice, Mexican, Mexican style, New Year's, New Year's Eve, onion, peppers, plum tomatoes, quick, Recipe, salsa, sauce, snack, spicy, tomato, tomatoes, tutorial, vegetable, vegetables, video, YouTube