Homemade Marshmallows are Light and Fluffy Pillows of Sweetness!  Perfect in Hot Chocolate or anytime! These marshmallows are great alone, toasted or with hot chocolate. I'm putting some in decorative bags and giving them out as gifts with some of my hot chocolate mixture and some mugs. Cut them small and make mini marshmallows! Easy! Perfect Christmas or Easter candy, dessert or sweet treat. 😉
Want to see more marshmallow recipes?  Candy recipes?  Want to learn how to make a marshmallow Peeps recipe? Leave me a comment! Go to this recipe on YouTube or visit my Facebook Page!  What you're craving could be my next recipe!
Watch the Video Demonstration!
Learn How to Make Homemade Marshmallows!  Recipe by: Diane Kometa
Get updated when I release New Recipes!  It's FREE! Do It! 
Don't Miss An Episode!
Homemade Marshmallows Recipe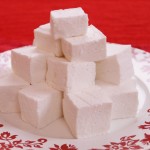 Prep time:
Cook time:
Total time:
Yield:

About 2 dozen large marshmallows

Difficulty:

easy
Ingredients:
3 – ¼ ounce packets of unflavored gelatin

1 cup cold water

1 ½ cups granulated sugar

1 cup corn syrup

½ tsp. salt

2 tsps. vanilla or peppermint extract

½ -1 cup confectioners' sugar (also known as icing sugar or powdered sugar)

Non-stick cooking spray, vegetable oil, shortening or butter

Parchment paper (you can also use foil or plastic wrap)

Candy thermometer

Pan of your choice – I used a 9"x9" for larger marshmallow and a 17"x10" for smaller ones

Stand mixer or hand mixer fitted with whisk attachment – a stand mixer is preferred, as there is a long mixing time at high speed.

Note: 2-4 tablespoons of cornstarch can be mixed with the confectioners sugar to help prevent marshmallows from sticking to pan and to one another.
Directions:
Line a pan with parchment paper. Grease with non-stick spray and sift some confectioners' sugar over it to cover the bottom and sides. Set aside.
Take ½ cup of the cold water and pour that into your mixing bowl with the gelatin. Give a light stir to ensure that the water has covered the gelatin. Let this set while you go to the next step.
In a pot over medium heat, add the other ½ cup of water, granulated sugar, salt and the corn syrup. Stir to combine and dissolve the sugar. Once the sugar had dissolved, stop stirring. You will not stir the mixture again during cooking time. Insert the thermometer into the liquid and attach it to the side of the pot. Do not let the tip of the thermometer touch the bottom of the pot.
Bring the mixture to a boil and cook until the temperature reaches 240 degrees F. If you do not have a candy thermometer, refer to the video to see the stages of cooking and the appearance. It should take approximately 5-10 minutes from the rolling boil stage to hit about 240 degrees F, so be patient. If you don't have a candy thermometer, just time it from the rolling boil. I've taken it off before its hit 240 degrees and they've still turned out great, so don't worry.
Once the mixture is heated, with your mixer on LOW gradually add the hot mixture to the gelatin by pouring it down the side of the bowl. Be very careful, as the hot mixture may splash and is very sticky.
Gradually increase the speed to high. Beat on high speed for approximately 12 minutes or until the mixture has tripled in size and is very white and firm.
During the last minute of mixing add in the vanilla extract and mix until combined for about 30 seconds to a minute. I've also added peppermint extract and food coloring. You can try 1 teaspoon of peppermint extract and add more if you like it more potent. I've stirred in the food coloring in the mixer and also by hand. Experiment! It's fun! A little messy though, so have a wet cloth handy.
Spray a large spatula with some non-stick spray. Pour the mixture into the prepared pan and spread evenly. Sift some confectioners' sugar over the top. Let it sit at room temperature for at least 4-6 hours. I cover mine loosely and prefer to let it sit overnight.
Run a knife around the edge of the pan to loosen the marshmallow.
In a shallow dish or pan, place about 1/4 cup confectioners' sugar. Set aside.
Sift some confectioners' sugar onto a cutting board or surface and remove the marshmallow from the pan and place it onto the sugared board.
Using a sharp knife, pizza cutter or kitchen scissors, cut the marshmallows into desired size. If the knife gets sticky, just wipe it off. Do not saw back and forth with the knife. Simply cut straight down.
Place the cut marshmallows into the shallow pan with the confectioners' sugar and toss to coat. Homemade Marshmallows Recipe by: Diane Kometa
Published on by Dishin' With Di
Tagged: at home, best, Christmas, confectioner's sugar, cook, cooking, corn syrup, demonstration, Desserts, Diane Kometa, Dishin With Di, Easter, easy, eggless, extract, from scratch, gelatin, gourmet, Halloween, homemade, How To Make, icing sugar, jello, making, marshmallow, marshmallows, meringue, mini, New Year's, New Year's Eve, no bake, Old Fashioned, pavlova, peppermint, powdered sugar, Recipe, salt, snack, Spring, sugar, Thanksgiving, tutorial, vanilla, video, water, without eggs, YouTube