Quick and Easy Garlic Herb Croutons Recipe!  Crunchy, lightly seasoned and simple to make and you can just store them in your pantry.   These homemade croutons add a special touch to your dishes.   Great topped on soups and casseroles!  Use leftover sliced bread or whatever bread or rolls you have.  Don't throw bread away, make croutons!  It only takes a few minutes and you only need a few ingredients.  Get in the kitchen and give it a go!
These croutons are great with my Caesar Salad, Shrimp Bisque, Butternut Squash Soup and Pumpkin Soup!
What's your favorite Soup Recipe? Salad Recipe?  Leave me a comment! Go to this Recipe on YouTube or visit my Facebook Page! Let me know if there's something you'd like to see.
What you're craving could be my next recipe!
Watch The Video! Learn How To Make Homemade Croutons!
Subscribe to Dishin' With Di's YouTube Channel for the latest recipes! It's FREE!
Don't Miss An Episode!
Homemade Croutons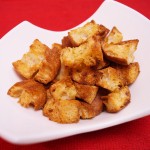 Prep time:
Cook time:
Total time:
Yield:

4 cups

Difficulty:

easy

Recipe type:

Side dish
Ingredients:
About 4 cups of day old bread cut into cubes – I freeze leftover bread and rolls and use that – I used ciabatta bread and a couple of small rolls that were in my freezer in the video.

Di's Simple Seasoning:

2 tsp. sweet Hungarian paprika

1 ½ tsp garlic powder

¾ tsp onion powder

½ tsp dried oregano

½ tsp dried thyme

½ tsp dried parsley

1 ½ tsp. salt

½ tsp pepper

Small pinch of granulated sugar

1/3 c Extra virgin olive oil

1 ½ -2 tsp fresh garlic
Directions:
Preheat oven to 350 degrees F
Line a baking sheet with parchment paper or foil.
In a mini food processor, combine the oil and the fresh garlic. If you don't have a mini food processor, you can grate the garlic into the oil and give it a stir.
Combine the seasonings in a small bowl. You won't be using all of it, so you can store the leftover in a plastic bag or a small air tight container. Try your own seasoning combo if you'd like! This is my basic seasoning recipe and I find it goes well with just about anything.
Place bread in a large bowl and sprinkle with desired amount of seasoning. Toss and sprinkle. I like to be able to see that each piece has been coated lightly.
Drizzle a little of the olive oil garlic mixture over the cubes and toss. Continue to drizzle and toss until the bread has been lightly coated. The amount of oil I used was enough to lightly coat one baking sheet of cubes, so about 4 cups. You don't want the cubes to be soaked in oil or they'll just get soggy and won't brown. Add more or less according to how much bread you have.
Place the coated cubes on the lined baking sheet and spread them out in a single layer. Bake for 15-20 minutes, until bread it toasted.
Remove to rack and use immediately or cool completely, before placing in an air tight container or zip lock bag for storage. I've stored them for a couple of months without a problem. They add an elegant touch when served in a small stack in the center of a bowl of soup. Try them on my Pumpkin Soup and Shrimp Bisque! Perfect for soups, salads, topped on casseroles and some have used them for their Thanksgiving stuffing too! Enjoy!
Published on by Dishin' With Di
Tagged: appetizer, appetizers, bread, Christmas, demonstration, Diane Kometa, Dishin With Di, Easter, easy, from scratch, homemade, How To Make, quick, Recipe, salad, soup, Thanksgiving, toast, tutorial, video, YouTube