Easy fish recipes, that come together fast are perfect for light dinners, especially on weeknights. My Parmesan Crusted Tilapia recipe or Herb Crusted Tilapia recipe (didn't know which to name to choose!), baked in the oven, makes for a healthy fish dinner, that is both crispy and flavorful. Tilapia is a nice light fish, that can be prepared a number ways.  I like this tilapia recipe with lemon and herbs, Parmesan cheese and with panko breadcrumbs, along with the Italian seasoned bread crumbs, for extra flavor. It's sort of an Italian fish recipe! Tilapia breaded without using eggs, and baked in the oven instead of frying in a pan, makes this dish a healthier choice.  I love fried fish, but it can be messy and leave the house with unpleasant odors for days!  Cooking oven fried fish or even oven fried chicken, gives you that crispness, without the clean up or nasty lingering odors.  Fish is great all year-long.  During the summer, grilled tilapia for fish tacos is delish!  I also make an easy pan seared tilapia recipe, with a lemon butter sauce. The tilapia is dusted with flour, without eggs and cooked in a skillet, on the stove, in a small amount of oil.  It's not nearly as messy as breaded fish fillets or deep fried fish. Try this Parmesan Herb Crusted Tilapia with my lemon garlic aioli sauce. The tilapia with that cream sauce is really flavorful!  I punched up the aioli with a bit of horseradish, so it's even more tasty. I also use the aioli sauce on my chicken broccoli parmesan fritters, so check those out too! Enjoy!
Do you want to see more Seafood Recipes and Fish Recipes?  Go to the comments section for this Recipe on YouTube  or my FaceBook Page and Request a Recipe or Leave me a Comment!  What you're craving could be my next recipe!
You may also like a few of my other fish and shell fish recipes: Seared Salmon with Lemon Butter Sauce Recipe, Salmon with Mango Salsa or Shrimp Fried Rice Recipe.  Enjoy!  Di
Watch the Video!  Learn How To Make Parmesan Herb Crusted Tilapia!  Recipe by: Diane Kometa
Get updated when I release New Recipes!  It's Free! Do It! 
Don't Miss An Episode!
Herb Crusted Tilapia Recipe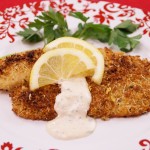 Prep time:
Cook time:
Total time:
Yield:

2

Difficulty:

easy

Recipe type:

Entree, Main Course
Ingredients:
2 Tilapia fillets – washed and patted dry

¼ cup Olive oil – approximately

1/3 cup Italian seasoned bread crumbs

1 cup Panko bread crumbs

¼ tsp. garlic powder

¼ tsp Italian seasoning

1/8 tsp. onion powder

½ cup Parmesan cheese – fresh grated

1/8 tsp. sea salt – or to taste

1/8 tsp. fresh ground pepper – or to taste

Fresh lemon juice – juice of 2 lemons – about 3 Tbs.
Directions:
Preheat oven to 425 degrees F. Place cooking rack in the center of the oven.
Get two pie plates or shallow casserole dishes or bowls and place them next to each other
Line a baking sheet with parchment paper or foil – keep this near the pie plates
Place lemon juice in one pie plate
In the other pie plate, add the salt, pepper, Italian and Panko bread crumbs, Italian seasoning, onion powder, garlic powder and Parmesan cheese. Mix thoroughly.
Place one piece of tilapia into the lemon juice and coat each side
Move it to the bread crumb mixture and pat the bread crumbs onto each side of the fish, until it's well coated. Move the tilapia to the baking sheet. Repeat with the other fillet.
Bake the tilapia for about 18-20 minutes or brown and crispy on top. I put mine under the broiler for about 1 minute after baking, just to get them a little extra crispy. Be careful though, because they can go from brown to burnt in a few seconds under the broiler. Fish is cooked through when internal temperature is 140 degrees F.
Serve with some extra lemon juice squeezed over top and a few grates of lemon zest. Delicious accompanied by my Lemon Garlic Aioli Recipe. I added a little horseradish to the aioli to bump up the flavor, but that's optional. My easy Lemon Rice with Peas and Roasted Asparagus are perfect side dishes for a healthy and delicious meal! Enjoy! Recipe by: Diane Kometa
Published on by Dishin' With Di
Tagged: baked, best, bread, bread crumbs, breadcrumbs, cheese, cream, demonstration, Diane Kometa, Dishin With Di, Easter, easy, fish, fresh lemon, fresh lemon juice, from scratch, Garlic, healthy, herb crusted tilapia, homemade, How To Make, Italian, lemn juice, Lemon, lemon zest, Lent, onion, oven baked, panko bread crumbs, Pramesan cheese, quick, Recipe, sauce, Seafood, tilapia, tilapia baked, tilapia fillets, tilapia fish, tilapia recipe, tutorial, video, YouTube