My Famous Guacamole Recipe!  This is a must-have appetizer for Cinco de Mayo, Super Bowl and just about any party or anytime you want a delicious, nutritious snack, Mexican style!
I researched dozens of guacamole recipes and think I've found the perfect flavor combination, but it's always good to make adjustments to your own taste.  The only problem I have with this guacamole recipe is that it's ADDICTIVE!!  I ate the last batch I made all by myself!
This dip is pretty simple to put together and you only need a few ingredients.  The important thing is to get avocados that are ripe.  They should be firm, but give a little when pressed with your finger tips.  If they feel as hard as baseballs, they're not ripe yet, but that's easy to fix.  To ripen avocados quickly, place them into a paper bag with some bananas, apples or both.  Close the bag and let it sit out at room temperature for about 24 hours.  I used small lunch bags and put one avocado in each bag, with one or two bananas.
When you're ready to make your guacamole, do not cut the avocados up, before you gather all of your other ingredients for the recipe, as the avocados my start to turn brown.  Once you have everything ready, cut the avocados, remove the pit and scoop out the flesh into a bowl.  The lime juice stops the avocados from turning brown, so that gets mixed in right away.  To get the most juice out of the limes, place clean limes in the microwave for about 30 seconds on high power.  The limes will become warm and soften a bit.  Roll the limes on the counter back and forth, pressing firmly with the heel of your hand.  You'll be surprised how much more juice you get!  Now get in the kitchen and make this easy and delicious Guacamole Recipe!  I hope you enjoy it as much as I do!  Click for >> Mexican Recipes / Cinco de Mayo Recipes 
Want more delicious Appetizer and Dip Recipes?  Mexican Style Recipes?  Request a Recipe or Leave me a Comment!  Go to This Recipe On YouTube or my Facebook Page!  What you're craving could be my next recipe!
Watch the Video!  Learn How To Make Guacamole!  Recipe by: Diane Kometa
Get updated when I release New Recipes!  It's Free! Do It! 
Don't Miss An Episode!
Guacamole Recipe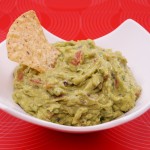 Prep time:
Cook time:
Total time:
Yield:

4 -6 Servings

Difficulty:

easy

Recipe type:

appetizer, snack
Ingredients:
3 Ripe Avocados

2 Tbs. fresh lime juice (1-2 limes)

½ cup red onion – fine chopped

¾ cup plum/roma tomatoes – small dice (2-3 roma /plum)

½ jalapeño pepper – seeded & minced (wear gloves)

1 tsp. garlic – finely minced (1-2 cloves)

2 Tbs. fresh cilantro – fine chopped

1/8 tsp. ground cumin

1/8 tsp. granulated sugar

¾ tsp salt

Pinch fresh ground black pepper
Directions:
Wash avocados. Cut into each avocado, twist and remove seed. With a spoon, scoop out the flesh into a bowl. See video for my tip on ripening avocados quickly.
Immediately add the lime juice and salt. Mash thoroughly with a fork. I like the avocados smooth, but you can leave them a bit chunkier, if desired.
Add the garlic, cumin, ground pepper, sugar and cilantro. Mix well to combine.
Stir in the jalapeño, tomatoes and onions. Mix well.
Place in an air tight container in the refrigerator for several hours or overnight, to let the flavors marry. You can serve the guacamole immediately, but I think it tastes best when the flavors get a chance to blend.
Serve with tortilla chips or as topping with your favorite meal. Enjoy!! Recipe by: Diane Kometa
Published on by Dishin' With Di
Tagged: appetizer, appetizers, avocado, avocados, best, Christmas, cilantro, Cinco de Mayo, cumin, demonstration, Diane Kometa, dip, dips, Dishin With Di, easy, from scratch, Garlic, guacamole, guacamole dip, Halloween, healthy, homemade, How To Make, jalapeno, lime, lime juice, Mexican, New Year's, New Year's Eve, onion, quick, Recipe, sauce, snack, Super Bowl, Thanksgiving, tomato, tomatoes, topping, tutorial, vegetable, vegetables, video, YouTube