This easy grilled chicken breast recipe is full of flavor and my son thinks it's just the best chicken for making chicken wraps and a grilled chicken sandwich!  I prefer this grilled chicken with rice. I actually have a Mexican Rice Recipe that goes perfectly with this Mexican style chicken.   I make the grilled chicken and rice, along with my homemade guacamole for a Mexican dinner night or Cinco de Mayo!  My Mexican rice recipe with cilantro, jalapeno pepper and cheese, along with some other incredibly tasty ingredients, goes perfectly with this grilled chicken.  I'm always looking for a reason to make homemade guacamole anyway and it's great with this grilled chicken and rice.  I make a tequila lime marinade with cilantro, lime, spices, garlic, honey, jalapeno pepper and a nice white tequila. The combination smells incredible!  The skinless, boneless chicken breasts are sliced thin and placed in the marinade and then refrigerated for at least 30 minutes.  Then it's grill time!  The marinade is cooked to make an incredible rich and flavorful sauce for the chicken.  With cilantro and lime in the sauce, along with some orange juice, for a special touch, and that white tequila, it's just jam packed with flavor!   This is just one of those great recipes: easy to prepare and a healthy to top it off!  This chicken goes great with my Mexican Rice,  Guacamole and Tres Leches Cake!
Want more Chicken Recipes or Mexican Recipes?  Request a Recipe or Leave a Comment! Go To This Recipe on YouTube or my Facebook Page!  What you're craving could be my next recipe!
Watch The Video!  Learn How To Make Tequila Lime Chicken                    Recipe by: Diane Kometa
Get updated when I release New Recipes!  It's Free! Do it! 
Don't Miss An Episode!
Grilled Tequila Lime Chicken Recipe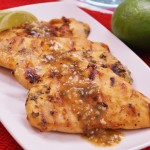 Prep time:
Cook time:
Total time:
Yield:

2 Regular or 4 Small

Difficulty:

easy

Recipe type:

Main Course – Entree
Ingredients:
Ingredients

2 – Boneless skinless chicken breast – Sliced in half lengthwise (4 pieces)

Marinade

2 Tbs. minced garlic

1/2 tsp. chili powder

1/2 tsp ground cumin

3/4 tsp. salt

1/4 tsp. freshly ground black pepper

1/3 cup fresh orange juice (about 1 orange) – optional

1/3 cup fresh lime juice (about 4 limes)

1/2 jalapeno pepper – seeded and minced – about 1 1/2 Tbs.

1/3 cup fresh cilantro – chopped

1 Tbs. honey

1/4 cup clear tequila

For the sauce

1 Tbs. cornstarch

1 Tbs. water
Directions:
In a large bowl, thoroughly combine all ingredients for the marinade.
Add the chicken. Cover with plastic and refrigerate for at least 30 minutes. Remove from the refrigerator and let the chicken sit at room temperature for another 45 minutes.
Preheat your grill to 400 degree F.
In a small bowl, combine the water and cornstarch. Set aside to make the sauce.
Place chicken on grill and reserve the marinade. Cook chicken until golden, with nice grill marks and flip over. Cook until internal temperature reaches 165 degrees F. Remove chicken from the grill and let it rest for about 5 minutes.
Make the sauce: While the chicken is resting, place the marinade in a small pot and heat to boiling. Boil for about 2 minutes. Stir in half of the cornstarch mixture and see how thick the sauce becomes. If you'd like it thicker, add more. Cook and stir for 1 minute. Remove from the heat.
Serve chicken with sauce poured over top or on the side. Recipe by: Diane Kometa
Published on by Dishin' With Di
Tagged: Barbecue, BBQ, chicken, chicken breasts, chili powder, cilantro, Cinco de Mayo, cornstartch, cumin, demonstration, Diane Kometa, Dishin With Di, easy, fresh, from scratch, Garlic, Grilled, grilled chicken, healthy, homemade, honey, How To Make, jalapeno pepper, lime, lime juice, marinade, meat, Mexican, on the grill, orange, orange juice, pepper, quick, Recipe, sauce, Tequila, tutorial, video, YouTube