Ribeye Steak Recipe! Learn How To Cook RIBEYE Steak! Make the BEST, Perfect Grilled RIB EYE Steaks! Cook Perfect Steak on the Grill, Gas or Charcoal. Grill thick-cut Rib Steaks, also known as bone-in Ribeye Steaks, Cowboy Steaks, Prime Rib Steaks, Scotch Fillets or Rib Eye. Some even call them Delmonico Steaks. Rib Eye Steaks are very easy to prepare and watching this video demonstration will show you how to cook steak at home on a grill, just like Gordon Ramsay! Whether you want your steak rare, medium rare or well done, this simple technique will give you the results you want. You don't have to be a chef to cook the perfect steak or make an incredible meal!
The Rib-Eye steak is characterized by its excellent fat marbling, making it very flavorful, tender and juicy.  A true rib eye steak comes from the 6th through 12th ribs of the animal. The steak is best grilled and after your first bite will send you on a Cowboy Steak high; eyes closed, head tilted, body relaxed and your soul speaking out softly with a joyous, mmmm.  Trust me!  You will not forget this moment!  In fact, you will not be able to stop thinking about it!  You have to try this steak at least once in your life! I think it just about covers Easy, Enjoyable and Delicious!
If you plan on cooking these steaks for a party, then buy one of these ribeyes and grill it in advance to test out the cooking time.  It's a dirty job, but somebody has to do it!  Serve these bad boys with my delicious Mushroom Sauce, Caesar Salad, Loaded Baked Potato Casserole or Twice Baked Potatoes and Roasted Asparagus!  Then top that delicious rib eye steak dinner off with my New York Style Cheesecake  or for something more simple my Mini Cheesecakes or Old Fashioned Coffee Cake for an over the top meal that will beat any restaurant steak dinner for flavor and price!  These grilled steaks are perfect for a special occasion or if you just want to treat yourself special! I hope you enjoy this easy Rib Eye Steak Recipe! Di  😉
Want to see more Steak Recipes?  Grilling Recipes?  Request a Recipe or Leave me a Comment! Go to this Recipe on YouTube or my Facebook Page!  What you're craving could be my next recipe!
 Watch The Video Recipe Demonstration!
Learn How to Grill the Perfect Rib Eye Steaks!  Recipe by: Diane Kometa
Subscribe to Dishin' With Di's YouTube Channel for the latest recipes! It's FREE!
Don't Miss An Episode!
Rib Eye Steak Recipe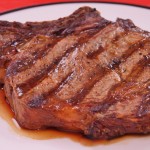 Prep time:
Cook time:
Total time:
Difficulty:

easy

Recipe type:

entree
Ingredients:
Rib Eye Steaks – bone-in (This cut of beef is also known as Rib Steaks, Cowboy Steaks, Scotch Filets, Prime Rib Steaks, or Ribeye Steaks) about 2 inches thick (24 ounces) rinsed and patted dry.

Olive oil or canola oil

Kosher salt or course sea salt, such as Fleur de Sel (table salt is not recommended)

Freshly ground pepper

Gas Grill or Charcoal Grill

Instant read thermometer

Notes:

1) Room temperature meat is very important, as you want the meat to cook evenly. It must also be dry before you begin to prepare it. If the meat is frozen, move it into the fridge to defrost the day before cooking and then proceed as directed.

2) Preheating the grill is very important, as the steak must get a proper sear to lock in the juices. For gas grills, preheat the grill for 10-15 minutes before cooking (about 600 degrees F). For charcoal grills, heat coals until they become red hot and begin to form ash.

3) The cooking time for this recipe is based on using an infrared gas grill, which was preheated to about 600 degrees F. The steak was a 2 inch thick, 24 ounce, bone-in rib eye steak that was cooked about medium rare (about 125 degrees F internal temperature). Grilling time will vary according to the thickness of the steak and desired level of doneness. If you have multiple steaks to grill, be sure to leave several inches between the steaks to allow for even cooking. I would also suggest doing a test run with just one steak. These are pretty pricy, so better to be safe than sorry.
Directions:
Brush or rub the meat with olive oil on both sides
Season top and bottom of the meat with a layer of the kosher salt and freshly ground pepper. The meat is thick, so be generous. Set the meat aside and allow it to come to room temperature for about 1 hour or more for thicker steaks.
Preheat grill to high heat.
Place the meat onto the grill using tongs. Do not pierce the meat with a fork or knife. Close the lid and cook the meat for about 6 minutes or until the bottom has browned and the meat has cooked about 1/4 of the way up. This side will be your presentation side: the side the faces up on the plate. If it's browning too quickly or burning, turn the heat down a bit or move the steak to a cooler part of the grill.
Turn the meat over and cook for another 6 minutes.
Once the meat is seared on both sides, check for doneness, by pressing the meat with your index finger. Refer to the video. An instant-read thermometer can also be used. Do not cut the meat to check for doneness, as all of the juices out. Insert the thermometer into the side of the meat at its center. Be sure it goes straight in and no more than half way. You want to check the center for doneness, but if you push too hard it will be out the other side.
Allow the meat to rest when it's about 5-10 degrees lower than your desired doneness temperature. The meat will continue to cook, so if you remove it from the grill at the temperature you want to end up with, it will be over cooked.
Remove meat from grill using tongs. Piercing the meat with a fork to remove will cause the juices to escape, which will leave you with a dryer piece of meat. Don't do it! These are not cheap and those juices are flavor! Allow the meat rest for about 5 minutes before cutting. Recipe by: Diane Kometa
Published on by Dishin' With Di
Tagged: 4th of July, Barbecue, BBQ, Beef, best, bone in, Caesar salad, charcoal, chop, Christmas, cook, cooking, cooking time, cow boy, cowboy, cut, Delmonico, demonstration, Diane Kometa, dinner, Dishin With Di, easy, eye, falvorful, Father's Day, fleur de sel, gas, grill, Grilled, grilling, ground pepper, how to, How To Make, infrared grill, instructions, juicy, kosher salt, Labor Day, making, marbling, meat, medium rare, Memorial Day, method, mushroom, mushroom sauce, New Year's, New Year's Eve, new york, on a grill, perfect, perfect steak, potato, preparation, prime rib, prime rib steaks, process, quick, rare, raw, Recipe, restaurant, restaurant style, rib, Rib eye steak, rib roast, rib steaks, ribeye, ribeyes, ribs, roast, Scotch fillets, sear, seared, Simple, standing, steak, steaks, Summer, technique, tender, thick-cut, tutorial, Valentine's Day, video, well done, with bone, YouTube