Tender & Juicy Grilled Lamb Chops! Learn how to cook lamb chops on the grill or in a pan on the stove! This is an easy lamb chops recipe with a marinade full of fresh flavors like rosemary, thyme, garlic and lemon.   This cooking method creates beautifully seared lamb chops, that are tender and juicy with very little effort.  A perfect summer dinner idea or an easy Easter lamb recipe or Valentine's day entree, these delicious chops are a welcome anytime!  Smaller lamb chops, called baby lamb chops or lollipop lamb chops, can also be used for this recipe and make great appetizers for parties, although cooking time should be reduced accordingly.  Be sure to get the butcher to French cut the lamb chops, otherwise known as Frenched, as is done with a rack of lamb.  Get in the kitchen and learn how to grill lamb chops at home!
Watch The Video!
Learn How To Make Grilled Lamb Chops with Marinade!                            Recipe by: Diane Kometa

Get updated when I release New Recipes!  It's Free! Do It! 
Don't Miss An Episode!
Request a Recipe or Leave me a comment! Go to This Recipe on YouTube or my Facebook Page 
What you're craving could be my next recipe!
Grilled Lamb Chops Recipe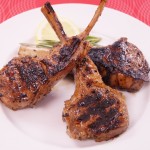 Prep time:
Cook time:
Total time:
Yield:

2

Difficulty:

easy

Recipe type:

Dinner, Entree, Appetizer
Ingredients:
1 pound rib lamb chops – about 4 ribs

Marinade

2 teaspoon finely minced fresh rosemary

2 teaspoon finely minced fresh thyme leaves

2 teaspoon finely minced garlic (3-4 cloves)

2 Tbs. grapeseed oil or vegetable oil – plus more to grease grill pan or grill

2 Tbs. minced red onion

1 Tbs. honey

2 Tbs. fresh lemon juice

½ tsp. kosher salt

Freshly ground black pepper
Directions:
Place lamb chops in a shallow casserole dish. Combine marinade ingredients in bowl. Pour marinade over lamb chops and rub marinade into chops. Cover with plastic wrap and marinate at room temperature for 1 hour. Can be made ahead and marinated longer, but place in an airtight container in the fridge, until 45-60 minutes before cooking, then remove chops from fridge to a new plate to allow chops to come to room temperature.
Preheat a cast iron grill pan, heavy skillet, or grill over medium high heat. Place chops in pan or on grill and cook for about 3-4 minutes until nicely browned. Turn with tongs and cook for about another 2-3 minutes for medium rare (140 degrees F on an instant read thermometer) or longer for desired doneness. Remove chops to a plate. Allow to rest for 5 minutes before serving. Enjoy!
Published on by Dishin' With Di
Tagged: appetizer, appetizers, baby, best, Christmas, cook, cooked, cooking, demonstration, Diane Kometa, dinner, Dishin With Di, Easter, easy, entree, fresh, Garlic, grill, Grilled, grilled lamb chops, grilling, healthy, honey, How To Make, in a pan, lamb, Lemon, lollipop lamb chops, making, meat, New Year's, New Year's Eve, onion, pan, quick, Recipe, rib chops, ribs, rosemary, Spring, stove, Summer, thyme, tutorial, Valentine's Day, video, YouTube