How to Make Eggplant Parmesan on the Grill!  Quick & Easy, Healthy Eggplant Parmesan Recipe! No messy frying or baking in the oven!  Let your grill do all of the work and enjoy this healthy grilled version of traditional Italian Eggplant Parmesan!
Watch The Video!
Learn How To Make Grilled Eggplant Parmesan!
Join thousands of others who have subscribed to my YouTube Partner Channel – Dishin With Di! Subscribing to my channel on YouTube allows you to get updates when I release new recipes!
Subscribe and get my latest recipes!
Leave me a comment! Go to my YouTube Channel or my Facebook Page and let me know if there's something you'd like to see.
What you're craving could be my next video!
Grilled Eggplant Parmesan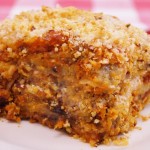 Prep time:
Cook time:
Total time:
Yield:

4-6

Difficulty:

easy

Recipe type:

Main Course, Entree, Side Dish
Ingredients:
3-4 eggplants sliced about ¼ – ½ inch thick (peeled or not – it's up to you)

2 ½ -3 cups shredded mozzarella cheese – I used reduced fat

½ cup freshly grated Parmesan cheese

1 cup Panko bread crumbs – divided

3-4 cups homemade or store bought tomato sauce

1-2 Tbs. olive oil

Salt & pepper

8×8 or 9×9 non-stick baking pan – do not use glass (If not using non stick pan, grease lightly with olive or spray with cooking spray)
Directions:
Preheat grill to medium-high – about 450 degrees F.
Lightly brush eggplant with some olive oil on each side and season with salt and pepper. Bring eggplant and all ingredients to grill area. Place eggplant on preheated grill. Cook about 3 minutes on each side or until eggplant softens and nice grill marks appear.
Place 8×8 pan on baking sheet. Sprinkle ½ cup of the panko bread crumbs on the bottom of the pan. Drizzle with 1-2 Tbs. of olive oil. Toss crumbs to coat. Spread evenly over bottom of pan.
Place a layer of eggplant over crumb coated pan. Overlap eggplant to fill in any gaps. Spoon some sauce over eggplant and spread evenly with the back of the spoon. Top with some mozzarella cheese. Repeat this process layering eggplant, sauce and cheese until all eggplant is gone. End with mozzarella cheese on top.
Combine remaining ½ cup panko bread crumbs with parmesan cheese. Evenly sprinkle over top of eggplant. Carefully move baking sheet to grill. Be especially careful if baking sheet and pan are both non-stick as the pan may slide off of the baking sheet. Close grill lid. Reduce heat to medium. Cook about 20- 30 minutes or until top is lightly golden and crisp and the cheese and sauce are bubbly. Remove from grill with oven mitts and allow to cool for about 10 minutes. Enjoy!
Note: Try my Quick Marinara Sauce/Tomato Sauce for a homemade shortcut.
Published on by Dishin' With Di
Tagged: baked, baking, best, cheese, demonstration, Diane Kometa, Dishin With Di, easy, eggplant, eggplant parm, eggplant parmigiano, from scratch, grill, Grilled, grilled eggplant, healthy, homemade, How To Make, Italian, on the grill, Parmesan, purple, quick, Recipe, sauce, squash, tomato sauce, tomatoes, tutorial, vegetable, vegetables, vegetarian, video, YouTube