Easy Side Dish! Green Bean Recipe with almonds, garlic, caramelized onions and fresh thyme. Enjoy a healthy, easy Green Bean side dish recipe! Simple and delicious!
What's your favorite green bean recipe?  Side dish recipe?  Leave me a comment! Go to this Recipe on YouTube or visit my Facebook Page! Let me know if there's something you'd like to see.
What you're craving could be my next recipe!
Watch The Video!  Learn How To Make Green Bean Almondine!
Subscribe to Dishin' With Di's YouTube Channel for the latest recipes! It's FREE!
Don't Miss An Episode!
Green Bean Almondine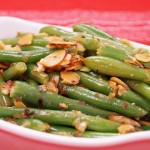 Prep time:
Cook time:
Total time:
Yield:

6

Difficulty:

easy

Recipe type:

Side Dish
Ingredients:
2 pounds green beans – ends trimmed

3-4 tablespoons extra-virgin olive oil

2 Tbs. unsalted butter

1 cup sweet onion – finely chopped

1Tbs. garlic -minced

1 ½ Tbs. fresh thyme leaves – finely chopped

½ cup sliced almonds

½ Fresh Lemon – for the juice

Pinch hot pepper flakes (optional) – provides a hint of heat – use discretion when serving guests

Salt and fresh pepper to taste
Directions:
Preheat oven to 350 degrees F.
Bring a large pot of water to a boil and season generously with salt. Add the beans, return to a boil, and cook uncovered until just tender, about 3 minutes. While the beans cook, fill a large bowl with ice and water, and set next to the pot. When the beans are done, use tongs and quickly plunge the beans into ice water to stop the cooking. Drain. Transfer beans to plate or bowl lined with paper towels and pat dry. Set aside. Note: This step can be done up to two days ahead and beans can be stored in an airtight container in the refrigerator. Remove beans from fridge at least 30 minutes before preparing dish.
Spread nuts in a single layer on a baking sheet. Toast in oven for about 6-8 minutes or until golden brown and fragrant. Transfer to a bowl or plate. Set aside.
While the nuts cook, heat the oil and butter in a large skillet over medium heat, until the butter melts. Add the onions, garlic and pepper flakes, if using, and season with salt. Cook and stir frequently, until onions are soft and caramelized, about 10-15 minutes.
Add the fresh thyme. Cook and stir for another 3 minutes. Add the cooked green beans, almonds and a squeeze of fresh lemon juice over top. Toss gently to coat the beans. Cook and toss gently until beans are heated through, about 5 minutes. Season with salt and pepper to taste. Serve immediately. Enjoy!
Published on by Dishin' With Di
Tagged: almandine, almondine, almonds, bean, beans, best, blanch, blanched, Christmas, demonstration, Diane Kometa, Dishin With Di, Easter, easy, from scratch, Garlic, green, green beans, healthy, homemade, how to, How To Make, Lemon, Old Fashioned, onions, quick, Recipe, side dish, Sides, string, string bean almondine, string beans, Thanksgiving, tutorial, vegetable, vegetables, video, with almonds, YouTube