Garlic Mashed Potatoes from scratch! Easy Recipe! Learn how to make a simple, creamy, mashed potatoes recipe with garlic, using red skin potatoes. Perfect with gravy!
Try to buy potatoes that look best.  They should be firm, have a nice red color and not have too many "eyes" on them or have very deep "eyes".  Shy away from any that wink at you!  These are HOT potatoes and are nothing but trouble!  Lol   Yeah, it was corny.  When I make mashed potatoes for dinner, I make them first.  I don't want to be running around at the last minute whipping potatoes.  It's not hard, but when you have things timed it can just be a pain.  I make them and then just put them in the microwave to keep warm.  Just before the meal is served, I turn on the microwave and heat them for 1-2 minutes at a time; stirring them to be sure they're hot.
I cook the potatoes by placing them in salted, boiling water.  I learned the cooking method years ago from various cook books and my mashed potatoes are always perfect!  Some people frown upon this method and prefer to place the uncooked potatoes in a pot of cold water, but renowned chefs Jamie Oliver and Heston Blumenthal both put their potatoes into boiling water, so it's simply a different method of boiling potatoes. In fact, old Betty Crocker cook books actually have mashed potato recipes using this cooking method.
I make mashed potatoes with milk that I heat in the microwave, so the mashed potatoes stay hot. For this recipe you can use low fat, skim milk or even cream. Garlic mashed red potatoes are my favorites, but I do make regular mashers with russet potatoes or red potatoes. It's important to drain potatoes thoroughly after boiling, as excess water can result in sticky potatoes. With russet potatoes, as I demonstrate in my regular mashed potato video recipe, I place the cooked and drained potatoes back in the pot and toss them gently over low heat to dry any excess moisture. You can try that with this recipe if you'd like, but usually don't and they come out fine. For mashing, I use a mixer for this recipe, but you can also do this by hand, by either mashing them into a bowl or simply leaving them in the pot. a potato rice would not be good for this recipe, as it would remove the skin, but that's another option if using a russet or other type of potato. I've always used the mixer for mashed potatoes, but the preferred method is by hand, as over mixing can lead to gummy or gluey potatoes. Use your discretion when choosing the method, but I never have a problem with the mixer. My mom mashed them by hand and many times there were lumps, which I hated, but red potatoes are pretty creamy, so you should be fine.  Add more milk or butter to taste, but only a little at a time.
Serve mashed potatoes topped with some delicious gravy! I have a homemade gravy for turkey and chicken recipes, that's divine and can be made ahead, so that's what I serve for Thanksgiving or when I just make a simple roasted chicken.
Then there's my Mushroom Gravy, that I also call a Mushroom Sauce, which is over the top and perfect with mashed potatoes!  I made it with these potatoes and a pan seared Filet Mignon, which I served along with some Roasted Asparagus and it was heaven! We also had Caesar Salad with Homemade Croutons that night! (I have recipes for everything, so don't worry)  My Hub was a happy camper that night and you wouldn't believe how simple and easy it was to make everything! A really great idea for Valentine's Day Dinner or any special occasion.
Mashed potatoes are also perfect with my Smothered Pork Chops and Gravy, which are simple to make!
What's your favorite mashed potato recipe?  Potato recipe?  Leave me a comment! Go to this Recipe on YouTube or visit my Facebook Page! Let me know if there's something you'd like to see.
What you're craving could be my next recipe!
Watch the Video! Learn How to Make Easy Garlic Mashed Potatoes!
Subscribe to Dishin' With Di's YouTube Channel for the latest recipes! It's FREE!
Don't Miss An Episode!
Garlic Mashed Potatoes Recipe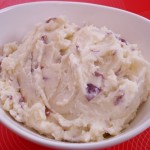 Prep time:
Cook time:
Total time:
Yield:

4-6

Difficulty:

easy

Recipe type:

Side dish
Ingredients:
2 pounds Red bliss potatoes – washed

1-1 ½ tsp. finely minced garlic – sometimes I use a little more

½ cup Whole Milk

4 Tbs. Butter – softened

¾ – 1 tsp. Salt – plus more for cooking the potatoes

Few dashes of ground white pepper
Directions:
Remove any imperfections or eyes from potatoes. Do not peel.
Cut potatoes in half lengthwise and then into quarters. Cut them up, so they're about the same size so they cook evenly.
Place about one inch of water in a medium pot. Bring to a boil over high heat. Add ½ teaspoon of salt per cup of water. Add the potatoes and cover. When the water returns to a boil, reduce the heat to medium-low and simmer covered for about 20 minutes or until potatoes are fork tender, but not falling apart. Drain thoroughly.
Heat the milk in the microwave until hot and steamy.
Using a stand mixer, hand mixer or with a hand masher, beat/mash the potatoes until they have broken up and are smooth.
Add the garlic and turn the mixer on low. Gradually add in the milk. Turn the mixer up and beat until fluffy. Scrape the bowl as needed. Do not over mix.
With the mixer on low, add the butter, salt and pepper. Turn the mixer up and beat until creamy and well combined. Do not over mix. Add more salt and pepper to taste. Serve. ENJOY!
Published on by Dishin' With Di
Tagged: best, butter, Christmas, creamy, demonstration, Diane Kometa, Dishin With Di, Easter, easy, Father's Day, from scratch, Garlic, homemade, How To Make, mashed, milk, New Year's, New Year's Eve, Old Fashioned, potatoe, Potatoes, quick, Recipe, red, Red Bliss, red skin, Sides, smashed, Thanksgiving, tutorial, Valentine's Day, vegetable, vegetables, video, whipped, YouTube