Mom's Best Brownies!  I think they could be award winners!  You should probably try them and see for yourself!
Leave me a comment! Go to this Recipe on YouTube or visit my Facebook Page! Let me know if there's something you'd like to see. What you're craving could be my next recipe!
Watch the Video Demonstration!
Learn How to Make Fudgy Brownies From Scratch!  It's Easy!
Subscribe to Dishin' With Di's YouTube Channel for the latest recipes! It's FREE!
Don't Miss An Episode!
Fudge Brownies Recipe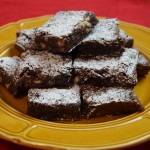 Prep time:
Cook time:
Total time:
Yield:

about 16 pieces

Difficulty:

easy

Recipe type:

Dessert
Ingredients:
1 cup flour

1 cup granulated sugar

¼ cup unsweetened cocoa powder

½ cup unsalted butter – room temperature

2 eggs – lightly whisked in separated bowls – at room temperature

1 ½ tsp. vanilla extract

1 tablespoon of water

½ tsp. salt

2/3 cup semi-sweet chocolate chips (approx. 4 ounces)

1 cup white chocolate chips (or the chips of your choice)

Powder sugar (icing sugar) for dusting (optional)
Directions:
Preheat oven to 350 degrees F
Spray or grease an 8×8 or 9×9 pan with non-stick cooking spray and line across the bottom and up two sides of the pan with parchment paper, allowing it to hang over slightly. (See video)
Combine flour, cocoa powder and salt and set aside.
Place butter, water and sugar in a microwave safe bowl and microwave on high until butter melts. If you do not have a microwave, you can do this step on the stove over medium –low heat in a saucepan. Once butter is melted, stir to combine.
Stir in the 2/3 cup of semi-sweet chocolate chips until melted. Stir in vanilla and set aside to cool for about 5 minutes.
Gradually whisk in eggs one at a time. Combine well after each addition.
Add flour and cocoa mixture and stir or whisk until well combined.
Stir in the 1 cup of white chocolate chips or chocolate chips of your choice
Pour into prepared pan and spread evenly.
Bake about 20-25 minutes. Brownies are done when a toothpick inserted into the center comes out with a few moist crumbs. If you prefer them a little more gooey, reduce cooking time by a few minutes and the toothpick should come out a little gooey on the end!
Place pan on wire rack to cool completely. Once cooled, run a knife gently around the edges and then lift the brownies out by grasping each end of the parchment paper. Place on cutting board. Cut with a pizza cutter or sharp knife. Have a bowl of hot water and a paper towel handy. Dip the pizza cutter/knife into the hot water and then cut the brownies wiping the blade on the paper towel after each cut. They cut more easily if chilled, but I like them warm. Dust with powder sugar if desired. Enjoy!!
Published on by Dishin' With Di
Tagged: bars, best, brownie, brownies, butter, Chips, chocolate, chocolate chips, Christmas, cocoa powder, demonstration, Desserts, Diane Kometa, Dishin With Di, double, easy, eggs, flour, from scratch, fudge, fudgy, Halloween, homemade, How To Make, New Year's, New Year's Eve, Old Fashioned, quick, Recipe, semi-sweet, snack, sugar, Thanksgiving, triple, tutorial, vanilla, video, white chocolate, YouTube