French Toast, Eggy Bread, Pain Perdu (Lost Bread),  Poor Knights of Windsor, Nun's Toast, German Toast, Spanish Toast and the list goes on!  It goes by so many different names and has been enjoyed around the world for centuries!  This simple combination of bread, eggs and milk has been madeas  a dessert, as well as a breakfast dish.  As a child my mother always topped my French Toast with some sugar, but I enjoy it now with syrup, fruit or even some whipped cream, as you see here, for a special occasion.  It's out of this world with the whipped cream, so you have to find a special occasion in your calendar to try it!
Watch the French Toast Video!  Learn How to Make It!
Visit me on my YouTube Channel and Subscribe  to get my latest recipes!
Leave me a comment!  Go to my YouTube Channel or my Facebook Page and let me know if there's something you'd like to see.
French Toast Recipe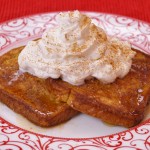 Prep time:
Cook time:
Total time:
Yield:

2

Difficulty:

easy

Recipe type:

Breakfast, Dessert
Ingredients:
4 slices of day old or stale bread – I use a thick white bread

3 eggs

¼ cup milk

1/8 tsp. salt

1/8 tsp ground cinnamon

1 tsp. vanilla extract

1 tbs. unsalted butter

Maple syrup or sugar for serving or Both! And some Whipped Cream!
Directions:
Heat a non-stick pan over medium heat or heat a non-stick electric skillet to 350 degrees F.
Into a bowl, add the eggs, milk, salt, cinnamon, vanilla and salt. Whisk thoroughly to combine.
Pour mixture into a shallow casserole dish, pie plate or cake pan.
Take a couple pieces of the bread and put them into the egg mixture. Let them sit for about 10 seconds or so and then flip over. Place some butter in the pan and swirl it around to melt. Place the bread into the pan. Cook for about 3 minutes or until the bottom is golden brown. Flip the bread and do the other side for about 2 minutes or until it's golden and the toast begins to puff up a bit. Be sure not to have the pan too hot. If it's too hot the toast will brown before the center is cooked. Adjust the heat as necessary.
Serve topped with sugar, maple syrup, jam, fresh fruit or whipped cream and/or ice cream for a special treat. I have an easy Whipped Cream Recipe, some simple Ice Cream Recipes and also a delicious Pumpkin Spice Syrup that I use. Try them! Enjoy!
Note: If you don't have stale bread, put fresh bread on a baking sheet, into a preheated 350 degree F oven, and bake for about 10 minutes. That should dry it out enough to work well with this recipe. Enjoy!
Published on by Dishin' With Di
Tagged: best, bread, breakfast, Christmas, cream toast, demonstration, Dessert, dessert toast, Diane Kometa, Dishin With Di, Easter, easy, eggs, Father's Day, freedom toast, french toast, from scratch, German toast, homemade, How To Make, lost bread, milk, Mother's Day, New Year's, New Year's Eve, nun's toast, Old Fashioned, pain perdu, Poor Knights of Windsor, quick, Recipe, snack, Spanish toast, stale bread, sugar, Thanksgiving, tutorial, Valentine's Day, vanilla, video, YouTube