Making successful French Macarons is easier than you think with my step by step recipe tutorial!
Macarons are perfect little cookies.  Cookies that  are crisp on the outside, a little chewy on the inside and then the filling just takes them over the top! These cookies are easy to make and they can be filled with whatever you want!  Fillings of chocolate ganache and raspberry buttercream are two of my favorites!  Sandwich the two meringue cookies together with that delicious Chocolate Ganache and you had me at 'hello'!  They look especially beautiful when dyed fun colors and they taste absolutely incredible!  The only problem you may have with these French Macarons is trying to stop yourself from eating them all!  They are simply addictive!  Follow my step by step demonstration and you'll be making these gorgeous, little almond flavored meringue cookies for your next holiday.   Watch this easy to follow recipe tutorial and make my foolproof French Macaron recipe!  Learn how to avoid flat lumpy or cracked macarons! Enjoy!  Di  😉
Note: You can make these French Macarons without a mixer, if desired.
Click for -> Chocolate Ganache Recipe/Macaron Filling Recipe
What's your favorite French Macaron recipe?  Macaron filling Recipe? Cookie Recipe? 
Leave me a comment!
Go to this Recipe on YouTube or visit my Facebook Page! Let me know if there's something you'd like to see.  What you're craving could be my next recipe!
Watch The Video! Learn How To Make French Macarons!                         Recipe by: Diane Kometa
Subscribe to Dishin' With Di's YouTube Channel for the latest recipes! It's FREE!
Don't Miss An Episode!
French Macarons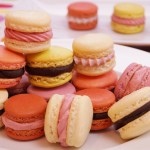 Prep time:
Cook time:
Total time:
Yield:

35

Difficulty:

easy

Recipe type:

Dessert
Ingredients:
Amounts are provided to measure by volume using measuring cups and spoons, but weighing ingredients is recommended for best results.

115 grams sifted ground almond meal/flour – sift before measuring – (approx. 1 1/3 cups poured and leveled- Not Scooped

200 grams confectioner's sugar (icing sugar or powdered sugar) Approx. 2 cups scooped and leveled.

45 grams white granulated sugar – approx. 3 tablespoons plus 1 teaspoon – scooped

120 grams egg whites – room temperature – approx. 4 large egg whites

Pinch of fine salt

Food coloring, if desired

Piping bag with ½ inch tip or large plastic disposable bag with corner cut off

Note: Almond Meal: If using measuring cups: Sift almond meal into a bowl and discard any lumps or hard pieces. To measure almond meal, spoon it into the measuring cup, until it mounds up above the cup and then level it off with the back of a knife. Be sure to use measuring cups specifically for dry measurements.

Powdered Sugar – measuring by scooping measuring cup into sugar and then level off with the back of a knife.

1 recipe Chocolate Ganache or other Macaron Filling recipe (Recipe Link Above)
Directions:
Line 2 baking sheets with parchment paper and set aside. Parchment paper is a must to avoid sticking.
Sift almond flour and powdered sugar into a large bowl. Discard any lumps or hard pieces. Whisk to thoroughly combine and aerate the mixture. Set bowl aside, but keep strainer/sifter handy.
Place the room temperature egg whites and salt into a clean mixing bowl. Use a stand mixer or hand mixer fitted with a whisk attachment, or a wire whisk if beating by hand, and beat the egg whites on high speed, until soft peaks form. Do not use a plastic bowl, as plastic retains residues, which can prevent the egg whites from beating.
Turn the mixer off and add a couple teaspoons of the granulated sugar. Beat to combine. Repeat until all of the sugar is added. Continue to beat until firm glossy peaks form. Scrape the sides and bottom of the bowl, as needed. Add food coloring, if using and mix through just to combine. Do not over beat, as this will cause the egg whites to "break", which will result in mixture collapsing and becoming watery.
Sift half of the almond flour-powdered sugar mixture over the egg whites. Using a rubber spatula, fold the dry mixture into the egg whites, by cutting into the mixture with the spatula and lifting it up and over itself. Do this just until the dry mixture disappears and then sift in the rest. Continue to fold in the remaining dry mixture. until incorporated and the mixture has a smooth texture, but is not runny. When batter is lifted with the spatula, it should fall back into the bowl slowly and then fade into the rest of the batter. It should flow like honey or lava. This part is critical, as an under or over mixed batter, will produce poor results. Under mixed batter will be thick and have lumps and over mixed batter will be thin or runny.
Dab a little batter under the corners of the parchment paper to secure it to the baking sheet and prevent sliding. Place a piping bag, fitted with a ½ inch tip or a large disposable plastic storage bag with the corner cut off, into a tall glass. Spoon the batter into the bag and then pipe 1 inch rounds, spaced at least 1 inch apart, onto the parchment lined baking sheets. Pipe the round and then pull off quickly at the end, so the batter does not drip. Hold bag sideways in between piping, so mixture does not ooze out of the bag. The rounds may have peaks, which should settle.
Once a sheet is filled, tap it down firmly on the counter several times to help release any air bubbles. The cookies will flatten a bit. Use a toothpick to carefully pop any bubbles and dampen you finger tip slightly with some water and gently smooth out any peaks that remain. The batter begins to get tacky and starts to set quickly, so do this right away. Allow the macaroons to rest on the sheets for about 60 minutes, until the tops are dry and smooth to the touch like an egg shell. This is another critical step that should not be skipped. The drying ensures that the cookie will rise properly and develop the characteristic "foot", which is a ruffled area at the bottom of the finished cookie and one of the signs of a successful French Macaron.
After the macaroons have been drying for about 30 minutes, set the oven temperature to 300 degrees F and place the oven rack in the center position. It's very important that the interior of the oven is heated through and this can take some time. The oven temperature sensor goes off when the air in the oven reaches the designated temperature, but the interior walls of the oven actually take much longer to heat through. Testing your oven temperature for accuracy with a thermometer and adjusting as needed is recommended.
After the macaroons have dried, bake one sheet at a time on the center oven rack for 15-18 minutes or until they lift with slight resistance from the parchment paper. When the first sheet is done, allow the oven to reheat for another 5-10 minutes and then place the next sheet in to bake. Under baked macaroons will remain stuck to the sheet and the tops will come off. Return to the oven and continues to bake. An extra 2 minutes, could make a big difference. My philosophy with these cookies is that it's better to over bake than to under bake. So when in doubt, don't take them out! 😉 Fillings can help restore the moisture to over baked cookies. Set the baking sheet on a rack to cool for about 2 minutes and then slide the paper with the cookies on it, onto the rack to cool completely before filling. Recommended: Try with my Chocolate Ganache, Vanilla, Raspberry or Chocolate Buttercream Frosting or whatever you'd like!
Match the cookies with one another according to size. Pipe or spread about 1 teaspoon of filling in the center of the flat side of one cookie, leaving some room around the edge and then top with the flat side of another cookie and press very gently. Eat right away or place filled cookies in the fridge in an airtight container for up to 3 days and then bring to room temperature before serving. Some prefer the cookies after they've been refrigerated for a couple of days and say that it gives them a chance to mature. Enjoy! Recipe by: Diane Kometa
Published on by Dishin' With Di
Tagged: almond cookies, almond flour, almonds, best, blanched almonds, buttercream, buttercream frosting, chocolate ganache, Christmas, colorful, colors, confectioner's sugar, demonstration, Desserts, Diane Kometa, Dishin With Di, dyed, Easter, easy, egg whites, eggs, filling, flour, foolproof, French cookies, French macarons, from scratch, Frosting, ganache, gluten free, ground, h to bake, homemade, How To Make, macaron filling recipe, macaroons, meringue cookies, meringues, Mother's Day, New Year's, New Year's Eve, Old Fashioned, powdered sugar, problems with macarons, quick, Recipe, sandwich cookie, Simple, step by step, sugar, Thanksgiving, tutorial, Valentine's Day, video, YouTube