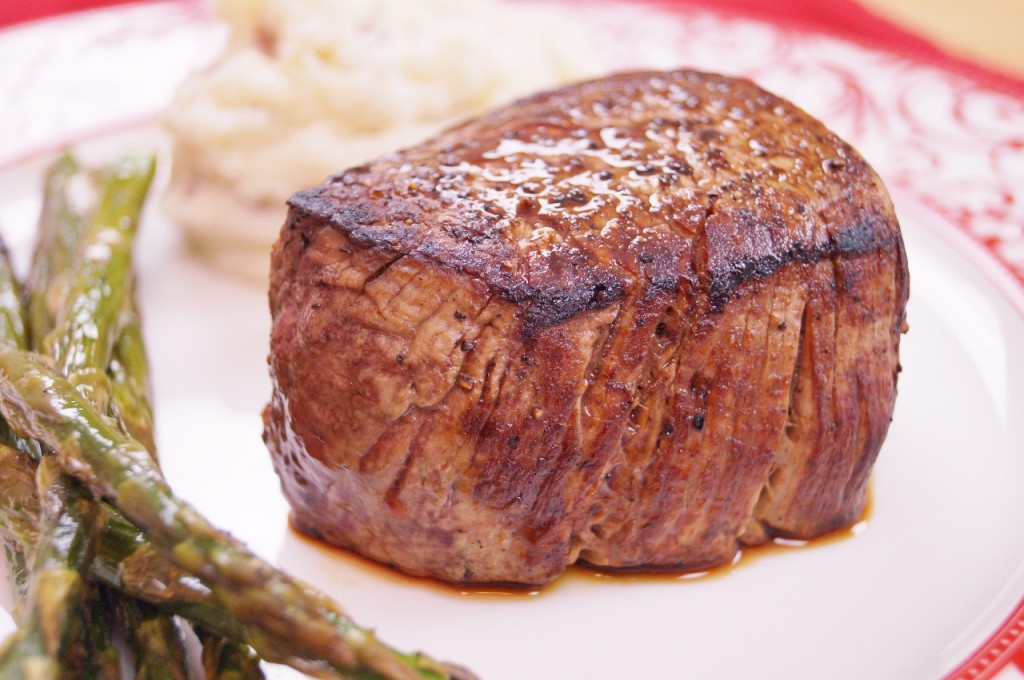 How To Cook Filet Mignon Recipe: Make Mom's BEST Perfect Beef Tenderloin Steak by cooking the filet in a Pan on the stove and then in the oven. Make Best Beef Tenderloin Steak Recipe using the Pan Sear Oven Method: Perfect for Valentine's Day Dinner!  Filet Mignon/Beef Tenderloin Steak cooked in a pan, cast iron skillet or heavy frying pan and then in the oven is the best indoor method to cook the perfect steak.  It's very easy and watching this video demonstration will show you how to cook steak at home just like Gordon Ramsay!  Whether you want your steak rare, medium rare or well done, this simple technique will give you the results you want.  I prefer my filet mignon medium rare, served with my Caesar Salad and Homemade Croutons, Garlic Mashed Potatoes, Mushroom Beef Gravy, Roasted Asparagus and top it off with a little Red Velvet Cupcake with Cream Cheese Frosting for dessert! That's a meal! You don't have to be a chef to make an incredible meal! Perfect for Valentine's Day, Easter, Father's Day, New Year's or anytime you want to make a special dinner.
Want to see more Steak Recipes?  Recipes for Holiday Dinners?  Leave a Comment or Request a Recipe!  Go to This Video Recipe on YouTube or my Facebook Page.  What you're craving could be my next recipe!
Click the links below for the Recipes Featured in the Video!
Mushroom Beef Gravy/Sauce Recipe
Caesar Salad – Caesar Dressing Recipe
Watch the Video Demonstration!  Learn How To Cook Filet Mignon – Pan/Oven Method  Recipe by: Diane Kometa
Get updated when I release New Recipes!  It's Free! Do It! 
Don't Miss An Episode!
Filet Mignon Recipe – Beef Tenderloin Steak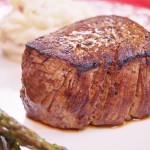 Prep time:
Cook time:
Total time:
Yield:

2

Difficulty:

easy

Recipe type:

Main Course / Entree
Ingredients:
2 – 8oz. Beef Tenderloin Steaks – Filet Mignon – about 2 inches thick – at room temperature, rinsed and patted dry.

Vegetable oil

Kosher salt

Freshly ground pepper

Cast iron skillet or heavy bottom pan – oven safe

Instant read thermometer

Notes:

1) Room temperature meat is very important, as you want the meat to cook evenly. It must also be dry before you begin to prepare it. Take it out of the fridge, rinse and pat dry and let it sit for about an hour or so before cooking. If it's frozen move it into the fridge the day before to defrost and then proceed as directed.

2) You want a heavy pan that will retain the heat. Use a pan that will accommodate the meat, but not be too large. If you're cooking several pieces of meat, be sure there are a couple inches between each piece. When you put the raw meat into a cast iron skillet or heavy bottomed pan the meat won't lower the temperature of the pan and you'll get a good sear, which locks in the juices. I've picked them up for $20 and under, so shop around.
Directions:
Place oven rack in the center position. Preheat oven to 400 degrees F
Brush meat thoroughly with vegetable oil on all sides
Season top and bottom with a layer of the kosher salt and freshly ground pepper. Be generous. The meat is thick.
Set the meat aside and preheat your pan to medium high heat. It's ready when a few spats of water dance on the top and quickly dry up. Be sure your oven is preheated before you put the meat into the pan.
Place the meat into the pan. It should sizzle. And it will smoke slightly, so turn on the exhaust fan. Cook the meat for 2-3 minutes or until it becomes brown and has somewhat of a crust. This side will be your presentation side: the side the faces up on the plate. Watch the video. If it's browning too quickly or burning, turn the heat down a bit. Turn the meat over and cook for 2-3 minutes until it get brown. Now brown the sides of the meat, but for only about a minute each. It's ok if there's a little bit that you missed. You can refer to the video for this as well.
Once browned, place the pan into the oven and cook for about 5-7 minutes for medium rare. You should check it after 5 minutes, as oven temperature may vary. Use the finger test to check the doneness. Refer to the video.
Use an instant read thermometer to check for doneness or the finger test method. I'd use the thermometer after spending this kind money! Don't be tempted to cut the meat to check for doneness! You'll let all of the juices out! Insert the thermometer into the side of the meat at its center. Be sure it goes straight in and no more than half way. You want to check the center for doneness, but if you push too hard it will be out the other side. It's tender meat. You want to remove the meat from the pan and let it rest when it's about 5-10 degrees lower than your desired doneness temperature. The meat will continue to cook after you remove it from the pan, so if you take it out at the temperature you want to end up with, it will be over cooked. Be careful. It's pricy and there's nothing worse than overcook filet. It takes all the delicious flavor and juiciness away, unless of course you like it well done, but then I think you should save your money and just eat chicken! Just an opinion. 
Let the meat rest for about 5 minutes before cutting. This keeps the meat juicy and delicious. If you cut it right away, the juices will run out onto your plate. Leave them in the meat where they belong. Let it rest.
Serve with my delicious Mushroom Beef Gravy! Its sooo good I could just eat it with a spoon! I also have a wonderful Caesar Salad recipe with Homemade Croutons that would also go well with this. I've eaten that dressing with a spoon too! What can say! I love my own recipes! You also have to try my Garlic Mashed Potatoes and Roasted Asparagus! What a great meal! If you're really feeling like making it restaurant style, make my Shrimp Bisque too! Hey, I've done it, so can you! For Valentine's Day, top it off with some Red Velvet Cupcakes! ENJOY!! I think that just about covers Easy, Enjoyable and Delicious! Recipe by: Diane Kometa
Published on by Dishin' With Di
Tagged: Beef, beef tenderloin, best, cast iron, cast iron skillet, Christmas, cook, cooked, cooking, demonstration, Diane Kometa, dinner, Dishin With Di, Easter, easy, Father's Day, filet, filet mignon, filet of beef, fillet, from scratch, frying pan, gravy, grill, Grilled, grilling, holiday, homemade, how to, How To Make, in a pan, in oven, juicy, make, making, meat, Mother's Day, New Year's, New Year's Eve, on stove, oven, pan, pan grilled, pan sear, quick, Recipe, sear, seared, searing, Spring, steak, Summer, tenderloin, Thanksgiving, tutorial, Valentine's Day, video, with gravy, YouTube