Eggs Benedict is a American classic breakfast recipe, easy to make with a few simple ingredients. As with any recipe, there are variations, but the basic recipe includes Canadian bacon (ham) and a poached egg served on toasted English muffin and topped with hollandaise sauce!  Hollandaise sauce is a rich lemony sauce made from egg yolks, melted butter and fresh lemon juice.  Seasonings vary with hot chili sauce, cayenne pepper and Worcestershire sauce being among some of the most common.
The ingredients are few and simple, but the key to making Egg Benedict is to have everything ready before you get started and follow the recipe directions, so you can avoid mishaps. Before you know it you'll be enjoying Eggs, Benedict, just like the famed Mrs. Le Grand Benedict, once did many years ago.  As the story goes, Mrs. Le Grand Benedict was a frequent diner of Chef Ranhofer of Delmonico's in New York City in the late 1800's.  Mrs. Benedict was tired of the menu and asked the chef to create "something new".  He asked if she had any ideas and Eggs Benedict was born, or so they say.  There are a few other stories, but no matter if they are true or not, Eggs Benedict is rich and delicious! It's perfect for a special occasion, breakfast or brunch or if you just want to treat yourself special! Dig in and say the magic word; Mmmmm! When words cannot explain, Mmmm get's the point across.  Enjoy!  Di 😉
What's your favorite Breakfast or Brunch Recipe? Recipe with eggs?  Leave me a comment! Go to this Recipe on YouTube or visit my Facebook Page! Let me know if there's something you'd like to see.
What you're craving could be my next recipe!
Watch The Video! Learn How To Make Eggs Benedict at Home!
Subscribe to Dishin' With Di's YouTube Channel for the latest recipes! It's FREE!
Don't Miss An Episode!
Eggs Benedict Recipe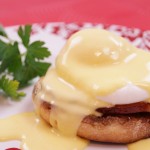 Prep time:
Cook time:
Total time:
Yield:

4

Difficulty:

easy

Recipe type:

breakfast
Ingredients:
4 whole eggs (I cook an additional egg, just in case one doesn't turn out right)

2 English muffins – sliced in half

4 slices Canadian bacon

1 tsp. white vinegar

¼ tsp. salt

Olive oil or butter– for cooking the bacon

Butter for the muffins (optional)

Salt and freshly ground pepper to taste

Fresh parsley springs for garnish (optional)

Hollandaise Sauce

4 large egg yolks

10 Tbs. unsalted butter – cut into small pieces (if using salted butter, eliminate the salt in the sauce)

1 ½ Tbs. fresh lemon juice

¼ tsp. kosher or sea salt or to taste

1/8 – ¼ tsp. hot sauce (more, if you like it hot)

1-2 dashes Worcestershire sauce – to taste
Directions:
Prep: Have ready on a burner a large skillet filled half full of water for poaching the eggs. Also have a slotted spoon to remove the poached eggs from the cooking water and place some paper towels on the counter next to the skillet for draining the cooked eggs. On another burner have ready a medium skillet to cook the Canadian bacon and have a toaster available for the muffins. For the sauce you will need a heat proof bowl that fits inside of a sauce pan or a use a double boiler, a small pot to melt some butter, a wire whisk and a spatula.
Make the Sauce: On another burner over medium heat, place a medium sauce pan filled with about 1-2 inches of water (or use a double boiler) and bring to a gentle simmer.
While the water heats, slowly melt the butter in a small pot over medium-low heat and then set aside.
Place the egg yolks and lemon juice into a bowl that fits over the sauce pan (or use the double boiler). The water should not touch the bottom of the bowl. Whisk the egg yolks and lemon juice vigorously, until thick and pale in color. Scrape the sides of the bowl with a rubber spatula, as needed. Note: If the bowl gets too hot or the water starts boiling, take the bowl off the pot momentarily and continue whisking and then return to the pot and finish whisking. This is to avoid scrambling the eggs, which will ruin the sauce.
While whisking, slowly drizzle the melted butter into the thickened egg yolks. Once combined, continue to whisk for about 3 minutes, until the mixture becomes thick and increases in volume. Scrape bowl as needed. Again, take the bowl off the pot momentarily, if needed, but keep whisking.
Remove the bowl from the heat and whisk in the salt, hot sauce and Worcestershire sauce, until thoroughly combined. Cover and set aside. The sauce will thicken while it rests, but it can be thinned out with a few teaspoons of warm water to your desired consistency, before serving. I use some heated water from the pot.
Cook the Canadian bacon over medium-low heat in a lightly greased skillet for about 2 minutes on each side, just until heated through and slightly browned. Remove from pan and set aside. Do not overcook the bacon, as it will become dry and hard.
While the bacon is cooking heat the skillet, which is filled half way with water, over medium heat and bring to a gentle boil.
Crack each egg into small bowl or cup. Add ¼ tsp. of salt and the vinegar to the skillet of gently boiling water. Using a spoon or spatula, carefully swirl the water in a circle to create a whirlpool. Carefully slide the eggs into the water one at a time and cook for about 3 minutes, or as desired. Using a slotted spoon, remove the eggs to the paper towels to drain.
While the eggs are poaching, toast the muffins, but don't make them too crunchy or you won't be able cut through them.
To assemble: Lightly butter the muffins, if desired. (I won't tell) Put each muffin on a plate, sliced side up. Place a slice of Canadian bacon on each muffin half and then top that with a poached egg. Season with salt and pepper, if desired and then spoon that delicious hollandaise sauce all over the eggs. Garnish with some fresh parsley for a restaurant style presentation, if desired and serve with additional hot sauce and Worcestershire sauce on the side. Enjoy!
Published on by Dishin' With Di
Tagged: bacon, benedict, Benedictos, Blackstone, breakfast, brunch, butter, Canadian bacon, cayanne pepper, Chef Ranhofer, chili sauce, Christmas, Classic, cure, delicious, Delmonico's, demonstration, Diane Kometa, Dishin With Di, Easter, easy, egg, egg yolks, eggs, elegant, Emma Frances Gardner, english muffin, Father's Day, from scratch, Ham, hangover, holiday, hollandiase sauce, homemade, hot chili sauce, hot sauce, How To Make, Lemon, lemon juice, Lemuel Benedict, Mother's Day, Mrs. Le Grand Benedict, muffins, New Year's, Old Fashioned, parsley, pepper, poached eggs, Recipe, restaurant style, rich, salt, sauce, Simple, special occasion, step by step, The Epicurean, toast, tutorial, unsalted butter, Valentine's Day, video, vinegar, Waldorf Hotel, Worcestershire sauce, YouTube