My recipe is for a traditional, basic egg salad.  If you need to learn how to make hard boiled eggs and how to peel eggs, I have a quick video on that here on my website as well.  This recipe only has a few simple ingredients: peeled hard boiled eggs, mayonnaise, mustard, salt, pepper and toast, if you're making an egg salad sandwich.  I know there are many different ways to make egg salad, but this is how I've been making it for years.  In fact, it was served this way in my school cafeteria for lunch and when my sons when to school, they served it the same way.  You can always add ingredients to my recipe to jazz it up.  I've seen it made with relish, dijon mustard, paprika, celery, onions, green onions (scallions) and chives.  Some people combine it with potatoes for potato and egg salad, which is actually pretty good, if you want potato salad.  I've also heard of tuna egg salad, but I haven't tried that one yet.  I love a lot of flavorful foods, but when it comes to my egg salad, I like it plain and simple.  Sometimes keeping it simple is best, but to each his own, as my father would say.  Enjoy!
Watch The Video!
Learn How To Make Egg Salad for Sandwiches or Breakfast!

Visit me on my YouTube Channel and Subscribe  to get my latest recipes!
Leave me a comment!  Go to my YouTube Channel or my Facebook Page and let me know if there's something you'd like to see.
Egg Salad: Egg Salad Sandwich Recipe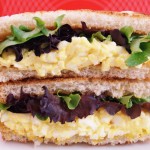 Prep time:
Cook time:
Total time:
Yield:

2 Large Sandwiches

Difficulty:

easy
Ingredients:
6 Hard boiled eggs – peeled

1/4 cup mayonnaise

1 1/2 tsp. yellow mustard

Salt and fresh ground black pepper to taste
Directions:
Into a bowl, slice eggs in half and mash with a fork until desired consistency.  I like mine chopped more on the fine side, but you may want it a bit chunkier.
Add the mayonnaise and mustard to the mashed eggs and combine until well incorporated.
Season with salt and fresh pepper to your taste.
Serve on toasted bread of your choice.  Top with lettuce for a bit more crunch.  Make it your own and spice it up!  Enjoy!!
Published on by Dishin' With Di
Tagged: breakfast, demonstration, Diane Kometa, Dishin With Di, Easter, easy, eggs, from scratch, homemade, How To Make, Old Fashioned, quick, Recipe, salad, sandwich, snack, tutorial, video, YouTube