Easy Homemade Strawberry Ice Cream: Best, Quick,  frozen dessert for summer, without the fuss!  Make strawberry ice cream in minutes, with almost no work!  Super rich and creamy!  Perfect topped on a warm Brownie or as an ice cream sundae with whipped cream, chocolate syrup and a cherry on the top! Make an ice cream cake, ice cream sandwich or just have it the old fashioned way: homemade strawberry ice cream on an ice cream cone!  My friends could not believe that I made it myself and compared it to that expensive ice cream (you know the one). Simple ingredients: heavy cream, sweetened condensed milk, vanilla extract and fresh strawberries (or frozen strawberries if you don't have fresh).  Make ice cream without eggs, cooking and without churning in an ice cream machine! Make my Homemade Rocky Road Ice Cream with No Machine! It's a chocolate ice cream recipe with marshmallows and chocolate covered nuts! It's over the top!   Everything in moderation!
Want more Easy Ice Cream Recipes!  Strawberry Recipes? Leave me a comment or Request a Recipe! Go to This Easy Strawberry Ice Cream Recipe On YouTube or my Facebook Page and let me know if there's something you'd like to see.  What you're craving could be my next video!
Watch The Video!
Learn How to Make Strawberry Ice Cream Without an Ice Cream Maker:  Recipe by: Diane Kometa
Get updated when I release New Recipes!  It's Free! Do it! 
Don't Miss An Episode!
Easy Strawberry Ice Cream Recipe – Without Ice Cream Maker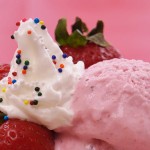 Prep time:
Cook time:
Total time:
Yield:

About 1 1/2 quarts

Difficulty:

easy

Recipe type:

dessert
Ingredients:
14 oz. can Sweetened condensed milk

1 ½ cups Heavy cream, whipping cream – cold

1 ½ Tbs. Vanilla bean paste or pure vanilla extract

1/8 tsp. Salt

1 1/2 -2 cups strawberries – washed and stems removed (frozen strawberries can be used)

Red food coloring (if desired)
Directions:
Chop some strawberries to measure about 1/3 cup, if you want some strawberry pieces in your ice cream. Set aside.
Place a bowl and whisk attachment of a stand mixer or hand mixer into the freezer.
Measure heavy cream and place in refrigerator
Into a food processor or blender, place about 1 1/4 cups of the strawberries. Mix until strawberries are pureed. The pureed strawberries should equal 3/4 cup. Add more if necessary. Save extra for a smoothie!
To the pureed strawberries, add the sweetened condensed milk, salt and vanilla bean paste or extract. Process until thoroughly combined. Stir in several drops of red food coloring if desired. Pour mixture into a large bowl. Stir in the chopped strawberries. Set aside.
Remove bowl and whisk from freezer and cream from fridge. Pour the cream into the chilled bowl. Turn mixer on medium-high and beat until firm peaks form.
Scrape the whipped cream into the strawberry puree and fold in until combined. Do not stir.
Pour strawberry ice cream mixture into a freezer safe container. Cover and place in the freezer for at about 6-8 hours until firm or overnight. Scoop out some of your creamy homemade strawberry ice cream and ENJOY! Recipe by: Diane Kometa
Published on by Dishin' With Di
Tagged: best, churning, condensed milk, cream, demonstration, Desserts, Diane Kometa, Dishin With Di, easy, from scratch, frozen, frozen desert, heavy cream, homemade, How To Make, ice cream, ice cream machine, ice cream maker, milk, Old Fashioned, pink, quick, Recipe, red, snack, Spring, strawberries, strawberry, strawberry ice cream, Summer, summer dessert, summer desserts, sweetened condensed milk, tutorial, vanilla, video, whipped cream, without ice cream machine, without ice cream maker, YouTube