Visit me on my YouTube Channel and Subscribe to get my latest recipes!
SUBSCRIBE!  I'd love to have you!  Help put me on the YouTube map and give me a try!  Your Subscription does make a difference!  I'd really appreciate it. Thanks Soo Much For Watching!
Leave me a comment!  Go to my YouTube Channel or my Facebook Page and let me know if there's something you'd like to see.
What you're craving, could be my next video!
Thanks so much for visiting!
Easy Rocky Road Ice Cream – No Ice Cream Maker Required!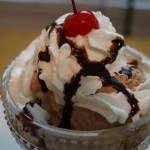 Prep time:
Cook time:
Total time:
Yield:

6-8

Difficulty:

easy
Ingredients:
2 C Heavy Cream (chilled) place in the freezer for 5-10 minutes

14 oz can Sweetened Condensed Milk

¼ C Unsweetened Cocoa Powder

¼ C Chocolate covered Almonds – chopped or sliced if large

Marshmallow Ice Cream Topping
Directions:
Place the bowl and whisk of stand mixer in the freezer for about 15 minutes (or any bowl and whisk or beaters)

Pour sweetened condensed milk in a separate bowl and sift in cocoa powder.  Whisk to thoroughly combine.

Remove whisk and bowl from freezer.  Pour in heavy cream and beat until stiff peaks form.  Scrape down the sides, as necessary.

Gently fold the whipped cream into the cocoa mixture.  Don't stir.  Folding keeps it light and fluffy.

In a container, pour a small amount of the ice cream mixture.  Top with some of the almonds and then drizzle a small amount of the marshmallow topping.  Repeat until no ice cream mixture remains.

Insert a knife or spatula into the ice cream mixture and gently move it through to distribute the marshmallow.  Don't stir.

Cover the container with a lid or plastic wrap and place in the freezer for 4-6 hours or until mixture is firm.

Serve as you would regular ice cream, but be careful, this is over the top! Use kiddie cones!  Try with my Cinnamon Sugar Tortilla Chips!  They are Amazing with ice cream!!!

Enjoy!
Published on by Dishin' With Di
Tagged: chocolate, cream, demonstration, Desserts, Diane Kometa, Dishin With Di, easy, from scratch, homemade, How To Make, milk, quick, Recipe, snack, tutorial, video, YouTube