Homemade Ice Cream Recipe Without an Ice Cream Maker! Quick and Easy Mint Chocolate Chip Ice Cream without eggs!  Make delicious, creamy ice cream without eggs, cooking and without churning in an ice cream machine!  This is a great recipe and it doesn't last long in my house.  You can whip it up in a few minutes, pop it in the freezer and before long you'll be in mint chocolate chip heaven!  It's not a bad place to be. Believe me! I have a Strawberry Ice Cream and Rocky Road Ice Cream Recipe, which use the same simple method, so be sure to try those too!  I'm not sayin' eat a whole batch of each at one sit-down.  All things in moderation.  Once you make the ice cream, it's in the freezer and when you get a little craving, why not have a few flavors to choose from! It's so easy to make and something fun to do with kids.  The mint chocolate chip or choc mint chip as some call it, is my fav, but my Hub is a big fan of the Rocky Road and we both like Strawberry.  I have a few more flavors up my sleeve, along with some gelato and semifreddo recipes!  When you're married to an Italian, you have to know how to make certain things.  It's not such a bad thing.
Leave me a comment! Go to my YouTube Channel or my Facebook Page and let me know if there's something you'd like to see.  What you're craving could be my next video!
Watch The Video!
Learn How To Make Mint Chocolate Chip Ice Cream! No Machine Required! Recipe by: Diane Kometa
Get updated when I release New Recipes!  It's FREE! Do It! 
Don't Miss An Episode!
Mint Chocolate Chip Ice Cream Recipe – No Machine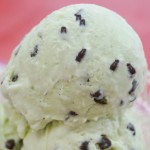 Prep time:
Cook time:
Total time:
Yield:

4-6

Difficulty:

easy

Recipe type:

Dessert, Frozen Dessert
Ingredients:
1 1/3 cups sweetened condensed milk – one 14 ounce can

2 – 2 1/4 tsp. peppermint extract – some extract brands seem to be stronger than others

1 tsp. vanilla bean paste or pure vanilla extract

2 cups heavy cream

½ cup mini semi sweet chocolate chips

4 drops green food coloring – optional
Directions:
Place whisk attachment and mixing bowl in freezer for about 15 minutes.
In a bowl, combine sweetened condensed milk, vanilla, 2 teaspoons of peppermint extract and green food coloring. Mix well to thoroughly combine. Taste and add up to a 1/4 teaspoon more peppermint if desired. Stir in chocolate chips.
Remove heavy cream from fridge and bowl and whisk from freezer. Pour cream into the mixing bowl and beat until firm peaks form. See my video on How to Whip Cream.
Fold about ¼ of the whipped cream into the sweetened condensed milk mixture until combined. Add the rest of the whipped cream and fold in until thoroughly combined. Do not stir or beat with mixer.
Pour mixture in to a container or loaf pan. Cover with plastic wrap or a lid.
Freeze for 6-8 hours or overnight until firm. Enjoy! Recipe by: Diane Kometa
Published on by Dishin' With Di
Tagged: 5 ingredients, baking chips, best, chip, choc mint, chocolate, chocolate chips, chocolate mint, Christmas, colored, cream, creamy, demonstration, Dessert, Desserts, Diane Kometa, Dishin With Di, Easter, easy, eggless, Father's Day, food coloring, from scratch, frozen, frozen desserts, green, heavy cream, homemade, How To Make, ice, ice cream, milk, mint, mint chip, mint chocolate chip, Mother's Day, peppermint, quick, Recipe, Saint Patrick's Day, St. Patrick's Day, Summer, summer desserts, sweetened condensed milk, tutorial, Valentine's Day, vanilla, video, whipped cream, whipping cream, without ice cream maker, YouTube