Mom's Easy Fruit Tart Recipe From Scratch! I'm mom!  lol  This is my easy fruit tart recipe with filling and glaze.  I use a delicious and simple shortbread crust recipe for this, which is easier than a shortcrust pasty recipe (pate brisee).   Mine is a press-in shortbread crust, which means no dough rolling, so no worries!  To top it off, it has a nice crisp and buttery texture, sweet flavor and a hint of citrus.  It's just simple to make and quite good!  This fruit tart filling is made with cream cheese, heavy cream, sugar and vanilla and is a very quick and easy fruit tart filling to make, rather than a sweet pastry cream. I have a wonderful pastry cream recipe, so I'm not against pastry cream at all!  You can use that for the tart recipe if you'd like, as pastry cream goes quite well with fruit tarts, among other desserts, but it does require cooking, so it's not quite as easy as this cream cheese filling.  If you have the time, it' is a really wonderful filling for making fruit tarts.
To make this fruit tart from scratch, you first need to make the shortbread crust.  I have a separate video recipe for that, which will have it in and out of the oven in no time! Next I prepare the glaze for the fruit tart.  Heated and strained apricot preserves, are applied to the baked crust to seal it and also to the finished tart to give the fruit its beautiful gloss and prevent it from drying out. The cream cheese filling is then prepared and chilled, which takes only a few minutes.  Then to slicing the fruit!  I use fresh fruit for tarts, as I feel frozen fruit tends to release too much water and aren't appropriate for this application. I use kiwi and have an easy how-to-peel-a-kiwi with a spoon video link below, so check that out!  I also use pineapple and mixed berries: blackberries, blueberries and strawberries. After you clean and slice your fruit, you put the whole thing together!  Watch the video for that!  After it's made, either serve immediately or store in the refrigerator.  I cover mine with plastic wrap, by inserting several toothpicks around the edge and throughout the top of the tart and then tent plastic wrap over it.  After the fruit tart has made its initial presentation, I just put the plastic wrap directly on the leftovers.  It doesn't really get messy, but for the first impression I like to be careful.  If you have a plastic cake container, that would be perfect.  Soo easy and it can be made ahead if necessary!
Fruit tarts or fruit pies, as some call this, can really be made with any fruit, so use what you prefer.  I make a delicious peach tart, strawberry tart, apple tart and chocolate raspberry tart!  I'll share that sometime and I'm tossing around and idea for a tart recipe with white chocolate as well!  Yum!  So, you can use whatever fruit is in season and make all kinds of designs. Fruit tart decoration can be fun and there are soo many fruit tart design ideas out there to choose from. You don't have to be artistic!  Use this design, if you have the fruit or substitute other fruits.  If you want to make another design,  google "fruit tart designs" and you'll find loads of ideas, but I'm told my shortbread crust and cream cheese filling are the best, so be sure to use my recipes! lol  I've made this tart for holidays and it makes a gorgeous dessert centerpiece dessert decoration! You can also use my crust recipe and cream cheese filling to make mini fruit tarts for parties.  Small fruit tarts are so easy to make, because they only need a few pieces of fruit,  so there's no need to make a design. Fruit Tarts are also great for summer parties, served with lunch, brunch, and just about anytime!
As you'll see from the video tutorial, you don't have to be a pastry chef to make a fruit tart,  so you won't need to buy them from bakeries anymore, you can make them at home!  I used to buy my fruit tarts at Wegman's, which is a "better" local grocery store with exceptional fresh-baked goods and whose fruit tarts are incredibly delicious and quite popular. Since I started making my own fruit tarts, Wegman's tarts are history, because I actually like my recipe better and so does my family! We're a pretty picky bunch, so that's saying something!  A few people actually offered to pay me to make fruit tarts for them!  Get in the kitchen and make this fresh fruit tart!  Di  😉
Sweet Pasry Cream / Creme Patissiere Recipe and Video Here
How to Peel a Kiwi With a Spoon Video Here
Shortbread Crust – Shortbread Cookie Crust Recipe and Video Here
Watch The Video!  Learn How To Make a Fruit Tart!                                   Recipe by: Diane Kometa
Get updated when I release New Recipes!  It's Free! Do It! 
Don't Miss An Episode!
Leave me a comment or Request a Recipe! Go to this recipe on YouTube or visit my Facebook Page!  What you're craving could be my next recipe!
Fruit Tart Recipe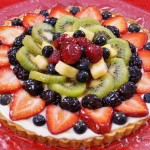 Prep time:
Cook time:
Total time:
Yield:

1 – 9″ Tart

Difficulty:

easy

Recipe type:

Dessert
Ingredients:
Crust

1- 9" Shortbread crust – prebaked – Get Recipe Link Below

Cream Filling

6 ounces cream cheese – softened

½ cup confectioners' sugar – sifted after measuring – also known as icing sugar or powdered sugar

2 Tablespoons heavy cream – room temp

½ tsp pure vanilla extract or vanilla bean paste

2 -3 teaspoons fresh lemon juice – optional

Pinch of salt

Note: This tart can also be made with my Sweet Pastry Cream Recipe, which is the same custard used in Cream Puffs, Napoleons and Boston cream pie. Recipe link below.

Fruit

3 Kiwi – peeled and sliced ¼"thick – 12 – 15 slices – Watch my Easy Peel Kiwi Video link below

7-10 Strawberries – washed, patted dry and tops cut off – sliced ¼" thick – about 14 slices

17-20 Blackberries – washed and patted dry

3 ounces Blueberries – about 25-30

8-10 Raspberries – washed and patted dry

Pineapple – a few pieces cut in thin rectangles – 7-10

Note: Use whatever fruit you'd like. This is the fruit I used for this tart, but I've made other designs with different fruit. I'll share some of those in upcoming videos.

Glaze

Apricot preserves – about ½ – ¾ cup – heated and then strained to remove chunks of apricot. I've also used strawberry preserves.
Directions:
Brush some of the warmed apricot preserves over the shortbread crust to seal it. Set aside.
Place the cream cheese into a bowl and beat until creamy, using a hand mixer, stand mixer or hand whisk.
Add the confectioners' sugar slowly, with the mixer on low. Once it's all in the bowl and coated with the cream cheese, turn the mixer up and beat it until smooth, creamy and well combined.
With the mixer on low, gradually add the heavy cream until creamy and well combined.
Add a pinch of salt, the vanilla extract and the lemon juice if using. Add a little lemon first and then taste it, before adding more. It won't be as noticeable once the tart is combined, so a nice lemon taste is good. Just watch that you don't thin out the cream too much or you'll have to add more sugar or cream cheese to thicken it back up. Cover with plastic wrap directly on the cream, so it doesn't form a crust and place in the fridge, while you slice the fruit.
Slice strawberries along widest part. First slice off rounded edge, so that strawberry will lay flat on the tart, then slice two slices about ¼ inch each and cut off the other rounded edge. You can make them any thickness you'd like, but if they're too thin they get soggy.
Peel the kiwi with a spoon, as demonstrated in my video, and then slice 14" slices.
For the Pineapple, I just buy the precut, unless I'm going to use pineapple for something else. It just makes the whole Easy Fruit Tart thing a little easier than if I had to cut and slice a whole pineapple.
To assemble: remove the cream cheese filling from the fridge. Spoon the filling onto the crust and spread evenly, using a spatula or the back of a spoon. Do not spread it to the very edge. Leave about ½ inch of the shiny, glazed crust edge showing.
Place strawberries all along the outside edge of the tart, with the pointy part facing outward. See video for the assembly if my directions are unclear.
Place a blueberry in between the strawberries along the outside of the tart.
Next, place blackberries lengthwise, right up against the straight side of the strawberries all the way around.
Fan the kiwi around the blackberries. I've laid them flat and fanned them and also leaned them up against the blackberries, so either way is fine.
Take some raspberries and place them in the center and then some pineapple and then blueberries and place them about the top as you'd like. Note on the raspberries: make sure they're not too ripe or they get soggy fast and then bleed, especially after glazing. I had a batch for this video that were a little too ripe and the next day the raspberries were weeping all into the cream, so be aware of that and be sure you thoroughly dry them before placing them on the tart. If they're damp to start with, they'll just get soggier.
Using a pastry brush, apply the apricot glaze. I used a wide brush in the video, but switched over to a thinner one so the glaze wouldn't get all over the white cream filling. Just take your time and have a steady hand with the glaze and it will look beautiful.
The tart is now done and ready to be eaten! I have made it a day ahead and it does need to be refrigerated. To do so, just cover it with plastic wrap lightly or I've inserted several toothpicks around the outside and throughout the tart and then draped plastic wrap over top, so that the plastic sits on the toothpicks like a tent. I've kept it in the fridge for up to five days. Recipe by: Diane Kometa
Published on by Dishin' With Di
Tagged: apple, apricot, bake, baked, baking, banana, Basic, best, blackberries, blackberry, blueberries, blueberry, bread, Cake, Christmas, colorful, confectioner's sugar, cook, cooked, Cookie, cooking, cream, cream cheese, creme patissiere, Crust, custard, delicious, demonstration, Dessert, Desserts, di, Diane Kometa, Dishin With Di, Easter, easy, filling, flour, fresh, fresh fruit, from scratch, fruit, glaze, granulated, heavy cream, homemade, How To Make, icing sugar, jam, juice, kiwi, kiwifruit, Lemon, mini, New Year's, New Year's Eve, no bake, Old Fashioned, original, pastry, pastry cream, peach, Pie, pineapple, powdered sugar, preserves, quick, raspberries, raspberry, salt, short, Shortbread, Spring, strawberries, strawberry, sugar, Summer, Sweet, Tart, Tart Shell, Thanksgiving, topping, Traditional, tropical, tutorial, Valentine's Day, vanilla, vanilla bean paste, vanilla extract, video, YouTube