Learn How To Make Homemade Chocolate Ice Cream Without an Ice Cream Maker! This is a quick and easy chocolate ice cream recipe and one of the best frozen desserts for summer! AND it's made without eggs! Now you can make chocolate ice cream in minutes! Rich, creamy, chocolately ice cream made fast with a few simple ingredients: heavy cream, sweetened condensed milk, vanilla bean paste or vanilla extract and unsweetened cocoa powder and salt. Eggless!! Make ice cream without eggs, cooking and without churning in an ice cream machine! I used a stand mixer to whip the cream, but you can use a hand mixer or a hand whisk. No matter what it will still taste like real handmade ice cream! I think it's really amazing! This ice cream is perfect topped on a warm brownie or as an ice cream sundae with whipped cream, chocolate syrup, sprinkles and a cherry on top! Make an ice cream cake, ice cream sandwich or have it the old fashioned way: homemade chocolate ice cream on an ice cream cone! Enjoy! Di 😉
Click the links below for more Easy Ice Cream Recipes Without an Ice Cream Maker!
What's your favorite Ice Cream Recipe? Chocolate Recipes? Leave me a comment! Go to this Recipe on YouTube or visit my Facebook Page! Let me know if there's something you'd like to see.  What you're craving could be my next recipe!
Watch the Recipe Demonstration!
Learn How To Make Chocolate Ice Cream Without an Ice Cream Maker   Recipe by: Diane Kometa

It's FREE!  Do It!  Don't Miss An Episode!
Chocolate Ice Cream Recipe – No Ice Cream Maker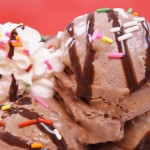 Prep time:
Cook time:
Total time:
Yield:

4-6

Difficulty:

easy

Recipe type:

Dessert, Frozen Dessert
Ingredients:
2 C heavy cream (chilled) also known as thickened cream or double cream (35% fat or greater)

14 oz can sweetened condensed milk

1 teaspoons vanilla bean paste or pure vanilla extract

1/2 C unsweetened cocoa powder (use 2/3 C for extra rich chocolate ice cream)

1/8 tsp. salt – I use fine sea salt
Directions:
Place the bowl and whisk attachment of a mixer in the freezer for about 15 minutes to chill.
Pour sweetened condensed milk in a separate bowl. Sift in the cocoa powder and then add the vanilla and salt. Whisk everything together, until thoroughly combined. Set aside.
Remove whisk attachment and bowl from freezer. Pour heavy cream into chilled bowl and beat until stiff peaks form. Scrape down the bottom and sides, as necessary.
Using a whisk, gently fold about 1/3 of the whipped cream into the cocoa mixture and mix thoroughly. Using a rubber spatula, fold in the remaining whipped cream, until well combined. Do not stir. The mixture should be very light and fluffy.
Pour the chocolate ice cream into a freezer safe container (I use 2 small ones, so it chills faster) and spread evenly with a spatula or back of a spoon. Place a piece of plastic wrap that is larger than the top of the container directly on top of the ice cream.
Cover the container with a lid and freeze for at least 6 hours or overnight, until mixture is firm.
Serve as you would regular ice cream. Recipe by: Diane Kometa
Published on by Dishin' With Di
Tagged: at home, best, chip, choc, chocolate, chocolate chips, chocolate ice cream, cocoa powder, cone, cooking, cream, creamy, demonstration, Dessert, Desserts, Diane Kometa, Dishin With Di, eagle brand, easy, easy desserts, eggless, eggs, fast, for kids, freezer, from scratch, frozen, frozen dessert, fun, heavy cream, homemade, How To Make, ice cream, ice cream machine, kitchenaid, maker, milk, mixer, no bake, no eggs, quick, Recipe, recipes, rich, salt, Simple, stand mixer, sugar, Summer, sweetened condensed milk, tutorial, unsweetened, Valentine's Day, vanilla, vanilla bean paste, vanilla extract, video, whipped, whipped cream, whipping cream, without eggs, YouTube