Frappuccino Recipe like Starbucks Double Chocolate Chip Frappuccino, but better! Make Double Chocolaty Chip Frappuccino at Home in minutes! Addictive!
What's your favorite frappuccino recipe?  Starbucks recipe? Leave me a comment or request a recipe! Go to this Recipe on YouTube or my Facebook Page!  What you're craving could be my next recipe!
Watch The Video!
Learn How To Make Double Chocolate Chip Frappuccino!
Recipe by: Diane Kometa
Get updated when I release New Recipes!  It's Free! Do It! 
Don't Miss An Episode!
Double Chocolate Chip Frappuccino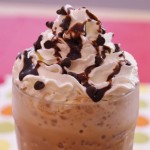 Prep time:
Cook time:
Total time:
Yield:

2 regular servings or one very large serving

Difficulty:

easy

Recipe type:

Drink
Ingredients:
Ingredients for frappuccino:

1 cup milk – regular or low fat work best, but for a lighter version use non-fat skim milk

1 ½ cups ice

¼ cup chocolate syrup

½ cup mini semi-sweet chocolate chips

½ tsp. pure vanilla extract or vanilla bean paste

1 ½ tsp. instant coffee dissolved in 1 teaspoon hot water

2 Tbs. white granulated sugar dissolved in 2 Tbs. hot water

Note: You can simply dissolve the instant coffee and sugar in the hot water at the same time. In the video I did it separately for demonstration purposes.

Topping

Whipped cream

Chocolate syrup

Mini semi-sweet chocolate chips or chocolate sprinkles
Directions:
Mix frappuccino ingredients in a blender on high speed, until chocolate chips are all finely chopped and no large chunks of ice remain. Mixture should be thick like a milk shake. Pour into tall glass and top with swirls of whipped cream, drizzle with chocolate syrup and sprinkle with some mini chocolate chips or chocolate sprinkles. Serve with a straw. Delicious and Addictive! Enjoy! Recipe by: Diane Kometa
Published on by Dishin' With Di
Tagged: best, beverage, blended creme, chip, chocolate, chocolate chips, Christmas, coffee, demonstration, Dessert, Desserts, Diane Kometa, Dishin With Di, double, drink, easy, frappe, frappuccino, from scratch, frozen, homemade, How To Make, ice, iced coffee, java, milk, milkshake, quick, Recipe, shake, smoothie, Starbucks, sugar, Sweet, syrup, tutorial, vanilla, video, YouTube