Learn how to make Deviled Eggs: Old Fashioned, "just like mom used to make", deviled eggs!  Classic, basic, traditional deviled eggs, that are perfect for every occasion, especially Easter.  I've seen people make a deviled egg baby carriage for bridal showers! Using simple ingredients you can learn to make a traditional, old fashioned deviled egg with a creamy filling that tastes delicious and will keep guests coming back for more!  Without any special tools and using mayonnaise, mustard and sometimes relish,  paprika or even with bacon or with crab these deviled eggs are the perfect appetizer all year round.  You can make them ahead and store them in a deviled egg tray and then place them on a decorative egg platter. The most important thig is that you hard boil them perfectly first.  Making hard boiled eggs that are well cooked, but still have nice fluffy yolks is the key.  Peeling hard boiled eggs can be a problem if the eggs are fresh.  I have a great way to do both, so be sure to check out the video on How to Make Hard Boiled Eggs: Easy to Peel. I'll you how to hard boil eggs perfectly and easily peel hard boiled eggs, so you'll  make easy work of it even if they're new eggs.  So get in the kitchen and start making my best deviled eggs recipe!

Visit me on my YouTube Channel and Subscribe  to get my latest recipes!
Leave me a comment!  Go to my YouTube Channel or my Facebook Page and let me know if there's something you'd like to see.
Deviled Eggs Recipe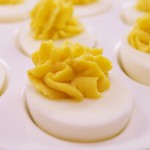 Prep time:
Cook time:
Total time:
Yield:

12

Difficulty:

easy

Recipe type:

appetizer, side dish, snack
Ingredients:
6 Hard Boiled Eggs – Peeled

3 1/2 Tbs. mayonnaise

1/2 tsp dry mustard

1/4 tsp salt – or to taste

1/8 tsp ground black pepper – or to taste

1-2 Tbs. sweet relish or sweet pickle juice (optional)

Paprika -for dusting – (optional)
Directions:
Slice eggs lengthwise. Into a bowl, pop out the yolk. See video.
Using the tines of a fork, mash the yolks until very fine.
Combine the salt, pepper and dry mustard. Add to the mayonnaise and mix well. If using the pickle juice, add it to the mayonnaise mixture.
Add the mayonnaise mixture to the mashed yolks and mix well.
If desired, stir in the relish and mix well.
Using either a spoon, fill each egg with the yolk mixture. Pile it up slightly, but not too much or you'll run out. With a fork, fluff the yolk into peeks or swirls. Sprinkle with paprika if desired. As another option, you can put the yolk mixture into a piping bag fitted with a star tip and pipe it into the eggs. This makes a pretty presentation. When I've had large patches of deviled eggs to make, I sometimes mash the yolks and combine the yolks with the mayonnaise mixture in food processor or in a bowl and blend with a hand mixer. It makes them very creamy and is faster than doing a large batch with a fork. Be careful not to over mix though or then can become a bit greasy. You would still just stir in the relish, but if you were using the pickle juice you would add that with the mayonnaise.
Note: If you taste the yolk mixture and it seems too salty or sweet, do keep in mind that it must also flavor the egg white, which has basically no flavor or seasoning, so what seems like too much may be just right. I would test one out to be sure and you can always adjust the seasonings to your taste. Enjoy!!!
Published on by Dishin' With Di
Tagged: appetizer, Basic, best, breakfast, Christmas, Classic, demonstration, Diane Kometa, Dishin With Di, Easter, easy, eggs, from scratch, Halloween, homemade, How To Make, New Year's, New Year's Eve, Old Fashioned, quick, Recipe, Sides, Simple, snack, Thanksgiving, Traditional, tutorial, video, YouTube