A Classic Sugar Cookie Recipe! Sugar cookies are simple, sweet and tender, crisp cookies. With varying shapes, cut out Sugar Cookies are delicious plain or decorated with a sprinkle of colored sugar, but best when frosted with Royal Icing.  Royal Icing is quick and easy to make at home and just perfect for decorating Sugar Cookies!  Make cut out snowflakes for Christmas, hearts for Valentine's Day (Heart Shaped), eggs for Easter, scary cookies for Halloween or just make them because you want a sweet, delicious and beautiful cookie! With simple ingredients, create beautiful cookies for Christmas or any holiday.
So, bake along with me!  Watch the recipe demonstration video and learn how to make this Cut-Out Sugar Cookies Recipe!
Try with my Royal Icing Recipe!  Click Here  -> Royal Icing Recipe
Try my Shortbread Cookie Recipe  (Scottish Biscuits) Click Here -> Shortbread Cookies Recipe
Make Sugar Cookies or  Shortbread Cookies topped with Chocolate Ganache -> Chocolate Ganache Recipe
Want to see more Cookie Recipes or Dessert Recipes?   Go to this Recipe on YouTube or visit my Facebook Page and Request a Recipe or Leave me a Comment! What you're craving could be my next recipe!
Watch The Video! Learn How To Make Sugar Cookies!
Recipe by: Diane Kometa
Get updated when I release New Recipes!  It's Free! Do It! 
Don't Miss An Episode!
Sugar Cookies Recipe – Cut Outs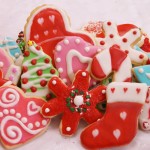 Prep time:
Cook time:
Total time:
Yield:

about 3 dozen

Difficulty:

easy

Recipe type:

Dessert
Ingredients:
2 ½ all-purpose flour

½ teaspoon baking powder

¼ teaspoon salt

2/3 cups unsalted butter, softened

1 cup white sugar

1 large egg – room temperature

1 teaspoons pure vanilla extract

¼ teaspoon almond extract
Directions:
Whisk together flour, baking powder, and salt in a bowl. Set aside.
In a separate bowl with a hand mixer or using a stand mixer, beat together butter and sugar on medium-high speed until pale and fluffy, about 3 minutes. Scrape the bowl as needed.
Meanwhile, crack the egg in a small bowl and add the vanilla extract and almond extract and whisk lightly with a fork, just to combine. With the mixer on low, add the egg mixture gradually and mix until thoroughly combined. Scrape the bowl at least once.
With the mixer on low speed and using a large spoon or scoop, gradually add flour mixture until the flour disappears and the mixture forms a slightly crumbly dough.
Place two sheets of plastic wrap onto the work surface and dump the dough onto one of the sheets. Gather the dough together using the plastic wrap and form into a ball. Divide the dough in half with a pastry cutter or knife and place one half of the dough on the other sheet of plastic wrap. Form each piece of dough into a ball and then flatten with your hand and smooth the dough into a disk about 1/2 inch thick. Wrap the dough in the plastic and refrigerate at least 1-2 hours or until firm. Dough can be refrigerated for a few days at this point.
Remove 1 chilled dough disk from fridge and allow to sit at room temperature for about 5 minutes before rolling. Line 2 baking sheets with parchment paper. Place some flour into a small bowl for flouring the cookie cutters.
Preheat oven to 375 degrees F. Lightly flour work surface and rolling pin. Place dough on surface and very lightly flour dough. Be sure the dough is smooth around the edges before rolling. Roll out the dough to about 1/8 – ¼ inch thick. Turn as you roll and add more flour to surface and pin, as needed, to prevent the dough from sticking. If the edges begin to separate while rolling, just push them together. Note: If the dough is too cold, it will crack when you try to roll it and if it's too warm it will be very sticky. Let cold dough rest for a few more minutes or gently work it with your hands. Soft dough should be returned to the fridge until firm.
Dip cookie cutter into flour, press cookie cutter into dough to cut cookies as close together as possible. Remove excess dough from in between cookies and set aside to roll. Place cookies on baking sheet or slide a thin, lightly floured spatula under the cookie, move it to baking sheet and release cookies onto sheet about 1 1/2 inches apart. Reroll excess dough gently and cut. Place baking sheet with uncooked cookies, into the fridge to chill for about 15 minutes. Chilled dough will help prevent spreading and over browning.
Bake chilled cookies for about 8 -11 minutes or until edges begin to turn golden brown. Cooking time depends on size of cookies – 1/8 inch thick should be done in about 8 minutes, but ovens vary and so will cooking times, so keep an eye on them.
Once cookies are done, place baking sheet on wire rack and allow cookies to cool completely, before frosting. Frost with my Royal Icing or Chocolate Ganache. Recipe by: Diane Kometa
Published on by Dishin' With Di
Tagged: almond, baking, baking powder, Basic, best, biscuits, butter, Christmas, Christmas cookies, colored, cookies, cut out, cut outs, decorated, demonstration, Desserts, Diane Kometa, Dishin With Di, dough, Easter, easy, eggs, extract, flour, from scratch, Frosting, Halloween, heart shaped, hearts, homemade, How To Make, Icing, New Year's, New Year's Eve, Old Fashioned, Recipe, rolled, rolled cookies, royal, salt, shapes, Simple, snowflakes, stars, sugar, sugar cookies, Thanksgiving, trees, tutorial, Valentine, Valentine's Day, vanilla, video, YouTube