Creme Brulee – Burnt Cream: This dessert is very elegant, but surprisingly easy to make and it's been around for a long time too.  Don't ask me how long, but I've read up on it and it's got quite a history.  Anyway, it's made with cream, egg yolks, vanilla, sugar and salt.  That's it! It's my husband's favorite dessert and just about every time we go out to dinner he orders it.  We've had it in some fancy schmancy places too and guess what?  He prefers my recipe!  I think it's not just because he thinks it tastes better, but also because he can have second helpings no questions asked!  Anyway, take a look at the video and learn how to make Creme Brulee at home and serve it at your next dinner party or on a Tuesday night!  It's that easy and your guests will think you're some kind of miracle worker!
Do you want to see more Custard Recipes or Dessert Recipes!  Go to the comments section for this Recipe on YouTube  or my Facebook Page and Request a recipe or leave me a comment!  What you're craving could be my next recipe!
Watch the Video!  Learn How To Make Creme Brulee!
Recipe by: Diane Kometa
Get updated when I release New Recipes!  It's Free! Do It! 
Don't Miss An Episode!
Creme Brulee Recipe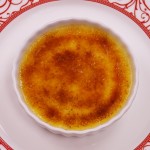 Prep time:
Cook time:
Total time:
Yield:

4 – 5 oz. Servings

Difficulty:

easy

Recipe type:

Dessert
Ingredients:
4 cups heavy cream – 35% fat

2/3 cup granulated sugar

8 large egg yolks

1 vanilla bean or 1 Tbs. vanilla bean paste or vanilla extract

¼ tsp. salt

8 Tbs. superfine sugar (approximately – if you like a thicker topping, then you may want a little more)

Tools: Blowtorch, hand-held torch or broiler, electric mixer or hand whisk, ramekins, baking pan with high sides, heatproof mixing bowl, tea kettle or pot, oven, utensils
Directions:
Preheat oven 325 degrees F
Place ramekins in a baking pan with high sides and preferably handles.
Heat a tea kettle with a pot of water
Pour cream into a pot.
Split vanilla bean down the center and spread apart. With the back of a knife, scrape out the seeds and place them into the cream. Add the cut bean into the cream as well.
On the stove over medium heat, bring the cream to a simmer. You will see bubbles forming around the edges and the top of the cream will form what appears to be a skin. Remove the cream from the heat and set aside.
In a heatproof bowl, add the sugar, salt and egg yolks and beat with an electric mixer or whisk by hand, until the mixture is slightly thickened and pale in color. See video.
Remove the bean from the cream and set aside. You can rinse the bean, let dry completely and put it into your sugar bowl or sugar storage container to give it a wonderful vanilla flavor.
Very gradually add the hot cream to the egg and sugar mixture. I usually add about two tablespoons or splashes at a time and then mix through, before adding another two tablespoons. Do this until about half of the cream has been added. The egg mixture should be hot now and you can add the rest of the cream all at once and mix through.
Using a large measuring cup with a fine mesh strainer placed over it; pour the hot custard through the strainer into the measuring cup to strain any bits of the vanilla been or any egg that may have scrambled. Be sure the measuring cup is heat proof and is large enough to accommodate the amount of liquid being added. I use a measuring cup, you can just strain a little bit at a time into whatever size measuring cup you have OR you can strain the mixture into another bowl and then ladle it into the ramekins.
Pour the custard evenly into the ramekins.
Carefully take the baking pan to your oven and place on the center rack. Pour the boiled water into the baking pan so that it comes half way up the ramekins. If you've boiled the water in a pot and not a kettle, it may be difficult to tilt the pot and pour the water without it splashing into the ramekins or all over, so use a kettle if possible. Trust me. Bake for about 25 minutes. The center will be a bit giggly, but not browned. See video.
Very carefully remove the baking pan from the oven and place on a heat proof surface. Using a large spatula, carefully remove each ramekin from the baking pan and place on a cooling rack or your counter with a towel under them to cool to room temperature. See video. Be careful when removing the ramekins, as the spatula will be wet and water may drip into the ramekins below, as you lift each one. The custard is also very hot and can slide around easily so try to keep your hand steady. Allow the custard to cool to room temperature and then place in the fridge to chill. I usually cover them with plastic wrap after about a half hour. Chill for several hours or up to three days, before making the topping.
Once chilled, evenly sprinkle about 1 tablespoon of the superfine sugar over the top of each ramekin. Light your blowtorch. Hold it about 2 inches from the surface of the custard and move it in a circular motion. All blowtorches are not alike, so follow the manufacturer's directions. The sugar will begin to bubble and brown. As that happens, move to the next spot. If you hold it in one spot too long it will start to turn black, so be careful. You can always go back over it at the end to make it more brown, but you can't un-burn it! lol I like to go around the edges and work my way into the center. It's like an art project. I made a smiley face once. Once browned, serve immediately or you can place them into the fridge while you finish the rest, as the custard does get a little warm from the torch. Note: If your custard wasn't quite chilled enough and you torch the sugar, the custard will be very warm, so pop them into the freezer for 5 minutes or so to chill after torching the tops. Recipe by: Diane Kometa
Published on by Dishin' With Di
Tagged: authentic, bake, baked, Basic, best, blowtorch, Britain, broiler, brulee, burnt, burnt cream, butane torch, Cambridge, Cambridge burnt cream, caramel, Christmas, Classic, cream, crema catalana, creme, creme brulee, custard, custard cups, demonstration, Desserts, Diane Kometa, Dishin With Di, Easter, easy, egg yolks, eggs, elegant, English, extract, François Massialot, French, from scratch, granulated sugar, hand held torch, heavy cream, homemade, How To Make, New Year's, New Year's Eve, Old Fashioned, original, oven, pudding, ramekins, Recipe, Saint Joseph's Day, salt, Spanish, St. Joseph's Day, sugar, superfine, Thanksgiving, topping, torch, Traditional, Trinity cream, tutorial, Valentine's Day, vanilla, vanilla bean, vanilla extract, video, water bath, white, YouTube